Related News
Related News

Public Power Week Poster Contest 2023

It's that time of year again! October 1-7 is Public Power Week. To celebrate, EWEB is holding our annual poster contest for fifth graders in our service area. Help us pick the winners.

Find Out More

Salmon Return to Finn Rock Reach

Finn Rock Reach and other restoration projects throughout the Middle McKenzie provide conditions to help young fish survive to adulthood.

Find Out More

EWEB programs reflect community values

EWEB is here to serve our customer-owners and provides programs that reflect the values of our community.

Find Out More

Where is EWEB in planning our future electricity supply?

In August, we reached a milestone: EWEB's five-member elected Board of Commissioners approved an action plan to guide our energy supply choices for the next 2-3 years. How did we get here?

Find Out More

Rate Setting Process is Customer Driven and Community Focused

EWEB's Board of Commissioners is considering rate changes to help maintain reliable utility services and fund critical investments in Eugene's water and electric infrastructure.

Find Out More
EWEB preparing for expected surge in electric vehicles
June 05, 2023 • Aaron Orlowski, EWEB Communications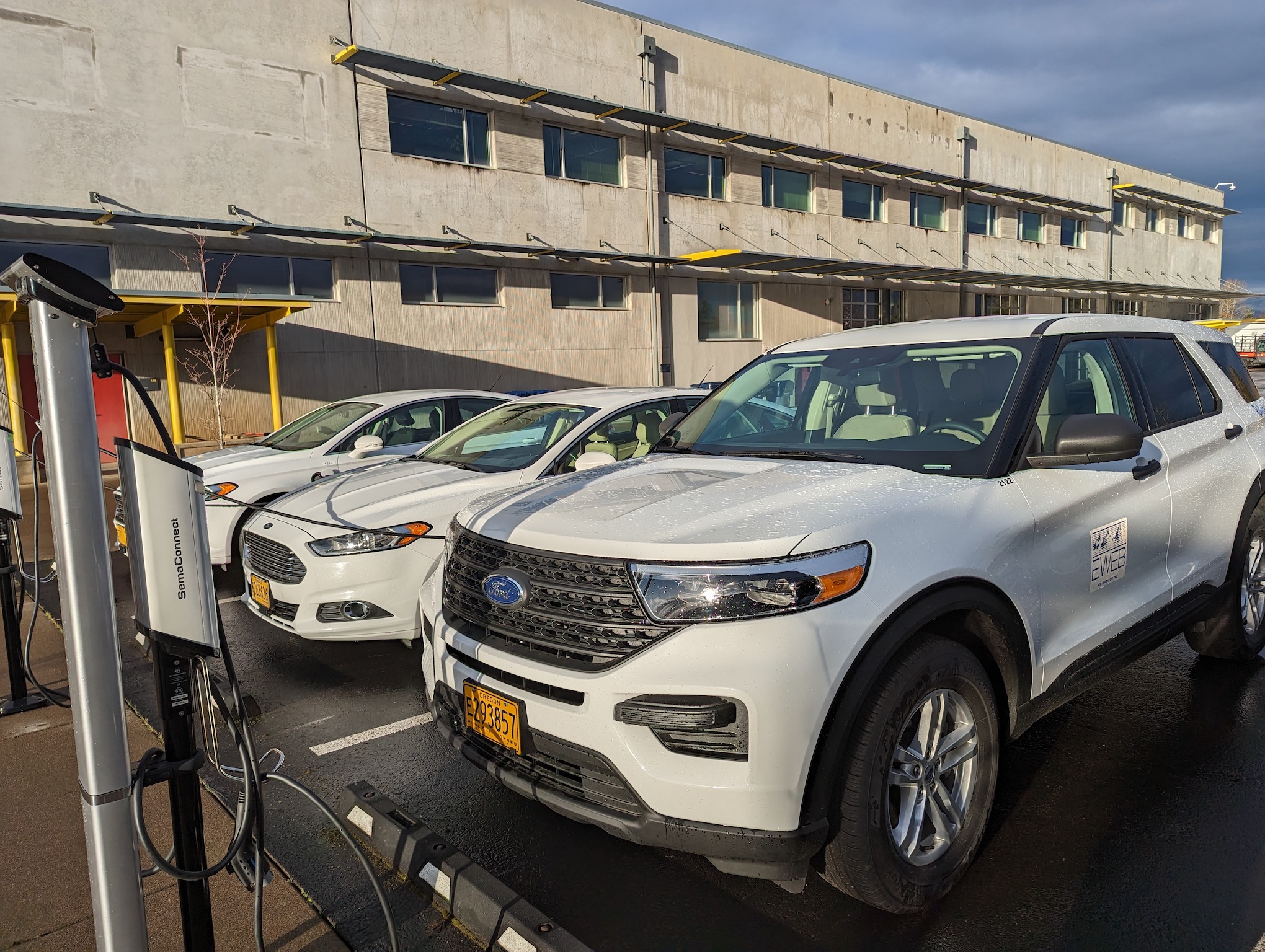 Electric vehicle (EV) sales are poised to skyrocket in the years ahead as technology improves, more models hit the market, prices fall and regulations limit the sale of gas-powered vehicles.
EWEB is preparing for this surge.
More EVs will result in more demand for EWEB's electricity and, potentially, more strain on EWEB's electric distribution grid. EWEB is preparing by forecasting future electricity demand 20 years into the future and identifying possible mixes of energy resources that can meet that demand. And, EWEB's engineers are assessing the distribution system to make sure it's up to the task.
"We know a wave of EV's is coming, and we're getting ready for it so that we can continue serving safe, reliable, affordable and environmentally responsible energy to our customers 24 hours a day, 365 days a year," said EWEB Assistant General Manager Rod Price.
To meet carbon reduction goals, Oregon, the U.S., and the world need to transition from single-occupant gas-powered cars to less polluting transportation options – including electric vehicles, electric public transit, electric bikes and scooters, and non-motorized transportation, such as walking and biking.
This is crucial because transportation is the largest source of emissions in both Oregon and the U.S. And EWEB's customers can greatly lower their emissions by switching to electric transportation, since EWEB's electricity is approximately 90% carbon-free, with a goal of 95% carbon-free electricity by 2030.
"Electrifying transportation is one of the most important ways we can decarbonize our society," said EWEB Climate Policy Analyst Kelly Hoell. "As a society, our decarbonization strategy should be to make our electricity as carbon-free as possible, then pursue all the electrification options that make sense to run on that green electricity, while actively managing our peak demand. One of our roles at EWEB is to ensure our electricity continues to stay both low-carbon and affordable, to encourage people to continue to electrify so they can reduce their emissions."
EV sales are forecasted to surge in the years ahead.
Globally, more than 10 million electric vehicles were sold in 2022, or 14% of new vehicle sales, according to an April report published by the International Energy Agency (IEA). The agency forecasts that in 2023 sales will jump to 14 million, or 18% of global vehicle sales. China dominates the global market, making up 60% of global EV sales, with Europe and the United States as the second and third largest markets.
Supply chain issues and requirements in the Inflation Reduction Act that critical parts of EV production – such as lithium mining and lithium-ion battery manufacturing – occur domestically could restrain EV sales. But car makers and battery manufacturers seem ready to make sure supply chains are robust. Between August 2022 and March 2023, major EV and battery manufacturers announced $52 billion of investments in the EV supply chain in North America, according to the IAE report.
The pace of EV adoption in the U.S. is rising, according to IEA data. In 2011, EVs made up a miniscule fraction of car sales in the U.S. – just 0.2%. But by 2022, EVs made up 7.7% of new car sales in the U.S. Various projections (including EWEB's own electrification study) suggest that EV sales could make up anywhere between 40% and 50% of new car sales in the U.S. by 2030, and up to 80% by 2035.
California led the nation in 2022 in the share of new vehicles sold that are electric. But Oregon is close behind, tied for second place, along with Hawaii and Washington. As of February 2023, there were about 66,000 light-duty electric vehicles on the road in Oregon, according to the Oregon Department of Energy. EVs are becoming a larger share of new vehicles registered each month in Oregon and in December 2022, 13% of all new vehicles registered were electric vehicles.
EWEB estimates that there are now over 3,000 electric vehicles registered in the utility's service territory and the numbers are growing rapidly. In fact, EWEB's 2021 Electrification Study estimates that by 2040, 85% to 95% of all vehicles on the road could be electric.
Since EWEB's electricity is already approximately 90% carbon-free, EV adoption could cut Eugene's total carbon emissions by almost 40% by 2040, according to the study, especially if EWEB can continue to manage the timing of peak demand from electric vehicles and encourage most charging to happen at night when electricity GHG emissions are low.
"The 2021 Electrification Study was a key benchmark for us as we sought to figure out how much electrification will impact our power purchasing decisions in the next 20 years," said Ben Ulrich, EWEB's lead author on the study. "Aside from potential industrial electrification, which we weren't able to study, we found that vehicle electrification is poised to be the biggest cause behind future increases in demand for EWEB's electricity."
Incentives, lower operating costs and regulations will contribute to more EV adoption.
Adoption of EVs will only accelerate in the years ahead as incentives make it cheaper to purchase them and regulations make it harder to buy gas-powered alternatives. Prospective buyers of electric vehicles can reduce the purchase cost with raft of incentives.
Locally, EWEB offers customers a $500 rebate for a home charging station. At the state level, Oregonians were able to get a rebate of up to $7,500 from the Oregon Department of Environmental Quality for a new EV, depending on their income. But that program was suspended starting May 1 because demand outstripped funds. The federal government, however, still offers a tax credit worth up to $7,500 for a new EV or $4,000 for a used EV due to passage of the Inflation Reduction Act. The incentive for used EVs is the first ever.
Meanwhile, regulations are bearing down. Last year, Oregon regulators approved rules requiring that starting in 2035 all new vehicles sold in Oregon must be zero-emission, a category dominated by EVs. The rule, Advanced Clean Cars II, was established by the Oregon Department of Environmental Quality and mirrors a rule approved by the California Air Resources Board.
Part of the surge in demand is being driven by the rising number of models on the market. In years past, EVs were limited to sedans and hatchbacks, excluding the 78% of new car sales in the U.S. that are for trucks and SUVs. Now, with electric models of those vehicle types coming out, EV sales are set to surge.
EVs are also becoming more popular as the total cost of owning one – including purchase price, maintenance costs and fuel costs – drops. Some analysis suggests the total cost of owning an EV is already lower than a gas-powered car, while other analysis suggests it will reach that point in the next few years. Lower maintenance costs are a major part of the appeal: over the life of the vehicle, an EV will incur about $8,000 less in maintenance than a gas-powered vehicle, according to one analysis.
"Even as we celebrate the trend towards electric transportation, we need to take into account social equity considerations," said Juan Serpa Muñoz, who manages EWEB's electric mobility program. "Many people can't afford to buy an EV, even with incentives. At EWEB, we are prioritizing social equity by also offering rebates for e-bikes, launching EV car sharing sites, and offering competitive community grants for organizations that are bringing electric mobility to broader populations."
Locally, public transportation provider, Lane Transit District (LTD) has committed to transitioning 30% of its bus fleet to electric buses and many are on the road now, bringing electric mobility to area transit users as well.
EV-driven demand is likely to prompt EWEB to pursue new electricity sources.
Customers charging their EVs will cause demand for electricity to rise.
EWEB predicts that all these EVs will prompt electricity demand to rise by about 2% per year starting around 2030. To meet that rising demand, EWEB is developing an Integrated Resource Plan (IRP), which forecasts electricity needs 20 years into the future and analyzes what combination of energy resources –such as wind, solar, hydropower and biomass – will best meet those needs.
EWEB's analysis indicates that if higher electricity demand is contained to just charging customers' EVs, then EWEB can meet that demand largely with a combination of new wind farms and new utility-scale batteries over the next 20 years.
However, it's likely that electric vehicle charging will be just one cause of rising electricity demand. If Eugene voters approve a ban on natural gas in new residential construction this November, demand for electricity would likely rise during peak times – especially on cold winter days when electric heaters are running full-force. And EWEB is likely to face requirements designed to prevent regionwide electricity blackouts that will compel the utility to procure energy resources that can generate electricity on demand, such as biomass and small modular nuclear reactors (SMR).
"In our Integrated Resource Planning process, we're seeing that we need to be looking hard at energy resources that are carbon-free, can store energy for long periods of time and that we can dispatch on demand to meet our customers' needs," said Brian Booth, EWEB's chief energy resource officer. "Those kinds of resources will be important for our portfolio so that we can both maintain reliable electricity delivery and meet our climate goal of having a 95% carbon-free portfolio by 2030."
Technologies that adjust how and when EWEB customers charge their EVs could help keep electricity demand in check, especially during moments of peak demand, saving the utility money and reducing costs and even carbon emissions.
If EV owners plug in their vehicles after work, they will increase peak demand in the evening hours between 5 and 9 p.m. – when demand is already high. That peak electricity likely requires new and expensive investments in the transmission and distribution systems, is more expensive for EWEB to procure, and is associated with higher carbon emissions, since fossil-fueled generation is dispatched around the region to meet needs during those peak hours.
But if EWEB can persuade EV owners to charge their vehicles at other times, such as overnight, peak demand won't be as high and EWEB won't have to make such costly investments. EWEB forecasts that customer programs aimed at managing EV charging – such as time-of-use rates – could reduce peak demand by 40%.
Managed EV charging will help reduce strain on the grid.
When EV owners plug in their cars, they're increasing the demand on EWEB's local electric distribution system, with more electricity flowing through the lines to their homes.
"We are definitely seeing an increase in demand from customers for EV expansion, even though this work is not yet dominating our queue of projects we need to work on," said Tyler Nice, EWEB electric operations manager. "But EV owners can do a lot to reduce strain on the grid by managing when they charge their EVs. If we can charge EVs at night between 10 p.m. and 6 a.m., the grid will be less stressed and we won't have to make as many expensive upgrades."
The need for upgrades will rise gradually, and EWEB is assessing and preparing for it. Upgrades will be focused on specific geographic areas where demand is rising or is likely to rise. Regulations and equity considerations may also prompt upgrades. Initially, EWEB will need to upgrade equipment closest to the customer, such as taps at individual houses or transformers that serve clusters of houses. Later on, feeders that serve multiple transformers or substations that serve whole neighborhoods may need upgrading.
Smart meters that allows EWEB to understand how electricity demand fluctuates in real time and in specific areas will help EWEB develop programs that can mitigate peaks in demand – allowing EWEB to avoid costly infrastructure upgrades.
"Customers can help us plan equipment upgrades and reduce overall costs by proactively reaching out to us before you install an EV charger or other piece of equipment that could cause a big increase in demand," Nice added. "Working together, we can create a plan that meets your needs while we pursue a resilient future together."
What you can do to save energy: