Questions about your bill? ¿Preguntas sobre tu factura?
Check out these Bill and Account FAQs.
If you don't find what you're looking for, ask a customer service analyst. We're here to help.
Call us at 541-685-7000 from 8:30 a.m. to 5 p.m. Monday - Friday
Send us an email
Para asistencia en español llame al 541-685-7000, presione 9
---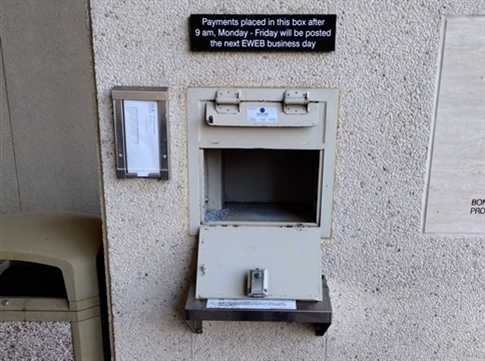 ALERT: EWEB drop box vandalized, payments stolen
One of the EWEB payment drop boxes located at our former headquarters building (500 E. 4th Ave) was vandalized sometime between Wednesday, Nov. 22 at 9 a.m. and Monday, Nov. 27 at 9 a.m.
The vandalized payment box was attached to the building next to the front door. A second, drive-up payment box was not affected.
We have no way of knowing what payments, if any, were inside the box.
If you made a payment to the affected box between Wednesday, Nov. 22 at 9 a.m. and Monday, Nov. 27 at 9 a.m. your payment and any personal information on your payment was apparently stolen.
Please contact your financial institution immediately to place a stop payment on your check and take any other steps advised by them
To confirm your payment was received and credited to your account, please login to your online EWEB account (myaccount.eweb.org) or call EWEB customer service (541-685-7000).
No other forms of payment were affected, and customers who used payment methods other than the drop box attached to the former headquarters building were not harmed.
Anyone with information about this case is asked to call the Eugene Police Department.
---
Make a guest payment without an online account
You can make an online payment with your Visa, Mastercard or checking account without registering or logging in. You will need your EWEB account number, which is available at the top of your bill or your "bill-ready" email.
Guest Payment
---
Pay by phone
Pay by phone with a Visa, MasterCard, or checking account 24 hours a day using our automated pay-by-phone system.
Call 541-685-7000 and press option one. Have your EWEB account number ready.
---
Pay by mail
Mail your payment, along with your bill stub, to our payment-processing center:

Eugene Water & Electric Board
PO Box 35192
Seattle, WA 98124-5192
---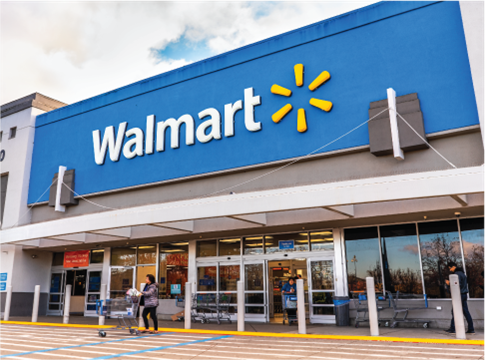 Walmart Pay
You can now conveniently pay your EWEB bill with cash or debit card at any U.S. Walmart store.
Payments made at Walmart will be applied to your EWEB account in real time.
Learn about Walmart Pay
---
Drop box
Payments made by check, money order, cashier's check can be placed in an EWEB payment drop box:
At our former headquarters at 500 E. 4th Ave. in Eugene
At our Operations Center at 4200 Roosevelt Blvd.
Please note the contents of the drop box are picked up once per day. If your payment sits overnight, it will not be posted until the following business day.
Do not place cash payments in the drop box.
---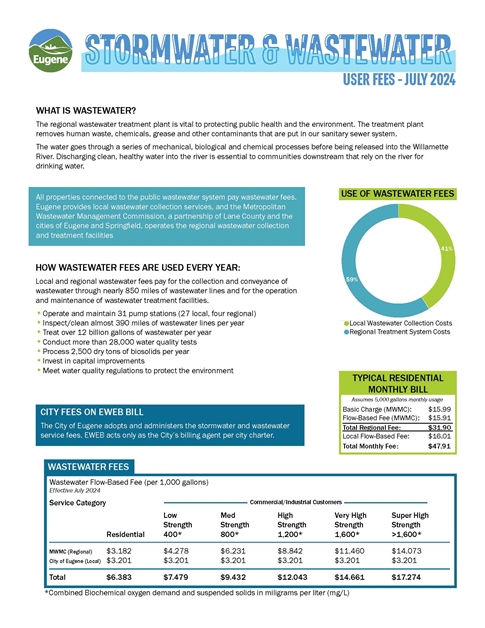 City of Eugene Stormwater and Wastewater Fee Increase Beginning July 2022
Under the recommendation of the city manager, the City of Eugene has been authorized to issue a 7 percent increase in local user wastewater fees, 3.5 percent in regional wastewater fees and a 4 percent increase in stormwater user fees, effective July 1, 2022.
Why do storm and wastewater charges appear on my EWEB bill?
Charges related to stormwater and wastewater appear in the water portion of customer bills, but are not EWEB charges. The City of Eugene owns and operates the stormwater and wastewater systems in Eugene. For efficiency, EWEB acts as the City's billing agent per City charter.
Learn more
---