Questions?
Email our energy experts at ems.answers@eweb.org or call 541-685-7088 for more information and to get started.
For all loan specific questions, email ems.loans@eweb.org or call 541-685-7318.
Whether you rent or own your home, energy efficiency is always a smart move. There are lots of simple, low or no-cost steps to make your home feel more comfortable, and even help lower your utility bills. And if you are looking to invest in some efficiency upgrades—such as improving your heating system, hot water heater, windows or insulation—we have rebates and loans that can help offset the upfront costs.
---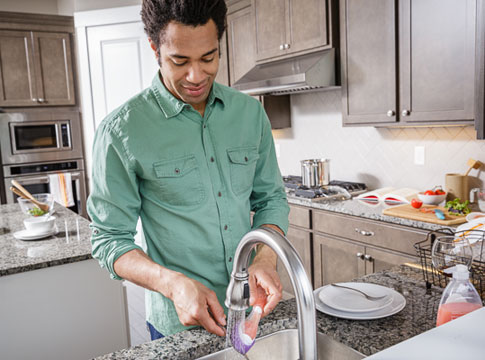 Use Less Hot Water
Heating water is the second-largest use of energy in the average home. As a result, water heating may represent a large portion of your utility bill. Here are some smart ways to lower your utility bill by using water wisely.
At the water heater
Lower the temperature of your water heater to 120 degrees.
Wrap your water pipes with insulation. Closed-cell flexible foam tubes and fiberglass batts are available at most hardware and home improvement stores.
When you are going to be gone more than three days, turn off the water heater at the electric panel box or put the unit in "vacation" mode. When you return, you may want to flush the water that has been sitting stagnant in the water heater.
In the kitchen, bathroom and laundry
Install WaterSense labeled low flow showerheads. These can save up to 10 percent on your water heating costs in addition to the water they save.
Don't let the water run constantly while washing dishes.
Run only full loads in the dish- and clothes-washer.
Wash clothes in cold water whenever possible.
Throughout the house
Fix water leaks right away. Small leaks can result in large water and electric bills, especially if you have a hot water leak.
Do household cleaning with cold water, if possible.
When replacing household appliances, choose equipment with the ENERGY STAR® rating.
---
Use Energy Efficient Lighting and Appliances
Replace incandescent bulbs with the most energy-efficient lighting option, LEDs. They use only one-tenth the energy of incandescent bulbs and can last up to 40 times longer. This lighting guide can help you find the right LED bulb for your needs.
When you're not using lights and appliances, turn them off or unplug them if possible.
Plug multiple devices into a power strip with a surge protector. This makes it easy to turn off all devices with the flip of one switch, while also protecting them from damage.
Increase your refrigerator's efficiency. Refrigerators and freezers run more efficiently when full. Try using water jugs to take up space. Set the refrigerator temperature to 35 to 40 degrees and the freezer temperature to zero to 10 degrees. Unplug units and vacuum the coils under or behind your refrigerator twice yearly to allow the motor/compressor to run less often and for shorter periods of time. Clean door gaskets occasionally to ensure a tight leak-proof seal.
Download a PDF that provides details about how much energy common household appliances and electronics use, and the associated costs.
---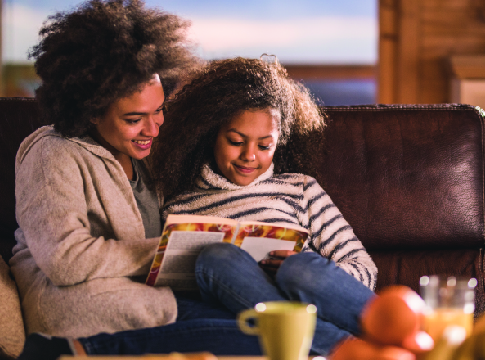 Heating your home
Keep your thermostat at or below 68 degrees. Regulating the temperature in your home is important and can save you money. Each degree that you lower the thermostat can reduce your heating costs by as much as three percent.

Find and seal leaks and drafts. Air leakage occurs because of cracks or gaps in in windows, doors and walls and can lead to higher monthly energy rates because it lets heat escape and cold air enter. Before it gets too cold, it's important to check all your doors and windows for air leakage that could keep your heater running overtime. If your front or back door has space between it and the floor, add weather stripping to the bottom or use caulk to seal the gap. This will prevent excess heat from escaping and could keep your heater from running up your energy bill. Also, be sure to check out the exterior or your home - it's common to find gaps or cracks around windows and doors or where different building materials meet.
Make sure heat isn't escaping from your fireplace. Keep your fireplace damper closed unless a fire is burning. Keeping the damper open is like keeping a window wide open during the winter; it allows warm air to go right up the chimney. Install a chimney pillow in the flue of unused or seldom used fireplaces. These plastic pillows are inflated to fill the chimney and block warm inside air from leaving. Remember to remove the pillow before starting a fire. You can buy chimney pillows from fireplace dealers and online.
Use shades and blinds to help heat and cool the house. On warm, sunny days, open the blinds or curtains of south-facing windows, allowing the sun to warm the room. In areas where your home doesn't get much sun, keep your curtains and blinds closed to trap in the heat.
Reverse the spin of ceiling fans. When spinning clockwise, ceiling fans will push warm air down. It will also redistribute the warm air from your heating system, making sure pockets of cold air don't settle in the corners of each room.
Maintain your HVAC filter. Air filters, although small, do a big job-they maintain the air quality in your home and help your heater run efficiently. If you don't replace your air filter, it clogs up from excess dust. This reduces airflow, or increases resistance, which puts strain on your heating and cooling system. Clean or replace furnace filters in the fall and then regularly during the heating season, following manufacturers' recommendations.
---
Cooling your home
Open your home's windows at night. Take advantage of naturally cool night air when possible, and open multiple windows to increase cross ventilation and provide a cooling draft.
Keep windows and doors closed during the hot part of the day.
Shade the windows on your home. External shades and trees are best; curtains and other window coverings also help prevent heat gain.
Use a fan instead of air conditioning. People tend to feel cooler when air around them is moving.
On hot days, avoid using the stove and indoor clothes dryer. Try to use an outdoor grill or microwave oven for cooking, and dry clothes on a line or use the dryer at night
For homes with air conditioning:
Set the thermostat to 78 degrees. With every degree that you lower the temperature, energy use can rise by as much as three percent.
Maximize cool air flow to improve comfort. Make sure that furniture and window coverings are not blocking vents and the flow of cool air.
Install programmable digital thermostats for forced air systems. This allows you to control the temperature to correspond with your schedule and avoid unnecessary cooling and cost.
Clean cooling sources. Clean filters regularly during the summer season and follow manufacturers' recommendations for replacing filters. Air conditioner filters trap dirt and dust, clean the air you breathe, and help the cooling system unit operate more safely and efficiently.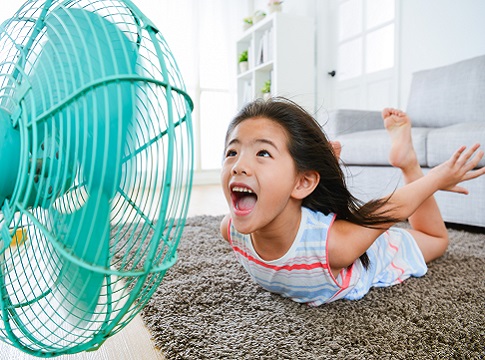 ---