Over the past few years, EWEB has built five emergency water distribution stations to ensure safe and reliable drinking water flows into our community, even if a disaster strikes that may disrupt our drinking water supply. An example of a large-scale disaster would be the subduction zone earthquake, which could affect the McKenzie River, disrupt the water treatment plant, or damage the 800 miles of distribution pipes that deliver water to Eugene homes and businesses.
There's always the possibility that a natural or human-caused disaster could affect us here in the Pacific Northwest. EWEB can help our communities withstand and recover from such an event by planning with these emergency water stations. The water well at each station extends over 100 feet below the surface, and all of the water provided at the station comes from that well. The stations are designed to provide each person with two gallons of water per day.
If a disaster event occurs that would require EWEB to open these stations, community members will need to bring their water storage container and disinfect the water before use. Get tips for storing and treating water
Water Reliability Projects
Just as your household invests in an emergency kit, EWEB is making investments to prepare, replace and maintain our community's water system.
EWEB has been working for several years on water reliability projects to ensure safe and reliable water continues to flow in our community. In addition to programs aimed at protecting water at the source, we are renovating the Hayden Bridge Water Filtration Plant, investing in our existing infrastructure, including replacing water mains, improving water pump stations, and developing neighborhood emergency water stations. Learn more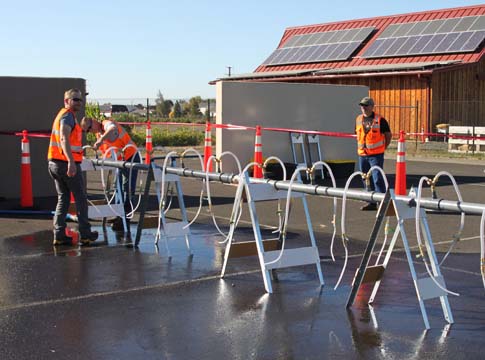 Emergency Water Stations
We are working with community partners to develop an emergency water supply program that includes several permanent distribution sites located throughout the community using groundwater wells, as well as mobile water trailers. As of September 2023, five sites are operational:
Prairie Mountain School - 5305 Royal Ave.
Howard Elementary School - 700 Howard Ave.
Eugene Science Center - 2300 Leo Harris Parkway
Lane Events Center/Fairgrounds - 796 W 13th Ave.
Sheldon Community Center - 2445 Willakenzie Rd.
Two additional sites are planned—near Churchill High School and near Roosevelt Middle School.
Want to learn more about emergency preparedness and stay up to date on electric and water resiliency projects?
Click here to join our email list.
Community Demonstrations