Related News
Related News

Public Power Week Poster Contest 2023

It's that time of year again! October 1-7 is Public Power Week. To celebrate, EWEB is holding our annual poster contest for fifth graders in our service area. Help us pick the winners.

Find Out More

Salmon Return to Finn Rock Reach

Finn Rock Reach and other restoration projects throughout the Middle McKenzie provide conditions to help young fish survive to adulthood.

Find Out More

EWEB programs reflect community values

EWEB is here to serve our customer-owners and provides programs that reflect the values of our community.

Find Out More

EWEB Prepares for the Annual Observance of "Imagine a Day Without Water"

Water infrastructure is essential, invaluable, and in need of continuous investment. Read how EWEB's Staff and Board of Commissioners are working to safeguard Eugene's water future.

Find Out More

National Preparedness Month: Older adults take control in 1, 2, 3

We know older adults can face greater risks when it comes to the extreme weather events and emergencies we face, especially if they are living alone, are low-income, have a disability, depend on electricity for medical needs, or live in rural areas.

Find Out More
Bethel neighbors boost emergency preparedness during Emergency Water Station event
August 31, 2023 • Robyn Smith, EWEB Communications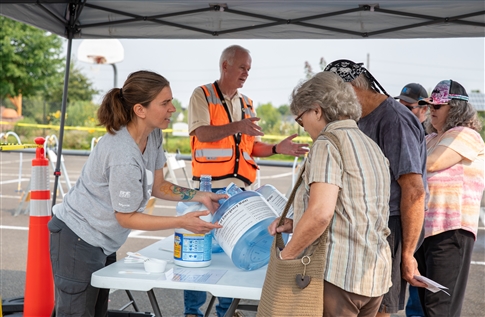 EWEB hosted an Emergency Water Station community demonstration on Saturday at the Prairie Mountain School in the Bethel neighborhood of Eugene.
Staff gave out about 300 emergency water containers to enthusiastic community members eager to learn more about the water station and boost their home emergency preparation kit with a free, three-gallon water container.
Attendees picked up home and family emergency preparedness material, including EWEB's Pledge to Prepare campaign, a yearlong emergency preparedness plan. Those who join the Pledge to Prepare receive a monthly email with step-by-step recommendations to help prepare their home and family for an emergency. You can sign up here.
With a new water container, attendees headed through the mock emergency water station to practice using the station hoses. Each hose has a lot of pressure, so this was a unique opportunity for participants, young and old, to practice filling up their container by placing the hose and opening the valve to the right amount of pressure to avoid getting sprayed in the process – which doesn't feel that bad on a hot summer day!
Finally, attendees headed over to the water disinfection station, where they learned how to properly disinfect the water before drinking. The water from the station comes from a well in the ground, and EWEB recommends disinfecting the water before use by adding 1/8 teaspoon of unscented household bleach (the label should say it contains between 5-6% of sodium hypochlorite) per gallon and then letting it stand for 30 minutes.
"This event increases the community's awareness about the water station, and it doubles as an activation drill for staff and volunteers from Eugene's Community Emergency Response Team (CERT)," said Jeremiah Bridges, emergency management specialist.
EWEB will host an emergency water station demonstration annually, rotating through the five established stations. EWEB is building two additional water stations, one near Churchill High School and another near Roosevelt Middle School.
About EWEB's Emergency Water Stations
Over the past few years, EWEB has built five emergency water distribution stations to ensure safe and reliable drinking water flows into our community, even if a disaster strikes that may disrupt our drinking water supply.
An example of a large-scale disaster would be the subduction zone earthquake, which could affect the McKenzie River, disrupt the water treatment plant, or damage the 800 miles of distribution pipes that deliver water to Eugene homes and businesses.
There's always the possibility that a natural or human-caused disaster could affect us here in the Pacific Northwest. EWEB can help our communities withstand and recover from such an event by planning with these emergency water stations.
The water well at each station extends over 100 feet below the surface, and all of the water that is provided at the station comes from that well. The stations are designed to provide each person with two gallons of water per day.
If a disaster event requires EWEB to open these stations, community members will need to bring their own water storage container and disinfect the water before use.
Site locations
Prairie Mountain School - 5305 Royal Ave.
Howard Elementary School - 700 Howard Ave.
Eugene Science Center - 2300 Leo Harris Parkway
Lane Events Center/Fairgrounds - 796 W 13th Ave.
Sheldon Community Center - 2445 Willakenzie Rd.