Reporting your power outage
When your lights go out, first check to see if others around you appear to have lost power as well. If you suspect your home or business is the only outage, check your circuit panel for tripped breakers before reporting your outage.
Report an outage by calling our toll-free outage reporting line at 1-844-484-2300. You must complete all prompts to record your outage.
Please do not report your power outage over Facebook or Twitter. We do not regularly monitor our social media channels outside of business hours.
---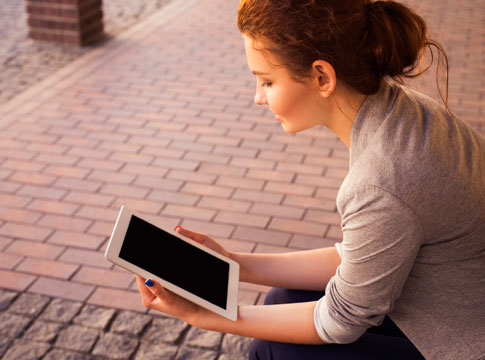 Getting updates about your power outage
To report an outage, call our toll-free outage reporting line at 1-844-484-2300. You must complete all prompts to record your outage.
Our text message outage reporting feature is experiencing technical difficulties, please do not use the text feature to report your outage at this time.
During large or widespread outages, we will post updates on this website as well as on Facebook and Twitter.
Power Outage Map
---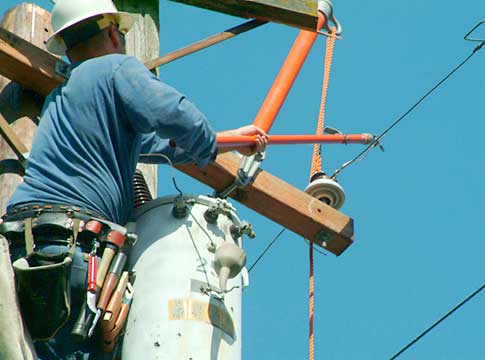 How we restore power
After a large storm that results in widespread outage, we follow a 'heirarchy of repair.' Our first priority is making the community safe by responding to downed wires and emergency situations. After that we begin restoring power to customers.
Review an illustration of how we restore your power.
Learn more
---
Preparing your home for restoration
If you have electric heat, please turn down your thermostats to prevent overloading the distribution system (and causing another outage) when power is restored.
Keep your fridge & freezer closed as much as possible. During prolonged outages, food will stay frozen about 2 days in a full freezer and 1 day in a half-full freezer. Covering your freezer with a blanket slows the thawing process.
Make sure your stove or other appliances with heating elements are turned off. This could create a safety hazard if you are not home when power is restored.
If you're electronics aren't protected with a surge protector, you may consider unplugging electrical equipment during an outage.
Leave an inside light and a porch light switched on, so you and EWEB repair crews will know when power has been restored.
---
Common questions
During widespread or prolonged outages we hear some common questions.
Check them out
---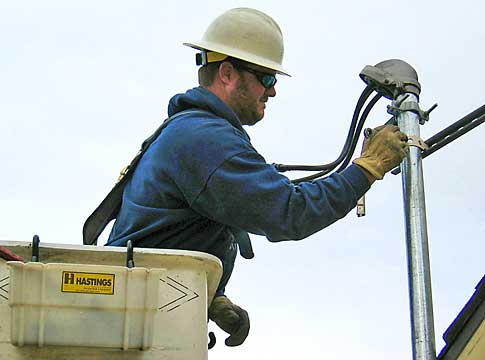 Your responsibilities
We are responsible for the electric system until it reaches the connection point of your home or business. We are also responsible for the electric meter.
Other than the meter itself, the property owner is responsible for installing, maintaining and repairing all equipment beyond the service connection point. This includes:
Weatherhead and insulator
Service entrance cable
Meter box on which your electric meter is mounted
Main service panel, which includes fuse boxes and/or circuit breakers
Point of attachment or roof jack
Review an illustration of the customer responsibility on overhead service and underground service.
---
Partial power and flickering lights
If the lights in your home suddenly get really bright in part of the house and dim in another part, or your lights work in one part of the home and not another, you might be experiencing partial power.

A fault in our electrical system can also make your light fliker or blink, sometimes just for a second or two.
Read more
---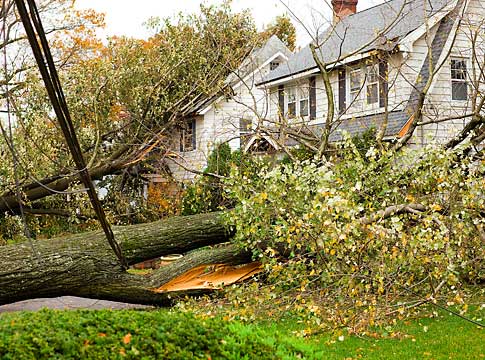 Update your account info before the next storm
To avoid extra steps during a power outage, and to be placed on a restoration plan, please make sure your current cell phone number is tied to your EWEB account. Update your account by contacting customer service at 541-685-7000 or EWEB.Answers@eweb.org.
---
More information
We regularly receive reports of power outages that are actually a tripped breaker on the customer's circuit panel. Checking your circuit panel before reporting an outage can save you hassle and money.