We take pride in providing the community with safe, clean drinking water. The system of reservoirs, pump stations and pipes that deliver water throughout our service territory require maintenance and replacement, which can result in a planned water outage for your home or business.
Sometimes, equipment in the system breaks unexpectedly, despite our maintenance and replacement efforts. In these cases, we work as quickly and safety as possible to restore your water service.
---
Reporting a water outage
If you experience a water outage or water emergency, please call 541-685-7595. Please don't report your water outage over Facebook or Twitter. We do not regularly monitor our social media channels outside of business hours.
---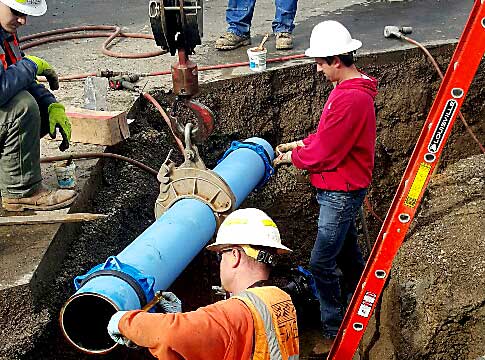 How we restore water
EWEB takes these steps to restore water service as quickly and safely as possible:


We isolate the water system damage.
We notify customers about water quality and availability. A "boil water," "do not drink" or "do not use" notice may be issued.
Then, we restore water service to first responders such as firefighters and hospitals.
Finally, we restore water service to all other customers.
---
Planned water outages
Just as your household invests in home maintenance and improvements, EWEB is making community investments to prepare, replace and maintain the water system.
Current projects
---
More about your drinking water
We're making investments to prepare, replace and maintain our community's water system.
Access to clean water is vital to our community. That is why we work hard to deliver water that meets or exceeds all state and federal health standards.