See a potential problem tree or branch?
Get in touch with us by calling 541-685-7148. You may also complete our online tree trimming request form, or send an email.
Trees are an important part of the urban landscape. In fact, the Arbor Day Foundation has designated Eugene as a "Tree City USA Community" for more than 30 years. Trees provide an important economic, aesthetic and emotional value to our community.
At the same time, we all desire and rely on the quality of life that electricity provides. Trees are a major cause of power outages in the Eugene area. To help prevent tree-related outages we proactively prune trees to help keep our equipment clear.
Our program aims to maximize public safety, electric reliability, tree health and customer satisfaction. Since 2007, we have earned the the National Arbor Day Foundation's Tree Line USA award in recognition of our efforts to protect and enhance Eugene's urban forests while delivering reliable energy service.
---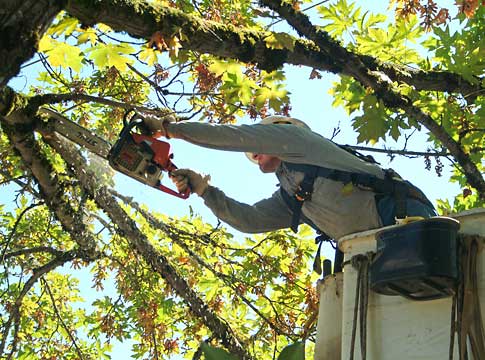 Trees and safety
When pruning or removing a tree, safety should be your main concern. Before you begin work on a tree, survey the area for overhead power lines. If you see lines in or near the tree you are planning to work on, please get in touch with us. Avoid working near power lines as contact can cause serious injury or death.
Important safety tips:
Look up and live! Watch for overhead power lines when moving ladders or tools.
Inspect your trees in the fall before winter weather arrives. And after a storm with wind, ice or snow survey your trees for damage. Give us a call if trees or branches near power lines appear hazardous or damaged.
Do not let children play near power lines. Even if a tree isn't touching the lines, a child's weight on a branch could bring it in contact with a live line.
---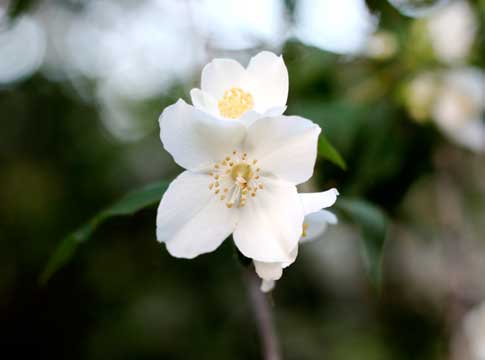 Tree selection and planting
When selecting a new tree to plant, we recommend the "Right Tree, Right Place" approach. By picking the proper species and planting procedure, you can increase public safety, reduce power outages, reduce the need for routine pruning and promote healthy, beautiful trees.
If you decide to plant trees under or next to power lines:
Choose small trees (up to 25 feet high at maturity) for planting under or next to overhead power lines as they will seldom need to be pruned for line clearance.
List of trees
---
Underground lines
When landscaping or installing a fence -or other structure, remember that utility workers need clear access to pad-mounted transformers for underground power lines. Please keep at least six feet clear in front of the opening side of the transformer. In case of a transformer failure that requires repair or replacement, outages can be prolonged while crews remove landscaping or structures for access.


---
Utility poles
We are required to preserve clearance around utility poles for maintenance and emergency access. Plant all perennial, woody vegetation at least three feet from utility poles for access and to reduce the need for routine pruning.


---
Be prepared for outages
When outages occur we work hard to to bring power back quickly and safely. But in a major event, you could be without power for an extended period of time. Whether an outage is caused by a storm, accident, or because we've proactively powered down lines for safety, it's important to be prepared.