When your power goes out, our first priority is to get it back on as quickly as possible. Most routine outages are repaired in less than an hour. But following a severe storm, it can take days to restore power to everyone.

We follow a "hierarchy of repair" when restoring power after major outages. This means first repairing downed transmission and distribution lines that will restore power to the most number of people, then repairing wires that serve fewer customers. For example, repairing one large transmission line can restore power to thousands of customers, while repairing a small line that serves a few people in a neighborhood often is more time consuming.
We realize that in a big storm, where limbs and trees have knocked down hundreds of wires across Eugene, this hierarchy of repair can frustrate customers who have to wait days for repairs. However, this system is used throughout the utility industry to get power turned on the fastest to the highest number of people.
Review an illustration of how we restore your power.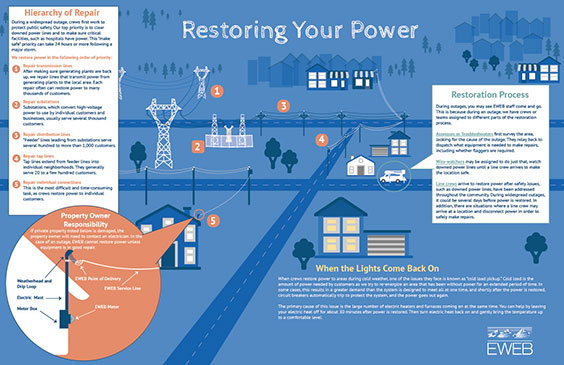 Protect public safety
Our top priority is to clear downed power lines across streets and to make sure critical facilities, such as hospitals and public services, have power. This "make safe" priority often can take 24 hours or more following a major storm.
Repair damage to generating plants
Next, we make sure generating plants are back up and running.


Repair transmission lines
We repair lines that transmit power from generating plants to the local area. Each repair often can restore power to thousands of people.


Repair substations
Substations, which convert high-voltage power to use by individual homes and businesses, usually serve several thousand customers.


Repair distribution lines
"Feeder" lines leading out from substations serve several hundred to more than 1,000 customers.


Repair tap lines
Tap lines extend from feeder lines into individual neighborhoods. They generally serve 20 to a few hundred customers.


Repair individual connections
This is the most difficult and time-consuming task, and one that can frustrate individual customers who have been without power for some time.
During major outages, our crews work as quickly as they can while maintaining safety. If your involved in an outage that is isolated to just your home, or your home and a few neighbors, you should prepare to be without power for several days.
Damaged weatherhead or meter base
If your weatherhead or meter base has been damaged, it is a safety hazard and we must disconnect your electrical service until a licensed electrician makes repairs. These repairs also require an electrical inspection by the city or county inspector. If you hire a licensed electrician with supervisory authority, that person may use a supervisory letter prior to inspection.
Review an illustration of the customer responsibility on overhead service and underground service.