Peak power occurs when the highest level of electricity is consumed in our region within a specific timeframe. There are seasonal peaks, daily peaks and even hourly consumption peaks.
Peak electricity is more expensive, affecting power supply and infrastructure costs and, ultimately, customer bills. Supplying power during peak times also increases greenhouse gas emissions contributing to climate change.
Managing peak electricity demand is a critical component of achieving climate recovery goals and keeping energy affordable for all customers.
---
When is peak power?
On a daily basis, consumption typically peaks in the evening and morning-when most people are getting ready for or returning from work and school-and is at its lowest in the middle of the day and late at night. Seasonally, Eugene's peak demand occurs in the winter months, when heaters are running continuously.
---
Peak power affects costs
EWEB, like most utilities, buys and sells power on a wholesale electricity market. During periods of peak demand, the cost of electricity goes up. Ultimately, higher power costs can impact the price of electricity charged to customers.
Peak power can also increase infrastructure costs, as additional generation and distribution systems are needed to supply our community's energy needs.
---
The role of efficiency and conservation
As the climate changes, rising temperatures and extreme weather events impact the availability, reliability and costs of the energy and water our community relies on. You might be surprised to learn that you can take meaningful steps at home to help mitigate the impacts of climate change, help the utility avoid or delay costly infrastructure investments and reduce market purchases at peak energy use times.
Step #1: Use less energy. Energy conservation and efficiency is the cheapest and fastest way to help the climate and lower your bills. Homes that use less energy rely less on the grid and produce lower greenhouse gas emissions. Insulating homes, installing LED lighting and upgrading to high-efficiency electric heating and cooling systems offer the added benefit of increasing comfort while saving money. We offer rebates and loans to help with efficiency upgrades for homes and businesses.
Step #2: Use energy off peak. Shifting your energy use to "off peak" can be as simple as running the dishwasher, charging your electric car, or doing the laundry later at night (after 9 p.m.) or mid-day (between noon and 5 p.m).
Step #3: Watch your water use. It takes a lot of energy to treat and deliver the water you use every day. It takes even more energy to turn it into hot water. Saving water saves energy, which in turn reduces greenhouse gas emissions. Fixing leaks around the house, taking shorter showers, and planting "water wise" landscapes are also great ways to take care of our water source, the beautiful McKenzie River. Get more water conservation tips and learn about utility programs.
---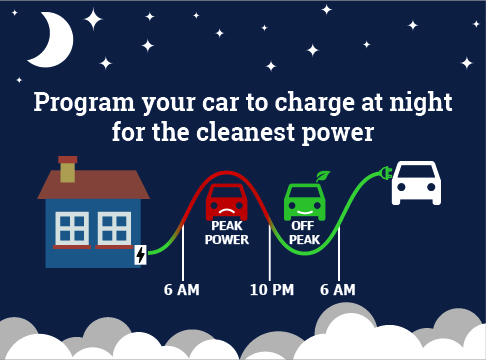 Off-peak charging for EVs
Replacing your fossil fuel-burning car with an all electric model is a great way to lower your personal carbon footprint. But to achieve the greatest environmental benefit, you need to charge your EV at the right time.
Charging your EV right after work, when power consumption is highest, would increase use of fossil fuel-burning generators, and lead to higher power prices and infrastructure costs.
For the cleanest power, charge your car between 10 p.m. and 6 a.m.
Charging during off-peak times, such as late evening, helps avoid or delay costly infrastructure investments and reduce market purchases at peak energy use times. Off-peak hours also coincide with the time when some renewable power sources are at their strongest—at night when the wind blows hardest and during the day when the sun shines brightest.
Set it and forget it!
Most electric cars and Level 2 home chargers allow you to program your charge time, making it super easy to ensure you fuel up with the cleanest possible power. Simply set your car to charge between 10 p.m. - 6 a.m.
---
Related Programs
Understanding the resources, technology, and infrastructure that will be needed to meet customers' future electricity needs.