Share your EV Story
Help raise EV awareness in our community. Share your EV story and we may feature it as part of our electric vehicle promotions.
People love their electric vehicles! EV owners are having wonderful experiences, getting great deals, and driving cars that they love. But don't take it from us—read for yourself what people are saying.
Learn about rebates and incentives
In addition to the cost savings you'll get from driving an EV, you may qualify for EWEB rebates and state and federal tax credits.
---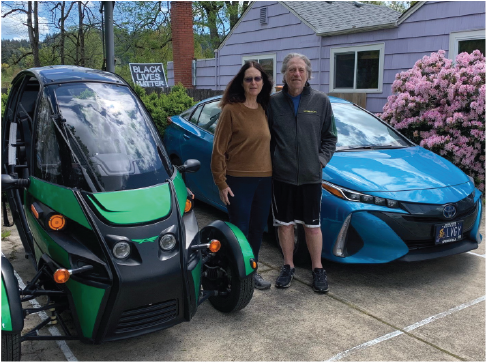 Bill & Pearl - Arcimoto and Prius Hybrid
We started our flight from fossil fuel vehicles in 2010 with the purchase of a Prius hybrid. It got great mileage and served us well for 10 years until it was finally bequeathed to our daughter who is happily now cruising around the Bay area.
In late 2020 we purchased a Prius plug in hybrid. With its 25 mile EV range allowing us to make our local trips with ease and without going to the gas pump, while also allowing us to take longer excursions with great gas mileage, it seemed perfect for us. We took advantage of the Oregon state rebate for the vehicle as well as EWEB assistance in purchasing a level 2 charger for our home.
When my 1997 Subaru finally met its demise after twenty years of valiant but gas dependent service, we purchased an Arcimoto. This locally manufactured all electric "auto-cycle" required no helmet and did not require a motorcycle license; we again took advantage of the Oregon state rebate program. Now, instead of driving our four passenger 3200 pound sedan around town, we zip around in our 1800 pound fun utility vehicle leaving our Prius for out of town travel and the occasional downpour days. It's not a golf cart – it has a 75 mph top speed and has a 100 mile range at city driving speeds. A rear compartment has plenty of space for groceries and other items.
While originally, I thought that the Arcimoto would be mine to drive around, my wife quickly decided that she wanted to have fun also. We've now developed a suitable sharing regimen. We haven't been to a gas pump in months and for both of us the Arcimoto is the greatest fun driving around town.
Continue reading Bill and Pearl's testimonial on their Arcimoto
---
More testimonials
It looked just perfect, and indeed it has been. It's the best car that I've ever driven.
My first recommendation: Buy an EV for a second car.
Because of advantageous leasing terms, the i3 was actually less expensive to lease than several EVs that have lower sticker prices.
We prefer buying reliable used cars and decided a 2013 or newer Nissan LEAF would be a great fit for us.