Related News
Related News

Salmon Return to Finn Rock Reach

Finn Rock Reach and other restoration projects throughout the Middle McKenzie provide conditions to help young fish survive to adulthood.

Find Out More

EWEB programs reflect community values

EWEB is here to serve our customer-owners and provides programs that reflect the values of our community.

Find Out More

Where is EWEB in planning our future electricity supply?

In August, we reached a milestone: EWEB's five-member elected Board of Commissioners approved an action plan to guide our energy supply choices for the next 2-3 years. How did we get here?

Find Out More

Rate Setting Process is Customer Driven and Community Focused

EWEB's Board of Commissioners is considering rate changes to help maintain reliable utility services and fund critical investments in Eugene's water and electric infrastructure.

Find Out More

National Preparedness Month: Older adults take control in 1, 2, 3

We know older adults can face greater risks when it comes to the extreme weather events and emergencies we face, especially if they are living alone, are low-income, have a disability, depend on electricity for medical needs, or live in rural areas.

Find Out More
My EV Story: Gary's Bolt, LEAF and Prius Prime
December 05, 2019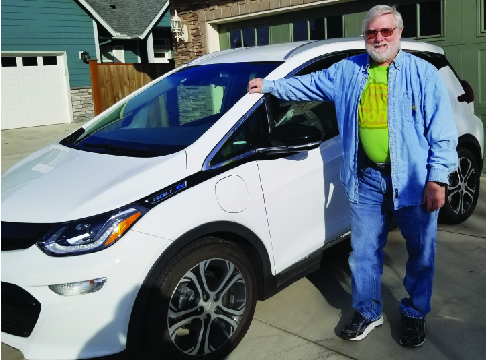 My first recommendation: Buy an EV for a second car! It's great around town, and if you have a higher range car, then great for some longer trips too. There is very little maintenance and they are fun to drive.
I bought my first EV in 2012—a Nissan Leaf, which I owned for about six years. In 2018, I bought a Chevy Bolt for myself and a Prius Prime for my wife.
The 2012 Leaf
The Leaf was a great car, fun to drive, zippy, but with limited range. Although Nissan claimed 105 miles of range when I bought it, my range was between 60 and 70 miles total. My daughter bought a 2013 Leaf which she still has, and as far as we can tell, has not lost any battery range. She uses her Leaf for her short commute to work and around town.
The Prius Prime
This is our "gas guzzler." This car works well for my wife, who generally uses it around town. Since it is a plug-in, it can be charged to around 25 miles of range, so most of the time she just runs on electric only. For long trips, such as a drive to Disneyland, the gas mileage is great, at better than 50 MPG.
The Bolt
In deciding to replace my Leaf, my primary goal was better range. I wanted an EV that I could use to go on smaller trips, such as to the coast, to Portland to visit one of my daughters, or up the McKenzie Highway. The 2018 Bolt was rated at 238 miles of range, which seemed like it would fit the bill. In addition, I really wanted new safety features like collision detection, blind-spot monitoring, cross-traffic alert, and pedestrian detection, which are options for the Bolt.
Chevy Bolt Range
Often I charge just once per week just before the weekend and for my work week; this is often about half my battery charge. Around town, up to 45 MPH in the summer with no heat or air conditioning, I often get 280 to 300 miles of range. Travelling I-5 at about 67 MPH in the summer I usually hit just around the 240-mile range, which to me is fantastic. In the fall/winter/spring when temperatures are in the 40-55 degree range, I often use the heater. Around town, this gives me a range more like 180-200 miles. Going on the freeway at higher speeds with the heater drops the range down to more like 170-180 range.
Charging
A lot of people worry about EV range. It really depends on the use you plan for your EV. I seldom charge anywhere besides home. With the Bolt range I get, I can do 99 percent of my driving on a single charge. You can charge with a 110 outlet, but this only charges at about 4 miles of range per hour. The level 2 charger is 240 volts and can charge up to about 25 miles of range per hour. When deciding what charger to place in my garage, I decided the ability to plug it in, instead of having it hardwired was better. This way if it quit working, or I move, I could easily buy a new one or move my current one. I personally bought a Leviton level 2 charger which at the time was about $450 on Amazon. This required a 50 amp circuit and used 40 amps.
The cost of charging is a lot less if you do this at home. As an EWEB customer, the delivery charge plus the energy charge is $0.09148 (or about 9 cents) per kilowatt-hour. So when I charge the entire 60 kWh battery, it costs $5.49.
There are some free chargers. For example, some hotels and many Chevrolet and Nissan dealers. Personally I'd love to see more places, especially restaurants, malls, and other places where you might spend an hour or more, offer free level 2 charging if you are purchasing something. Charging cost is not consistent. Try the Plug Share app on your phone to view the costs of charging and the availability of chargers.
Minor Annoyances
No car is perfect and there are some things I'd like to see improved. The seats are a little narrow and could be more cushiony. They seem fine to me, but if you are a little larger you may notice this. The suspension could be better, so go over speed bumps a little slower. There is no built-in navigation system.
EV Maintenance
One of the cool things about owning the Bolt EV is the maintenance—there isn't much. For example, no oil changes, no tune-ups and no cooling system to maintain. If you look in the manual for scheduled maintenance, it basically says check and rotate tires, fill window washer, check/replace cabin air filter and check/replace wiper blades.
Conclusion
If I were asked what EV to buy, I'd certainly recommend the Chevy Bolt. There are other EVs available and more to come soon. I would recommend you decide how far you want to be able to drive on a charge and whether or not you want to charge mostly at home or are willing to charge other places. If you are on a tight budget and don't want to pay $35k to $45k or much higher for some, then I'd strongly suggest looking at a used Nissan Leaf. For around $10,000 for a 2015 Leaf, you can use this as a second car around town and commuting up to 20 or so miles one-way. When buying a used EV, make sure the battery has not lost any range.
You'll find that driving an EV is fun, and it makes you feel good to know that you are not adding any pollution to the air we breathe. If you are a little crazy like I am, you might even decide to add solar panels to your house to cut down your energy footprint.