Related News
Related News

EWEB Recognized with Excellence in Communications Awards from American Public Power Association

We are proud to have been recognized with two Excellence in Public Power Communications Awards for 2023 from the American Public Power Association (APPA).

Find Out More

Let's talk turkey. If a disaster strikes, is your family ready?

Many of us avoid discussing politics over the dinner table in the spirit of family peace and harmony. But here's a topic that can bring everyone together: emergency preparedness.

Find Out More

EWEB To Hold First of Two Public Hearings on Proposed 2024 Budget and Prices

At the Nov. 7 Board of Commissioners meeting, EWEB staff will present a proposed budget that includes rate increases necessary to support utility operations and make needed infrastructure investments.

Find Out More

EWEB now offering a Smart Thermostat rebate program

EWEB is excited to announce a new residential rebate program to provide electric customers with free or greatly discounted Smart Thermostats to customers whose primary source of heating is from an electric forced-air furnace or heat pump.

Find Out More

Your EWEB Rates at Work: Investing Today for a Resilient Tomorrow

For more than a century, EWEB has planned, built, and maintained the systems that deliver safe, reliable, and environmentally responsible power and water to Eugene homes and businesses.

Find Out More
My EV Story: Anthony's Used Nissan LEAF
February 07, 2020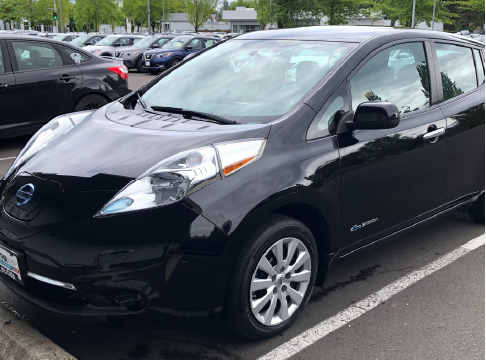 What factors influenced you to drive electric?
During the 2019 snowstorm, a fallen tree branch totaled our family's 2004 yellow Toyota Matrix. Our family of four loved our little car. However, we also used it mostly for around-town travel. The more we looked into a replacement, the more we realized it made more financial, logistical, and environmental sense to go electric.
Why did you choose your specific EV?
We prefer buying reliable used cars, and budget was a big factor for us. As we researched EVs, it stood out to us that a 2013 or newer Nissan LEAF would be a great fit for us. We kept our eye on the market for weeks. We'd learned that it was preferable to find an EV that had been in a temperate climate, as hot or cold climates could be detrimental to battery life. We felt really lucky when a 2016 LEAF came up for sale. It had been in the local area, and it only had 15,000 miles on it!
What do you love most about your EV?
We love the responsive handling, how just easy it is to use, and how much less we spend to have this car! It's so easy to charge the LEAF! Not having to make time for oil changes, gassing up, etc., helps our lives feel simpler and less stressful. We definitely wondered how having an EV would impact our electric bill, but the impact has been minimal. What little extra we pay for electricity is still WAY less than we would be spending on gas.
What advice would you give to friends and family who are looking to purchase EVs?
Take a couple of weeks and really look at and think about how you drive. How much is your car in the shop? How often are you gassing up? How many of your trips are just a few miles at a time? More and more EVs are coming on to the market, and each one can fit a different driver's needs.