Related News
Related News

Rate Setting Process is Customer Driven and Community Focused

EWEB's Board of Commissioners is considering rate changes to help maintain reliable utility services and fund critical investments in Eugene's water and electric infrastructure.

Find Out More

National Preparedness Month: Older adults take control in 1, 2, 3

We know older adults can face greater risks when it comes to the extreme weather events and emergencies we face, especially if they are living alone, are low-income, have a disability, depend on electricity for medical needs, or live in rural areas.

Find Out More

Planning for a Future of Reliable, Affordable, Environmentally Responsible Energy

The challenges revealed by Eugene Water & Electric Board's integrated resource planning process mirror those facing the Northwest.

Find Out More

EWEB's heat driven call to conserve energy yields major savings

EWEB is likely to implement similar, formalized "demand response" programs in the future.

Find Out More

How does EWEB recover the costs of serving customers

Here's an overview of the three primary ways EWEB recovers the costs of serving customers and generates the funds needed to keep the power on and the water flowing.

Find Out More
My EV Story: David's Chevy Bolt
April 23, 2020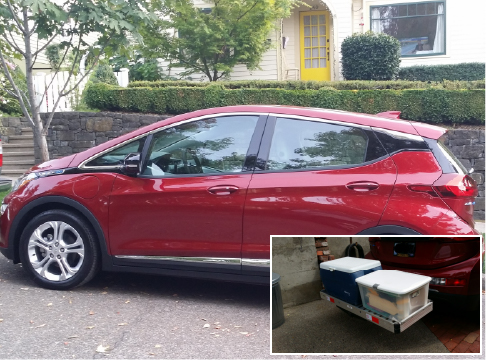 I've leased my 2017 Chevy Bolt for about 26 months. I decided a few years ago, after signing up for EWEB Greenpower, that I wanted to drive a vehicle that was cleaner than any hybrid available and I didn't want to buy gasoline any longer. I researched the Nissan LEAF and it just didn't have enough range at the time to take me out of town to visit my projects, as well as the various camping and fishing trips that I enjoy.
When Chevy came out with the Bolt EV, with a range of 236 miles, it looked just perfect and indeed it has been. It's the best car that I've ever driven.
I acquired it from the local Chevy dealer and they gave me a great deal. I was also attracted to the fact that it was built in Michigan with union labor.
While I got it for its clean qualities, what I really enjoy every day is the quietness, the power, and the technology. It's just great fun to drive any time.
My wife and I use it for almost all of our local travel and I use it to visit projects as far away as Florence, Mt. Hood, Sisters, and Roseburg. Now that the high-speed charging network has improved so much since 2017, I can probably take it anywhere on the west coast that I want.
With regenerative braking, I rarely use the brakes, so they should last for the life of the car. The first required service other than tire rotation is the flushing of the battery coolant at 150,000 miles so there is also no maintenance cost to driving the Bolt.
The warranty on the battery pack is 8 years and I've seen no degradation in range in my two years of driving.
It also turns out the be the most economical vehicle that I've ever owned. I average about 800 miles per month and the cost to lease and drive it is about $90 per month after taxes and before license and insurance.
With a little help from EWEB, I installed a 40amp 240v charger in the garage and unless I'm going out of town, it gets plugged in about once a week.
I can't imagine ever going back to an internal combustion engine.