Related News
Related News

Rate Setting Process is Customer Driven and Community Focused

EWEB's Board of Commissioners is considering rate changes to help maintain reliable utility services and fund critical investments in Eugene's water and electric infrastructure.

Find Out More

National Preparedness Month: Older adults take control in 1, 2, 3

We know older adults can face greater risks when it comes to the extreme weather events and emergencies we face, especially if they are living alone, are low-income, have a disability, depend on electricity for medical needs, or live in rural areas.

Find Out More

Planning for a Future of Reliable, Affordable, Environmentally Responsible Energy

The challenges revealed by Eugene Water & Electric Board's integrated resource planning process mirror those facing the Northwest.

Find Out More

EWEB's heat driven call to conserve energy yields major savings

EWEB is likely to implement similar, formalized "demand response" programs in the future.

Find Out More

How does EWEB recover the costs of serving customers

Here's an overview of the three primary ways EWEB recovers the costs of serving customers and generates the funds needed to keep the power on and the water flowing.

Find Out More
My EV Story: Zachary's Chevy Bolt
April 23, 2020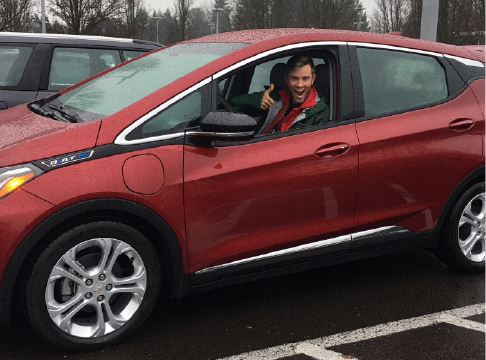 We switched to an electric vehicle purely for environmental reasons. We knew petroleum-based internal combustion engines needed to be a thing of the past, and we wanted to support electric as an alternative. We voted with our dollars by buying an EV.
We thought the Chevy Bolt had the best bang for the buck: great range at an affordable price. While we made the change because of climate, there are all sorts of amazing other benefits that we're really getting to know.
We aren't emitting as much particulate and we aren't making as much noise for our neighborhood (noise pollution is a thing too!). Short trips around town, because of regenerative braking, take almost no energy. The car encourages us to drive more carefully because that's good for "fuel" economy, but that's also a lot safer!
The driving experience is better, the maintenance experience is easier, you feel better... all around a wonderful thing for our lives!
If you are looking to purchase an EV, my advice is 100 percent do it! If you're thinking about around town, then go for a Nissan Leaf. They are sooooo affordable right now, hard great storage space, and still have tons of good incentives.