Related News
Related News

Planning for a Future of Reliable, Affordable, Environmentally Responsible Energy

The challenges revealed by Eugene Water & Electric Board's integrated resource planning process mirror those facing the Northwest.

Find Out More

EWEB's heat driven call to conserve energy yields major savings

EWEB is likely to implement similar, formalized "demand response" programs in the future.

Find Out More

Please join your neighbors in reducing energy use today

With excessive temperatures and wildfire conditions affecting power generation across the region, EWEB is encouraging customers to safely conserve power.

Find Out More

Stay cool during extreme heat events

With temperatures forecasted to reach over 100 degrees over the next several days, we've prepared some tips and tricks to help you stay cool.

Find Out More

Planning for a Reliable, Affordable, Green Energy Future

EWEB General Manager Frank Lawson publishes an op-ed in the Eugene Weekly about EWEB's IRP.

Find Out More
My EV Story: Greg's Chevy Bolt
January 12, 2020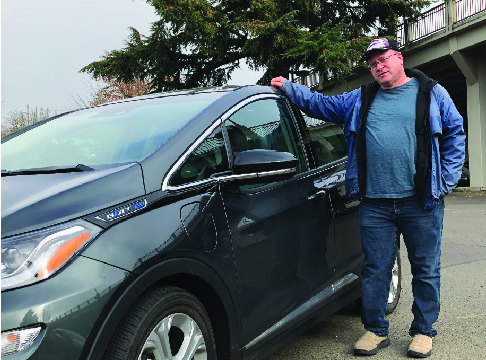 I can't say enough positive things about my Chevy Bolt.
First of all, it's fast. The electric motor produces 200 hp and 266 lb-ft of torque and goes from zero to 60 in 6.5 seconds.
Range? Not a problem. The Bolt has an EPA-rated range of 238 miles, but since I drive 90% around town, I rarely drain the battery, and I am able to re-charge overnight with a standard three-prong 120-volt outlet.
And since I'm an engineer working in energy conservation, driving my Bolt lets me geek-out on electric car stuff like voltage and kilowatt-hours, while enjoying the peace of mind that I'm generating zero tailpipe emissions.I
'm still getting to know all the features-it's crazy when your car is smarter than you are! The 10-inch touch screen is fun, and Nine Inch Nails sounds great through the Bose sound system.
This is definitely the nicest car I've ever owned, and I can't imagine ever going back to a gasoline engine. The only "downside" to my Bolt is that my partner is always borrowing it!
Two thumbs up for my Chevy Bolt!