Related News
Related News

National Preparedness Month: Older adults take control in 1, 2, 3

We know older adults can face greater risks when it comes to the extreme weather events and emergencies we face, especially if they are living alone, are low-income, have a disability, depend on electricity for medical needs, or live in rural areas.

Find Out More

Women in STEM: EWEB Engineer Laura Ohman's second degree brings a lifetime of benefits

EWEB Engineer Laura Ohman shares how getting her second degree was one of the most difficult and rewarding things she's ever accomplished.

Find Out More

Bethel neighbors boost emergency preparedness during Emergency Water Station event

Staff gave out about 300 emergency water containers to enthusiastic community members eager to learn more about the water station.

Find Out More

Stay cool during extreme heat events

With temperatures forecasted to reach over 100 degrees over the next several days, we've prepared some tips and tricks to help you stay cool.

Find Out More

Women in STEM: Meet our servant leader and maker of tough decisions

Karen Kelley, Chief Operations Officer at EWEB, describes herself as a "servant leader," offering support and mentoring to four division managers at EWEB.

Find Out More
Recovery Moves Forward at EWEB
April 30, 2021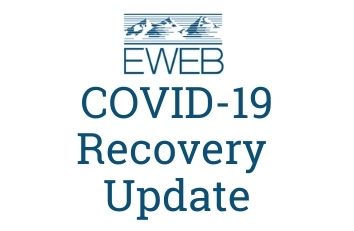 As we continue to recover from the personal, professional, and financial impacts of the coronavirus, EWEB has started sunsetting some of the pandemic relief programs we put in place in March 2020.

Starting May 1, we will resume regular service charges including the $5 late fee on past due balances.
During the early phases of the pandemic, we immediately implemented short-term crisis programs for customers. The pandemic relief programs included temporarily suspending service disconnections and late fees for past due bills, expanding eligibility for EWEB Customer Care bill credits to include those who were unemployed due to the pandemic, and increasing funding for the bill assistance program.
In mid-2020, we began shifting from crisis response to recovery, by offering extended repayment plans with no interest or fees. In August, we resumed standard disconnection procedures for those customers who were behind on their bills and had not enrolled in a repayment plan.
With more people in our community receiving vaccines, workplaces returning to a new normal, and the economy starting to recover, EWEB is winding down remaining programs to ensure the long-term financial health of the utility.
As of May 1, collection fees will be reinstated, and the residential repayment plan is no longer available. The commercial repayment plan will be available for a few more months.
As a customer-owned nonprofit utility, EWEB is not able to continue the expanded assistance programs indefinitely, nor can we simply waive past-due balances. Equity for all customers must be considered in these decisions, and we cannot continue to ask some of our customers to subsidize their neighbors.
Fortunately, EWEB entered this crisis in a strong financial position, after several years of efforts to become more efficient, lower operating costs, and reduce debt. Residential electric prices will not increase due to the extraordinary aid extended during the pandemic, and EWEB's financial health will remain in a secure position. Thanks in part to a healthy financial standing, EWEB is able to increase the Customer Care bill assistance amount from $260 to $280, effective May 1, and to continue other programs, such as incentives to install efficiency improvements that reduce monthly utility bills.
Customers experiencing hardship should contact EWEB. Staff members are available to review accounts and determine what options are available to support you. Our Customer Care program will continue undergoing regular reviews.
Our customer service team is available at 541-685-7000 to help with any questions or assistance needed from 9 a.m. to 6:30 p.m. Monday through Friday. For more updates and information, visit our COVID-19 information page.