Related News
Related News

EWEB programs reflect community values

EWEB is here to serve our customer-owners and provides programs that reflect the values of our community.

Find Out More

Rate Setting Process is Customer Driven and Community Focused

EWEB's Board of Commissioners is considering rate changes to help maintain reliable utility services and fund critical investments in Eugene's water and electric infrastructure.

Find Out More

National Preparedness Month: Older adults take control in 1, 2, 3

We know older adults can face greater risks when it comes to the extreme weather events and emergencies we face, especially if they are living alone, are low-income, have a disability, depend on electricity for medical needs, or live in rural areas.

Find Out More

How does EWEB recover the costs of serving customers

Here's an overview of the three primary ways EWEB recovers the costs of serving customers and generates the funds needed to keep the power on and the water flowing.

Find Out More

Please join your neighbors in reducing energy use today

With excessive temperatures and wildfire conditions affecting power generation across the region, EWEB is encouraging customers to safely conserve power.

Find Out More
Keeping your Energy Use Low through the Holidays
December 21, 2017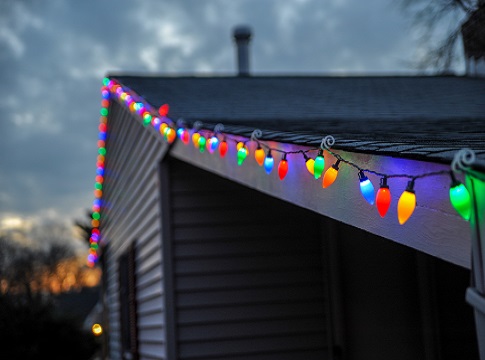 During the winter, and especially over the holidays, it's not uncommon for home energy bills to go up noticeably. The average EWEB customer with electric heat could see a seasonal spike that doubles, or even triples, consumption, leading to higher bills even as electric prices remain flat. For example, the average home that uses 1050 kilowatt hours of electricity a month, or about $4 a day, can easily see increased consumption add up to $7 or $8 a day.

Understanding how energy use increases this time of year can help cost-conscious households save energy and money.
Heating
Since home heating is approximately 50 percent of your electric bill, perhaps the most obvious reason that energy consumption goes up during the winter is due to the weather. When the outside temperature drops, the heater starts to come on more frequently, even if you don't raise the thermostat, as it's working harder to keep the same warm internal temperature. Monthly bills start to climb, and if it gets really cold for extended periods, it's not uncommon for heating costs to double or even triple, depending on the type of heating system you use, insulation levels, and other factors.
Pro tip: Even if you can't upgrade your heating system or insulation this season, you can save energy and money by lowering the thermostat, and taking steps such as closing off unoccupied rooms to reduce the amount of space you're heating.
Appliances
In addition to the heating system, other electric appliances tend to be on more during the holidays when you and your family are home from work or school. Baking cookies, pies and roasts (yum!) gives that oven a workout. Kids home from winter break use the TV and computer more. And if you have house guests, chances are your appliances are working overtime to accommodate more hot showers, laundry and dishes. If your water heater is in the garage or other unheated space, colder outdoor temperatures will increase your energy use as the appliance works harder to keep the water hot.
Pro tip: Since your water heater accounts for around 25 percent of your electric bill, keeping the temperature at 120 degrees or lower, and using cold water for laundry, can help you save energy and money.
Lights
It's dark earlier and longer, which translates into more hours of home lighting. And around the holidays, many people choose to decorate with festive lighting. Using LEDs will consume far less electricity than incandescent bulbs, but they still add to the power bill, especially if you go full Griswold.
Pro tip: Although lighting accounts for a small percent of your bill compared to heating, every little bit helps. Switch to LEDs, which use a fraction of the energy of incandescent bulbs, and turn off unnecessary lights.
Since many households spend a lot of money this time of year, anything you can do to save on expenses will help. Check out some more ideas on how you can start saving now.