Related News
Related News

Have an energy efficient and water conscious holiday season

The holiday season is officially upon us. Whether you are celebrating a special holiday or just sharing a meal with close friends and family, hosting can cause some unexpected energy and water usage increases – resulting in a higher utility bill. We've prepared some tips on how you can save energy and water this holiday season.

Find Out More

Tips to Prepare Your Pipes for Freezing Weather

The cold has arrived - here are tips to protect your pipes from freezing.

Find Out More

EWEB programs reflect community values

EWEB is here to serve our customer-owners and provides programs that reflect the values of our community.

Find Out More

Bethel neighbors boost emergency preparedness during Emergency Water Station event

Staff gave out about 300 emergency water containers to enthusiastic community members eager to learn more about the water station.

Find Out More

Water use in summer more than twice as high as winter

EWEB customers use more than twice as much water in the hot, dry summer months, compared to the cold, rainy winter months. The higher summer water use can almost assuredly be attributed to customers watering their lawns and gardens.

Find Out More
Water conservation tips for a drought-stricken Lane County
July 26, 2023 • Adam Spencer, Communications Specialist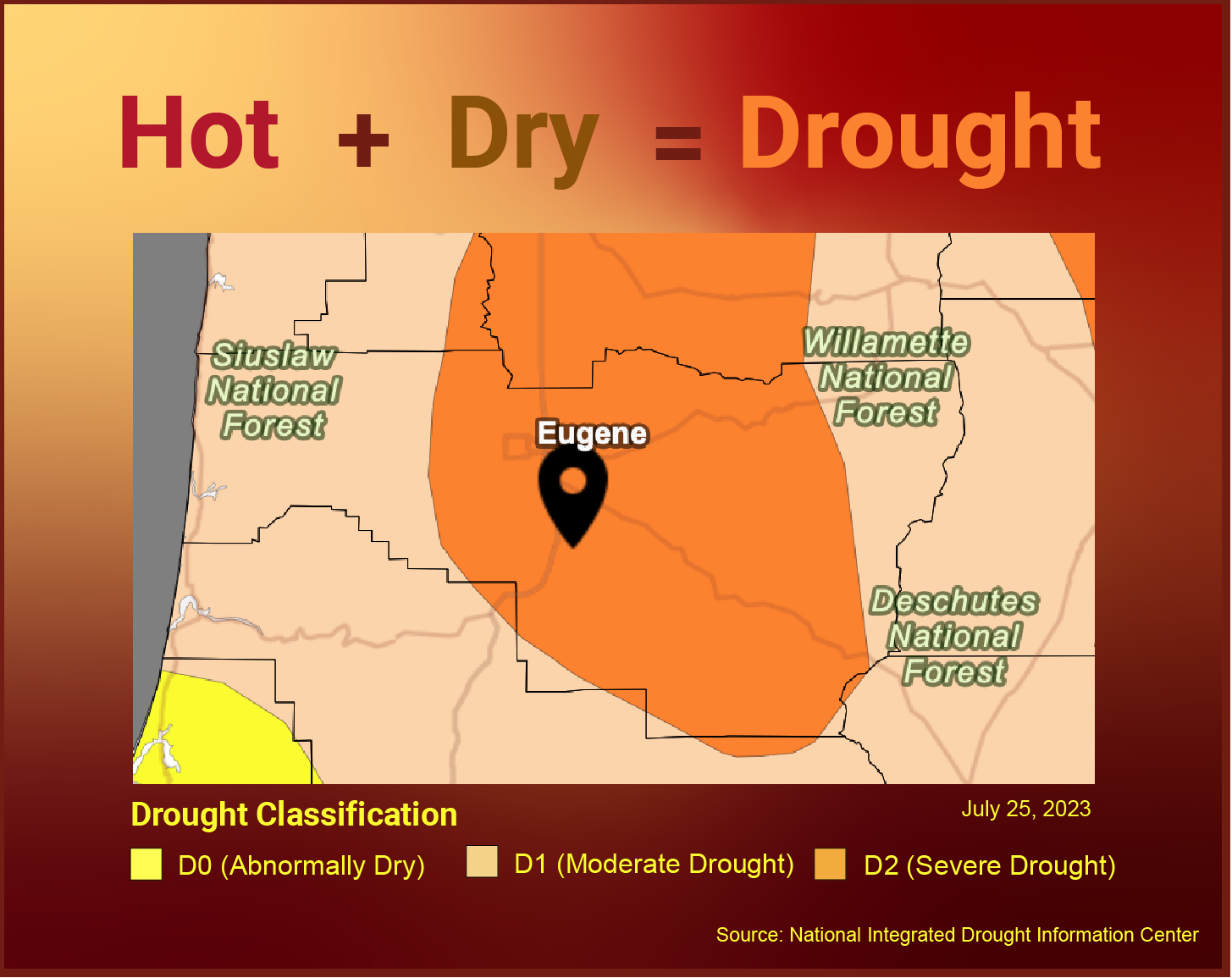 Yes, it is hot enough for you.
After Earth's hottest June on record, we're on pace for our hottest July, too. Throughout Lane County, we are keeping up. According to the National Integrated Drought Information Center, our previous 30 days have been four to eight degrees Fahrenheit hotter than our 30 year average.
Add to that our lack of precipitation and it's a simple equation: we are yet again in a drought.
Thankfully the McKenzie River – the source of water for over 200,000 people in Eugene – has some natural resiliency to droughts. Although the current drought conditions are concerning for a variety of reasons, we don't foresee any significant impacts to EWEB customers in terms of voluntary or mandatory restrictions to reduce water demand. Flows are currently 2,110 cubic feet per second at the USGS gauge in Vida. That's below average but not in dire territory. Some impressive snows in April combined with years of snowmelt that's stored in the labyrinthine lava aquafers below the Cascades have provided our watershed with some liquid to work with.
Nevertheless – it's always a great idea to conserve water! Using less water not only reduces your bill but it helps EWEB use less electricity to treat and pump water. Water conservation is also safety concern as it allows more water availability for fighting fires. And keeping more of the McKenzie's cool water in the river helps the McKenzie act as an icepack for the Willamette River. Our native salmon can really benefit with all the cold water they can get.
Over at EWEB's Hayden Bridge Water Filtration Plant, our operators are on track treating an average of 24.5 million gallons per day this year. As a community, can we get that figure down? Drop by drop, it takes all of us to be a more drought-resilient community.
So please join EWEB in buying less of our product with these water conservation tips.
Use less water on that lawn. Use EWEB's Weekly Watering guide to make sure you're not over-watering. Set your sprinklers to water at night so the water doesn't evaporate in the sunshine. And make sure to check your aim! Don't waste water on the sidewalk or driveway.
Even better – just let that lawn brown. Have a final barefoot dance on your lawn and celebrate your commitment to keeping that water in the river.
Inspect your home for leaks. Try the leak test to track down a leak inside or outside your home. You could not only conserve water but prevent serious damage if you find a leak.
Get wet in public. Rather than filling your private pool, stick your feet in the river itself, go swimming at our fine public pools, and run through our shared fountains with fellow wet Eugenians.
Turn off water when not in use. Don't run it while brushing your teeth. Take cold showers to cool off and make them unbearably shorter.
Re-use your water. Pour water used for cooking pasta on your potted plants (when it's cooled).
Work it at the car wash! Car washes are more efficient than washing at home and they capture many of the chemicals and oils rather than them running off into the storm drain.
Install water efficient appliances, like WaterSense toilets, low-flow shower heads, and Energy Star rates clothes and dish washers. And don't run the dish washer unless it's full.

Add mulch to your gardens to hold in moisture from drip irrigation lines.

This Fall – plant a "Water-Wise" garden. Download EWEB's Water-effecient plant

guide (15 MB) for tips for creating water wise landscaping. You can also visit the Water Wise Demonstration Garden at Alton Baker Park for more inspiration.
Thank you for playing your part to conserve water. What other ways can you think of to reduce the impacts of the drought? It can sometimes feel like a burden – but remember that every time you do something good it probably means someone else is, too.