Related News
Related News

Planning for a Future of Reliable, Affordable, Environmentally Responsible Energy

The challenges revealed by Eugene Water & Electric Board's integrated resource planning process mirror those facing the Northwest.

Find Out More

Bethel neighbors boost emergency preparedness during Emergency Water Station event

Staff gave out about 300 emergency water containers to enthusiastic community members eager to learn more about the water station.

Find Out More

EWEB's heat driven call to conserve energy yields major savings

EWEB is likely to implement similar, formalized "demand response" programs in the future.

Find Out More

How does EWEB recover the costs of serving customers

Here's an overview of the three primary ways EWEB recovers the costs of serving customers and generates the funds needed to keep the power on and the water flowing.

Find Out More

Women in STEM: Meet our servant leader and maker of tough decisions

Karen Kelley, Chief Operations Officer at EWEB, describes herself as a "servant leader," offering support and mentoring to four division managers at EWEB.

Find Out More
EWEB pursues second water treatment plant to ensure resiliency
March 02, 2023 • Rachael McDonald, EWEB Communication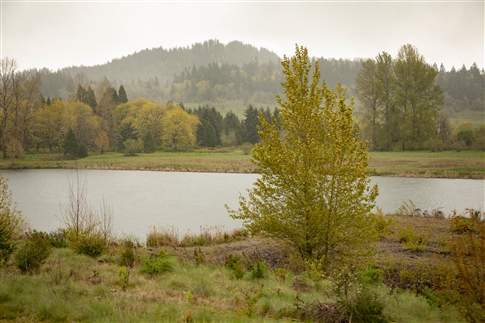 Eugene is one of the largest cities on the west coast with only a single source of drinking water, the McKenzie River.
And though the McKenzie is a pure, reliable water source, EWEB will secure a second source to ensure resiliency in the future, planning to build a water treatment plant on the Willamette River, upstream of Eugene and Springfield.
EWEB estimates the second water treatment plant will cost $97 million. It's one of the biggest infrastructure projects we're planning for the next decade. We're seeking funding from multiple places, including state and federal grants and bonds.
The second treatment plant will help ensure that when a disaster hits our community, EWEB and other local utilities will be able to adapt and respond. The Cascadia earthquake is a particular concern we're planning to address – when that earthquake strikes, we will need to be ready.
Preparing for disaster
The Pacific Northwest is vulnerable to a major Cascadia Subduction Zone earthquake which could damage EWEB's water infrastructure. The potential 9.0+ magnitude earthquake could cut Oregon off from services and assistance for weeks. But there are also many other types of natural and human-caused disasters that threaten EWEB's water supply. EWEB Water Engineering Supervisor Wally McCullough worries about all of them.
"It could be anything that could affect it: could be some spill in the McKenzie River that could take out our plant, could be mechanical electrical failures at our treatment plant," said McCullough. "And with only one source, we have only 1 to 2 days of storage, depending on the time of year before water runs out."
EWEB's reservoir system consists of sealed tanks of water and was built to enable gravity to push water through pipes across the city. It wasn't built to store large volumes of water and has a limited capacity of 48 million gallons of water. That's enough for a couple of days during low demand, like in the winter. But summer demand can be as high as 50 million gallons a day.
Karen Kelley is EWEB's Chief Operations officer.
"I would definitely say that in any disaster, public health is the number one priority," said Kelley. "And a drinking water system is the number one public health advantage that we can possibly give a community. So, for us to have that resiliency, there's really nothing more, nothing greater that we could provide to this community than to get their drinking water going ."
Building a second water treatment plant on the Willamette
EWEB has identified the Willamette River for a second water source. EWEB has purchased property in Glenwood for a water treatment plant and identified an intake near the confluence of the Coast Fork and Middle Fork of the Willamette River. The project will require land use permits, funding, and partnerships with the City of Springfield in order to be successful. Kelley said so far Springfield leaders have been on board.
"They were very supportive of our plans for that property, and they recognized the value that having a second treatment plant would give to Eugene and Springfield and Rainbow Water Districts and Veneta," Kelley said.
Kelley explained that EWEB supplies water to Veneta, Rainbow Water District, Springfield Utility Board, and Willamette Water Company.
"So, us having more resiliency is better not just for Eugene but for all of our interties that we have with other utilities," added Kelley.
A second water treatment plant would increase EWEB's ability to maintain a water supply to Eugene and help regional partners in disasters. Partnerships have helped EWEB in its protection of its single source, the McKenzie. And the hope is to carry on that practice with the Willamette River.
Ensuring a clean water source
"We are at Howard Buford Recreation Area overlooking the Willamette Confluence Preserve, which is a property the Nature Conservancy, recently transferred to the McKenzie River Trust for long term stewardship," said Joe Moll, Executive Director of McKenzie River Trust. He stood along the Buford Park trail, where you can see the Willamette River to the north.
"So we're at the confluence of the coast fork and middle forks of the Willamette River," said Moll.
The Trust's acquisition of this property is good news for Eugene drinking water since the Trust is committed to restoring healthy fish and wildlife to the river system.
"Any time you have the opportunity to protect a large swath of a river floodplain in a confluence area especially, it's just a great boost to protecting water quality, protecting fish and wildlife habitat," Moll said. "What makes this place particularly special is, look, we're within a stone's throw of 200,000 residents of Springfield and Eugene. So, to have a wild, productive area like this so close to home is it's a real opportunity and a real treat."
EWEB's Karl Morgenstern has led EWEB's Source Water Protection Program to protect the McKenzie River for over 20 years, strengthening the Pure Water Partners program to get private landowners involved in watershed stewardship, building the McKenzie Watershed Emergency Response System, and leading large-scale floodplain restoration efforts to keep the watershed safe. That work ramped up after the devastating 2020 Holiday Farm Fire. Morgenstern said the Willamette has its own challenges, but he thinks it will be an opportunity to use what we've learned from McKenzie source protection in securing this second drinking water source.
"And this property that because the McKenzie River Trust now owns really could be a cornerstone of that whole launching of an effort that actually brings attention to this area and helps us to bring resources to make some really neat things happen in partnership with agriculture and forestry and development in a way that it can really bring some change to this area, that helps protect the source and helps increase the livelihood and employment of people working in this area," said Morgenstern.
"I think anything that we can do through all of these programs to help buffer inputs to the river, which influence that water quality and yeah, it's going to be a heavy lift. But for the coast Fork and Middle Fork of the Willamette, for it to have the same pride that we have around the quality of the water in the McKenzie someday, that's one of the goals," said Moll.