The main goal of our source protection program is to create a balance between watershed health and human use over time, and to maintain our community's exceptional water quality. To protect the McKenzie River as a reliable source of excellent drinking water for present and future generations, we aim to:
Prevent or reduce activities that have known or possibly harmful effects on source water quality
Promote public awareness and maintain our healthy watershed in partnership with others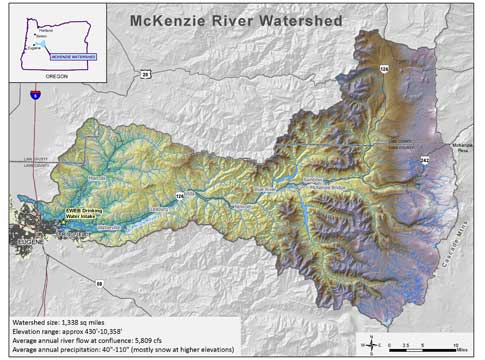 Protecting our drinking water
We developed a Drinking Water Source Protection Plan in 2000 that includes the risks from all potential threats to our drinking water. We also started an ambitious Drinking Water Source Protection Program to protect the McKenzie and maintain the high water quality you enjoy.

In 2018, we completed a 10-year strategic plan (download PDF) for our Drinking Water Source Protection Program, as well as a more detailed technical report (download PDF) that examines water quality of the McKenzie River over a 15 year period and outlines program accomplishments since 2001.
Our 2022 State of the Watershed Report (click to download PDF) describes water quality trends, current threats to water quality, significant watershed events, and our efforts to mitigate or reduce impacts to water quality over the past two years.

What is source protection?
The federal Safe Drinking Water Act requires states to assess source water to protect public drinking water sources. This assessment has three main parts:
1. Identify the area of land that provides water to a public water system.
2. List the main threats or possible sources of contamination that could affect the water system.
3. Rate these threats for the possible harm they could cause to public water supplies.At EWEB, we use this same assessment approach to address threats to our community's water supply.

Previous State of the Watershed Reports (click to download PDF)
Our partners
To protect our drinking water sources, we often work together with other utilities, natural resource agencies, industry owners and representatives, farmers and residents, plus local, state and federal governments and other watershed stakeholders. We do this because EWEB owns very little land in the McKenzie Watershed and has no control over how the watershed is managed.
We all save money

Protecting our drinking water source helps us avoid the future expense of higher treatment costs. We save money and time when we don't have to treat contaminated water, build new treatment facilities, or deal with hazardous material spills. It costs much less to protect the land around our water source than to restore degraded land.