Related News
Related News

Planning for a Future of Reliable, Affordable, Environmentally Responsible Energy

The challenges revealed by Eugene Water & Electric Board's integrated resource planning process mirror those facing the Northwest.

Find Out More

EWEB's heat driven call to conserve energy yields major savings

EWEB is likely to implement similar, formalized "demand response" programs in the future.

Find Out More

Planning for a Reliable, Affordable, Green Energy Future

EWEB General Manager Frank Lawson publishes an op-ed in the Eugene Weekly about EWEB's IRP.

Find Out More

Substations – The resilient spine of EWEB's electric system

The substation redundancy ensures reliable power continues to flow to homes and businesses despite unexpected equipment failures and routine maintenance.

Find Out More

EWEB charts energy supply choices for next 2-3 years

After 18 months of study to assess Eugene's future electricity needs, EWEB has identified next steps to pursue in the next two to three years.

Find Out More
EWEB launches new environmental programs in honor of Earth Day, increases solar funding
April 22, 2022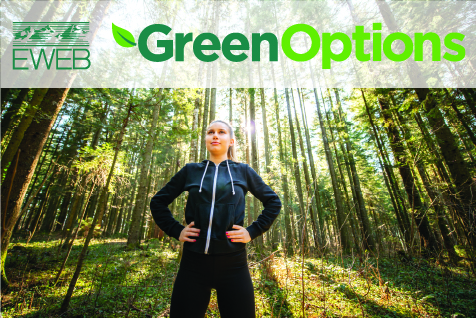 EWEB is offering an updated suite of environmental programs designed for customers who want to save money, water and energy while taking their commitment to sustainability to the next level.
Some of the programs are new, while others have been revamped. The Green Options programs fall under four umbrellas:
"The electricity that EWEB generates or acquires already has a very low carbon footprint with around 90 percent from carbon-free resources. But many of our customers want to do more, and we want to support their sustainability goals. Green Options will help us do together so much more than we can do on our own," said Juan Serpa Muñoz, a business line manager at EWEB who helped develop Green Options. "I'm especially excited about our electric mobility options that will give people of all incomes an option to get around without relying on fossil-based fuels."
At the same time, EWEB is also injecting additional funding into our solar photovoltaic (PV) program, which has historically been funded entirely by customers who voluntarily subscribe to Greenpower. The 2022 funding for the solar program has already been more than 95 percent allocated, so in honor of Earth Day, we have increased the 2022 solar PV budget by $100,000.
"We recognize that many of our customers prioritize environmental stewardship and we are committed to the partnership we have with our community to ensure a sustainable future," said Anna Wade, a business line manager at EWEB who also helped develop Green Options. "That's why we are extending customer access to programs that promote renewable energy and address carbon emissions. By design, we're offering a variety of different program options with various pricing structures to make sure that customers can buy in at a level that meets their environmental goals but also their financial needs."
The brand-new Green Options programs offer a variety of ways for customers to promote sustainability.
Invest in renewable energy by purchasing Renewable Energy Certificates. Every certificate purchased represents an investment in renewable energy and displaces a certain amount of dirty energy with carbon-free sources such as wind and solar.
Save on an electric bike purchase with a $300 rebate. E-bikes are among the most efficient, least carbon intensive ways to get around – without breaking a sweat.
Share an electric vehicle. We are partnering with nonprofit Forth Mobility to bring three electric vehicle sharing stations to Eugene, including a dedicated station for residents of St. Vincent de Paul's Iris Place.
Fund local carbon sequestration in the McKenzie River watershed. Customers can support carbon forestry and sequestration research projects along the McKenzie River.
Neutralize your carbon footprint with carbon offsets. We've partnered with the Klawock Heenya Forest Carbon Project to offer customers purchasable carbon offsets for carbon sequestered in an 8,600-acre forest in southeast Alaska.
Future decisions about other customer programs and solar funding will be informed by EWEB's in-progress Integrated Resource Plan (IRP). For the IRP, our analysts are forecasting EWEB's future energy needs and assessing various energy resource portfolios that could meet those needs. An initial public draft of the IRP is expected at the end of the year and will be available for public input. The IRP will help us determine what types of resources to invest in, including programs for customers that save or shift energy use.