Related News
Related News

Rate Setting Process is Customer Driven and Community Focused

EWEB's Board of Commissioners is considering rate changes to help maintain reliable utility services and fund critical investments in Eugene's water and electric infrastructure.

Find Out More

National Preparedness Month: Older adults take control in 1, 2, 3

We know older adults can face greater risks when it comes to the extreme weather events and emergencies we face, especially if they are living alone, are low-income, have a disability, depend on electricity for medical needs, or live in rural areas.

Find Out More

How does EWEB recover the costs of serving customers

Here's an overview of the three primary ways EWEB recovers the costs of serving customers and generates the funds needed to keep the power on and the water flowing.

Find Out More

Please join your neighbors in reducing energy use today

With excessive temperatures and wildfire conditions affecting power generation across the region, EWEB is encouraging customers to safely conserve power.

Find Out More

Stay cool during extreme heat events

With temperatures forecasted to reach over 100 degrees over the next several days, we've prepared some tips and tricks to help you stay cool.

Find Out More
EWEB General Manager Announces New Affordability and Budget Targets
April 28, 2017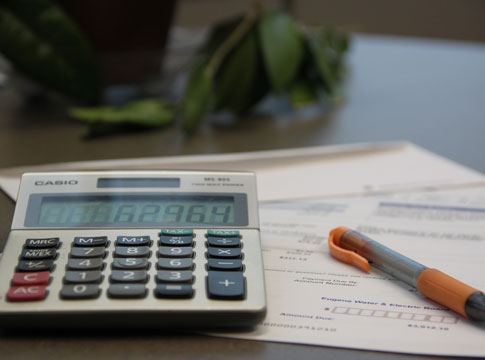 For at least a decade, the majority of you, our customers, have been telling us that we do some things really well. Through formal and informal, qualitative and quantitative feedback, you tell us we excel in the quality of water and power, and safety and reliability of our delivery of those products.
What you don't feel very good about is our cost, and have expressed this in a number of ways. You say there's a gap between what you think is important—affordable power and water—and how we're performing in that area.
For some time now, we have compared our power and water prices to other utilities. Most recently, EWEB's electric rates ranked just over the median in a list of 13 comparable utilities. Moving forward, EWEB General Manager Frank Lawson is looking to evaluate utility prices a little differently, as a percentage of median income, known as an "affordability index." Currently, EWEB customers spend approximately 4 percent of the median income in Eugene on power and water bills. Frank would like EWEB to be closer to 3.2 percent of median income, a 20 percent improvement.
"Compared with communities in the Northwest, we have a significantly worse affordability index," says Frank. "Half of the equation is out of our control because the median income in Eugene tend to be relatively low compared to places like Portland and Seattle." But the other half of the equation, price, is fully within EWEB's control and, Frank says, "we owe it to our customers to address the affordability issue."
To achieve an affordability index of around 3.2 percent, EWEB will need to trim $15 million out of the annual budget by 2020, according to Frank. That's a "net" number, meaning the budget needs to be $15 million less than it is now — after all the additions and subtractions — by 2020. "This has to be a series of small and large decisions, top to bottom," says Frank. "We're going to have to make some tough choices about what we do and don't do."
One of those "tough choices" involves headcount. EWEB now employs 510 "full-time equivalent" staff. Frank wants to lower that number down to 450. To get there, EWEB's Executive Team plans to use a combination of attrition (reductions through "normal" means such as retirements and resignations), and the strategic elimination of certain positions or functions.
"There's compulsory work and there's strategic work. Compulsory is keeping the lights on, water flowing, and interfacing with customers. All of the other stuff, we choose to do," says Frank. "This is tough because we have to look at tradeoffs. We won't continue to do everything that we're doing today because our customers have said they don't want to pay for everything we do today."
Frank describes the 2020 target as a "ramp" that gives him and the executive team time to make good decisions, and not rush to into decisions that we may end up reversing or reevaluating.
"There's a sense of urgency, but there's not a sense of panic," says Frank.
This is not the first time EWEB has made budget and staff reductions aimed at managing water and power prices. Since 2012, we've taken significant steps to become more efficient, lower operating costs, reduce debt and defer or delay certain capital projects. Thanks to this series of cost-cutting measures over a five-year period, electric prices remained flat in 2017. The fact that we've been making reductions and cost-cutting measures for a number of years will make the next set of decisions all the more difficult. There will be tradeoffs for the utility and for customers.
"We're going to have to look and see where we want to invest in beyond the compulsory level," says Frank. "Our challenge is to cut those things that don't directly benefit customers."
For example, we are not targeting cuts that would lead to slower response times to power outages or water main breaks. "Our customer-owners value safe and reliable water and electricity, so we consider that work compulsory and we will continue to focus heavily on it as our core business," says Frank.
Bill assistance programs for low-income customers are also off-the-table at this time, although we are looking at efficiencies in how we administer these and other assistance programs.
EWEB's elected Board of Commissioners will have a say in these trade-off decisions. A strategic planning meeting with commissioners is planned for mid-May. "Right now we're talking about goals and targets, but we're not going to make a lot of decisions until we know what level of support we have from the Board," says Frank. "Commissioners need to understand what the affordability target starts to look like in terms of day-to-day decisions."
This could mean re-evaluating big, strategic projects such as advanced metering (a.k.a. smart meters) infrastructure, a second water source, and EWEB's Carmen Smith hydroelectric generation project. Other options for cost reductions could include selling surplus property, generation assets or contracts; reducing energy and water conservation incentive programs or levels; scaling back some watershed and environmental protection programs; and right-sizing our customer service hours and locations.
Selling or leasing the riverfront Headquarters Building and consolidating staff at EWEB's Roosevelt Operations Center in west Eugene, also will save money through reduced maintenance and security costs. The staff consolidation effort is currently in the planning phase. All of these actions, and other potential cost-saving measures, are aimed at reducing or alleviating future water and electric price increases and enhancing affordability for our customer-owners.
Frank anticipates that he will have a better feel for what reductions are on the table, and a plan for moving forward, in the June - July timeframe. "We want to be able to do this in a way that's not only prudent, but open and transparent in terms of the direction we want to go as an organization."
It's unclear at this time how much customer bills may change as a result of the new affordability target. At a minimum, the affordability initiative will significantly reduce future price increases. EWEB intends to implement an affordability plan that is substantial enough that customers will see results on their bills within the next few years.
We will keep you updated on our plans and progress.