Related News
Related News

EWEB Recognized with Excellence in Communications Awards from American Public Power Association

We are proud to have been recognized with two Excellence in Public Power Communications Awards for 2023 from the American Public Power Association (APPA).

Find Out More

Let's talk turkey. If a disaster strikes, is your family ready?

Many of us avoid discussing politics over the dinner table in the spirit of family peace and harmony. But here's a topic that can bring everyone together: emergency preparedness.

Find Out More

EWEB To Hold First of Two Public Hearings on Proposed 2024 Budget and Prices

At the Nov. 7 Board of Commissioners meeting, EWEB staff will present a proposed budget that includes rate increases necessary to support utility operations and make needed infrastructure investments.

Find Out More

EWEB now offering a Smart Thermostat rebate program

EWEB is excited to announce a new residential rebate program to provide electric customers with free or greatly discounted Smart Thermostats to customers whose primary source of heating is from an electric forced-air furnace or heat pump.

Find Out More

Your EWEB Rates at Work: Investing Today for a Resilient Tomorrow

For more than a century, EWEB has planned, built, and maintained the systems that deliver safe, reliable, and environmentally responsible power and water to Eugene homes and businesses.

Find Out More
Customers are Saving Money and Reducing Carbon Emissions with Efficiency Projects
May 22, 2020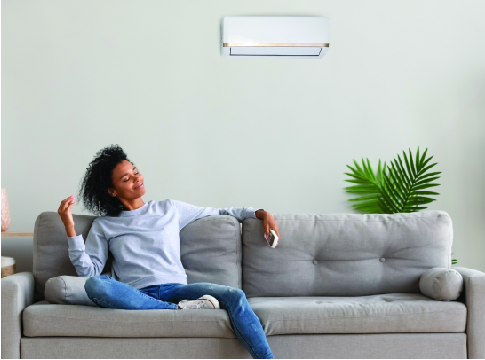 In the first quarter of 2020, customers saved enough energy to power 130 homes and reduce their electricity bills an average of $137 per year.
Now more than ever, people are looking for ways to save energy, reduce carbon emissions and improve home comfort. For many EWEB customers, some simple efficiency upgrades will tick all those boxes.
In January through March of this year, more than 400 Eugene homes and several commercial buildings were upgraded with the help of EWEB rebates and loans. Altogether, these efforts are saving 2,524 megawatt-hours of energy and 522 metric tons of carbon. The energy savings is roughly equivalent to the power used by 130 homes in a year, taking 113 passenger vehicles off the road, or the carbon sequestered by 700 acres of forest.
Upgrading buildings to reduce energy waste is essential to our community's efforts toward carbon neutrality, and improving housing affordability. And if pandemic-induced work-from-home trends continue, managing the temperature inside the house is an important way to maintain a comfortable space while saving on energy costs.
"Energy efficiency projects, understandably, have been affected by the pandemic-a lot of home-owners as well as efficiency contractors are hurting right now," says Juan Serpa Munoz, of EWEB's Customer Solutions team. "But most people understand that improving a home's heating system, water heater or insulation saves money in the long term, which is why folks continue to view efficiency as a worthwhile investment."
Residential customers who performed efficiency upgrades in the first quarter will save an average of 1,500 kilowatt-hours or $137per year on their electricity bills. Of the 422 residential projects completed so far this year, 57 were at limited-income residences and 46 were rental properties. The average bill savings for income-qualifying customers is roughly $190 a year.
EWEB offers financial assistance to help property owners with the upfront costs of upgrades. In the first quarter of 2020, more than $650,000 in utility rebates and $310,000 in zero-interest loans were reinvested back into the community to help customers save energy and money.
The most popular upgrade is a ductless heat pump, which can reduce electricity costs by up to 50 percent compared to zonal resistance or electric forced air systems. EWEB offers a standard rebate of $800 for a ductless system. The rebate for income-qualifying customers is $3,800 and $1,000 for rental properties. Adding insulation and replacing old, drafty windows with high-performance windows helps optimize the heating system's efficiency, keeping your home or rental property comfortable throughout the year while lowering electric bills and reduce energy waste.
Learn more about EWEB's rebates and zero-interest loans for residential and business customers.