Related News
Related News

Rate Setting Process is Customer Driven and Community Focused

EWEB's Board of Commissioners is considering rate changes to help maintain reliable utility services and fund critical investments in Eugene's water and electric infrastructure.

Find Out More

National Preparedness Month: Older adults take control in 1, 2, 3

We know older adults can face greater risks when it comes to the extreme weather events and emergencies we face, especially if they are living alone, are low-income, have a disability, depend on electricity for medical needs, or live in rural areas.

Find Out More

How does EWEB recover the costs of serving customers

Here's an overview of the three primary ways EWEB recovers the costs of serving customers and generates the funds needed to keep the power on and the water flowing.

Find Out More

Please join your neighbors in reducing energy use today

With excessive temperatures and wildfire conditions affecting power generation across the region, EWEB is encouraging customers to safely conserve power.

Find Out More

Stay cool during extreme heat events

With temperatures forecasted to reach over 100 degrees over the next several days, we've prepared some tips and tricks to help you stay cool.

Find Out More
Can LED holiday lights actually save a noticeable amount of money?
December 16, 2022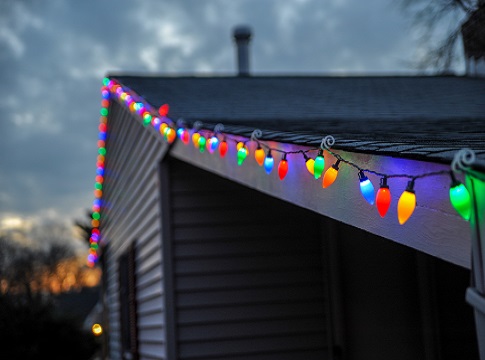 During the winter, and especially over the holidays, home energy usage goes up. This means your holiday electric bill goes up as well. For example, the average home that uses 1050 kilowatt-hours of electricity a month, or about $4 a day, can easily see increased usage add up to $7 or $8 a day over the winter holiday months.
By now, most people have made the switch to LED lights. But if you decorate with holiday lights, will LEDs really save you any noticeable amount of money compared to traditional incandescent bulbs?
The answer is a resounding YES!
Cost comparison
LEDs consume 80 to 90 percent less power than incandescent lights.
To put it in real dollars, if you have a modest holiday display on your home, your energy costs would be approximately $10-$15 for incandescent lights or around $2 for LEDs for the holiday season.
To go full-Griswold, the costs could be well over $300 with traditional lighting compared to $40-$50 with LEDs.
Other benefits of LED holiday lights
With traditional lights, you can connect only four or five strings of lights together on one outlet, but with LED lights you can safely connect at least 20 light strings together.
LED holiday lights come in a wider range of colors, are generally brighter than incandescent light strings. If you like the look of traditional incandescent bulbs, look for warm white LEDs.
LED lights don't produce any heat, making them safer for indoor use and in trees.
LED lights last up to 50,000 hours (around 6 years!), compared to the 2,000-hour average life span for incandescent lights.
Set a timer and save even more
Why leave your holiday lights on all-night-long, when there's no one awake to enjoy them? Save money by using a timer to limit your display to a few hours each evening.