Related News
Related News

Rate Setting Process is Customer Driven and Community Focused

EWEB's Board of Commissioners is considering rate changes to help maintain reliable utility services and fund critical investments in Eugene's water and electric infrastructure.

Find Out More

National Preparedness Month: Older adults take control in 1, 2, 3

We know older adults can face greater risks when it comes to the extreme weather events and emergencies we face, especially if they are living alone, are low-income, have a disability, depend on electricity for medical needs, or live in rural areas.

Find Out More

How does EWEB recover the costs of serving customers

Here's an overview of the three primary ways EWEB recovers the costs of serving customers and generates the funds needed to keep the power on and the water flowing.

Find Out More

Stay cool during extreme heat events

With temperatures forecasted to reach over 100 degrees over the next several days, we've prepared some tips and tricks to help you stay cool.

Find Out More

Women in STEM: Meet the woman responsible for managing our wholesale energy agreements to ensure we meet our customers energy needs

Megan Capper, the Energy Resource Manager at EWEB, began her career working in economics at BPA before joining the power planning department EWEB, ensuring we can meet the energy needs of our our customers today, tomorrow and 20 years from now.

Find Out More
Severe Weather Hampers EWEB Meter Readers
March 05, 2019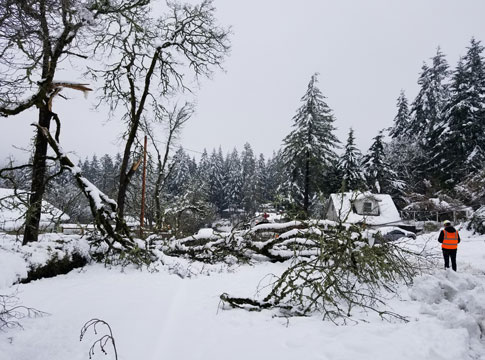 Due to recent severe weather conditions our meter reading staff could not safely complete their assigned routes Feb. 24-28, 2019. When meter readers are not able to obtain an actual reading, EWEB uses historical usage patterns to estimate usage for billing purposes. Customers in the following areas may receive a bill with an estimated reading:
W. 11th Ave./S. Bertlesen Rd./Greenhill Rd.
Crest Dr./W. 28th Ave./Hawkins Ln./Chambers St.
E. 24th Ave./Amazon Pkwy./Agate St.
E. Springfield up the McKenzie Hwy. through Vida
Review a map of Eugene areas or a map of upriver where meter readers could not obtain an actual reading.
If you are in one of the above areas, your next EWEB bill will reflect this estimated reading. The word "estimated" should appear in the line with the current meter reading for electric and water service. The example provided below shows the electric portion of a bill. Customers with water service will have "estimated" on the water portion of their bill as well.
Estimated readings can be higher or lower than actual usage; however, bills self-correct when the meter is read the following month, ensuring you only pay for the amount of energy and/or water that you used.
Barring any severe weather conditions, meter readers will provide actual readings next month and your following bill will reflect this "true-up" process.