Related News
Related News

EWEB 2023 year in review

In 2023, EWEB invested in our community with grants, rebates and an array of other programs and measures aimed at fulfilling our core values of safety, reliability, affordability, environmental responsibility and community/culture.

Find Out More

EWEB Recognized with Excellence in Communications Awards from American Public Power Association

We are proud to have been recognized with two Excellence in Public Power Communications Awards for 2023 from the American Public Power Association (APPA).

Find Out More

Let's talk turkey. If a disaster strikes, is your family ready?

Many of us avoid discussing politics over the dinner table in the spirit of family peace and harmony. But here's a topic that can bring everyone together: emergency preparedness.

Find Out More

EWEB To Hold First of Two Public Hearings on Proposed 2024 Budget and Prices

At the Nov. 7 Board of Commissioners meeting, EWEB staff will present a proposed budget that includes rate increases necessary to support utility operations and make needed infrastructure investments.

Find Out More

Public Power Week Poster Contest Winners 2023

The results are in! View the winning posters from EWEB's 2023 Public Power Week Poster Contest.

Find Out More
Being Part of the Community to Raise a Village
March 12, 2018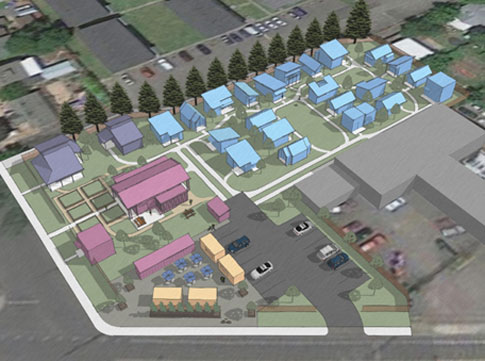 In late 2017, EWEB had the opportunity to work with SquareOne Villages on cost-saving measures for their tiny homes project.
Emerald Village Eugene is a new, innovative housing project of 22 affordable tiny homes. Each of the tiny homes is designed to meet code requirements for a "permanent dwelling" — sleeping and living areas, a kitchenette and bathroom — and will provide secure, permanent housing to community members with very low incomes.
Supporting vulnerable members of our community is a priority for EWEB. We offer weatherization programs to help income-eligible customers reduce energy use and lower their utility bills, as well as bill assistance programs. The tiny home village provided an opportunity to assist with a unique safety net project that will help very low income residents regain stability, benefiting the entire community.
To keep residents' monthly costs between $250 - $350, SquareOne Villages looked to the community—including EWEB— for support. With the need for utility service at each of the homes, we were pleased to offer solutions for both water and electricity to help keep the monthly costs low.
"We were able to work out a means with EWEB to put the entire project on a single meter for the electricity. This represents a significant savings for which we are very grateful," says Dan Bryant, Executive Director of SquareOne Villages.
EWEB was also able to offer water conservation measures to the homes as another way to keep monthly utility costs down.
Installing water efficient toilets was a tangible method for achieving this goal. Working through EWEB, Emerald Village secured a donation from Niagara Conservation of 23 ultra high efficiency toilets, shower heads and aerators to be installed in each of the tiny homes. "We are thankful to EWEB for initiating this partnership, and to Niagara Conservation for helping improve the quality of our housing for low-income community members here in Eugene," says Emerald Village Project Manager Andrew Heben.
The tagline of the project is, "It takes a community to raise a village." Looking at the long list of contributors to the project, it appears as though that motto is being realized and we are pleased to have played a small part.