Related News
Related News

EWEB programs reflect community values

EWEB is here to serve our customer-owners and provides programs that reflect the values of our community.

Find Out More

EWEB Prepares for the Annual Observance of "Imagine a Day Without Water"

Water infrastructure is essential, invaluable, and in need of continuous investment. Read how EWEB's Staff and Board of Commissioners are working to safeguard Eugene's water future.

Find Out More

National Preparedness Month: Older adults take control in 1, 2, 3

We know older adults can face greater risks when it comes to the extreme weather events and emergencies we face, especially if they are living alone, are low-income, have a disability, depend on electricity for medical needs, or live in rural areas.

Find Out More

Bethel neighbors boost emergency preparedness during Emergency Water Station event

Staff gave out about 300 emergency water containers to enthusiastic community members eager to learn more about the water station.

Find Out More

Stay cool during extreme heat events

With temperatures forecasted to reach over 100 degrees over the next several days, we've prepared some tips and tricks to help you stay cool.

Find Out More
Valley Snow Could Bring Down Trees, Cause Outages
December 23, 2021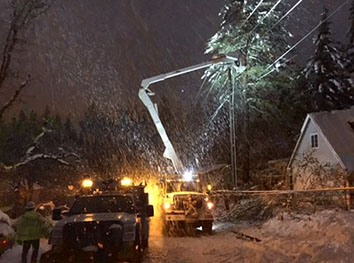 With the National Weather Service predicting snow for the Eugene area Sunday through Tuesday, we want to remind customers that the expected snow could bring trees and branches down onto overhead power lines and cause electric outages.
While we trim more than 300 "line miles" of vegetation around power lines each year, the heavy, wet snow that tends to fall in the southern Willamette Valley can damage distressed trees and branches along with electrical equipment such as cross-arms, power poles and transformers.
As the first winter storm of the season approaches, now is a good time to make sure you and your family are prepared for power outages, damage caused by falling trees, and hazardous driving conditions.
Our repair crews remain on standby and will respond through the holidays if the approaching storm leads to electric outages.
"We have an aggressive vegetation management program in addition to the ongoing maintenance and resiliency upgrades on our electric system," said Electric Operations Manager Tyler Nice. "If we have a heavy winter storm that causes trees fall on our lines and damages equipment, our crews are ready to respond day or night."
With the possibility of snowstorm-related power outages in the coming days, customers should stock up on the following provisions before the bad weather arrives:
An ample supply of nonperishable food for the entire family
One gallon of water per person per day for drinking and sanitation
Medicines
Flashlights
Batteries and power banks to recharge cell phones and other electronic devices
An emergency kit including blankets, food and water for your vehicle.
The Oregon Office of Emergency Management encourages residents to have a two-week supply of necessities in the event of a prolonged storm or other disaster.
If a power outage occurs, first check to see if others around your residence appear to have lost power as well. If you suspect your home or business is the only outage, check your circuit panel for tripped breakers. If the breakers are intact, report your outage by calling our toll-free outage reporting line at 1-844-484-2300, or text "out" to TXEWEB (893932).
We have installed smart meters to more than half of our customers. The meters will automatically report an outage. If you are unsure whether you have a smart meter, you should go ahead and report your outage by phone or text as described above.
Customers can also check the status of a restoration efforts by going to our power outage map. The map refreshes every 10 minutes, so be patient.
Safety is our first priority in any outage. If the snowstorm causes outages, residents should stay indoors to avoid downed powerlines and falling trees and branches. Please remember that trees, branches, water/puddles, snow and fences can all conduct electricity.
There's no way to know if a downed line is energized, so play it safe and keep your distance. If you see a downed power line, assume it is live and stay away. Call our outage hotline at 1-844-484-2300. If the downed line is across a street or sidewalk, call 911.
Visit eweb.org for the most up to date information, or follow us on Facebook, Instagram or Twitter (@ewebutility) for updates.
As with any storm that causes widespread power outages over multiple days, we have mutual aid agreements with local and regional utilities to provide additional help should the damage be substantial. We have frequently responded to calls for mutual aid in past years, and other utilities have been generous in sending crews to help us when requested.
However, forecasts indicate the approaching storm could impact a wide swath of the Pacific Northwest. Should that scenario occur, utilities first restore their own customers before coming to the aid of others.
Related News Links:
Prepare for Winter Storm Season