Related News
Related News

EWEB Recognized with Excellence in Communications Awards from American Public Power Association

We are proud to have been recognized with two Excellence in Public Power Communications Awards for 2023 from the American Public Power Association (APPA).

Find Out More

Let's talk turkey. If a disaster strikes, is your family ready?

Many of us avoid discussing politics over the dinner table in the spirit of family peace and harmony. But here's a topic that can bring everyone together: emergency preparedness.

Find Out More

EWEB To Hold First of Two Public Hearings on Proposed 2024 Budget and Prices

At the Nov. 7 Board of Commissioners meeting, EWEB staff will present a proposed budget that includes rate increases necessary to support utility operations and make needed infrastructure investments.

Find Out More

EWEB now offering a Smart Thermostat rebate program

EWEB is excited to announce a new residential rebate program to provide electric customers with free or greatly discounted Smart Thermostats to customers whose primary source of heating is from an electric forced-air furnace or heat pump.

Find Out More

Your EWEB Rates at Work: Investing Today for a Resilient Tomorrow

For more than a century, EWEB has planned, built, and maintained the systems that deliver safe, reliable, and environmentally responsible power and water to Eugene homes and businesses.

Find Out More
Prepare for Winter Storm Season
September 01, 2021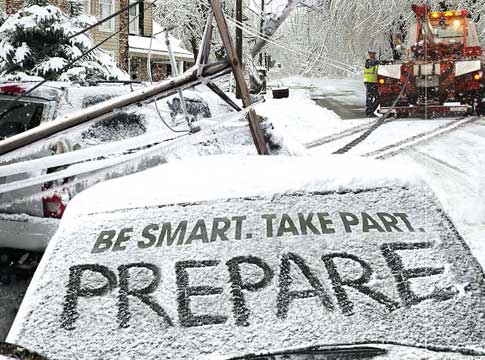 Winter is coming and that means an increased likelihood of storm-related power outages.

Improving EWEB's extreme weather preparedness and response while replacing and reinforcing aging infrastructure are top priorities, but power outages can still occur. It's important to be prepared and there are simple actions you can take right now.

September's National Preparedness Month is a great time to get a jump on winter by assembling or refreshing your household emergency supplies and plans. Here are some tips to help you get ready for winter storms or other disasters that could disrupt electricity:
Develop an emergency plan that addresses any special medical needs you or your family members have.
Purchase surge protectors to help safeguard valuable electronic equipment such as computers and home entertainment systems.
To avoid extra steps during a power outage, make sure your current cell phone number is tied to your EWEB account. Update your account using our Customer Portal (myaccount.eweb.org) or by contacting customer service at 541-685-7000 or EWEB.Answers@eweb.org.
Keep your fuel tanks full. If the power goes out, you may want to use your grill or camp stove for cooking, so make sure you have an adequate supply of fuel on hand. It's also a good idea to keep your car's tank full, since gas station fuel pumps rely on electricity. If you have an Electric Vehicle, charge it up ahead of predicted storms.
Prepare for your heating system to be unavailable in cold temperatures by keeping a supply of extra blankets and warm clothes on hand.
Get a back-up power source for your mobile phone and keep it charged.
Make sure you know how to open and close your garage door manually.
Keep cash on hand in case ATM or card reader machines are down.

If your power does go out, know how to contact EWEB. Customers who do not yet have a smart meter, or who have opted out of smart meter services, must report your outage to ensure you are put on a restoration plan.

Call our toll-free outage reporting line at 1-844-484-2300 or text 'out' to TXEWEB (893932).Use our online outage map to check the status of power outages.
Planning to use a generator?
Using a generator when the power goes out is a great option, but safety should be the top priority for both you and utility workers.
Always follow the guidelines in your operator's manual
Know how to shut off the generator in case of an emergency
Never modify the generator in any way
Never refuel a generator while it is running or hot
Periodically run the generator to ensure it will start and run properly
Learn more about the different types of generators.
For customers with medical needs
Take a few moments to make sure we have your current contact information in case we need to reach out to you in an emergency. If you rely on electrically powered medical devices, or you care for someone who is medically fragile, we encourage you to let us know and to have a contingency plan in the event of a prolonged outage. Contact our Customer Service team at 541-685-7000.
Set up plans with friends or relatives to check on special-needs folks during an emergency, and transport them if necessary to a site with electricity, such as emergency centers, hotels or neighbors.
Water emergencies can happen too!
Although we most often think of winter storms affecting power lines, water systems are also susceptible to damage, as freezing and thawing can cause pipes to burst or fracture. This can happen to utility-owned pipes underneath streets and sidewalks, and to the customer-owned plumbing in homes and businesses.
Learn how to prepare your pipes for winter, and what to do if your pipes freeze. And remember to store water in case of emergency—try to store 14 gallons for every person in your household (enough for two weeks). Visit our Preparing for Emergencies page for tips on storing and treating water.