Related News
Related News

Public Power Week Poster Contest 2023

It's that time of year again! October 1-7 is Public Power Week. To celebrate, EWEB is holding our annual poster contest for fifth graders in our service area. Help us pick the winners.

Find Out More

Salmon Return to Finn Rock Reach

Finn Rock Reach and other restoration projects throughout the Middle McKenzie provide conditions to help young fish survive to adulthood.

Find Out More

EWEB programs reflect community values

EWEB is here to serve our customer-owners and provides programs that reflect the values of our community.

Find Out More

EWEB Prepares for the Annual Observance of "Imagine a Day Without Water"

Water infrastructure is essential, invaluable, and in need of continuous investment. Read how EWEB's Staff and Board of Commissioners are working to safeguard Eugene's water future.

Find Out More

National Preparedness Month: Older adults take control in 1, 2, 3

We know older adults can face greater risks when it comes to the extreme weather events and emergencies we face, especially if they are living alone, are low-income, have a disability, depend on electricity for medical needs, or live in rural areas.

Find Out More
Tests show EWEB water is free of "forever chemicals"
March 21, 2023 • Rachael McDonald, EWEB Communications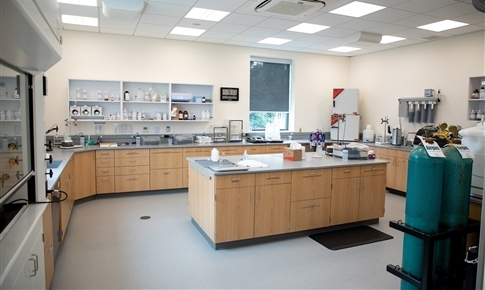 EWEB is already in compliance with a new proposed federal rule that would require municipalities to test for PFAs, or forever chemicals, in drinking water. The good news for EWEB customers is that in over ten years of testing we have not found PFAs in our water.
On March 14, 2023 the Environmental Protection Agency announced a proposed National Primary Drinking Water Regulation for six PFAS, (including perfluorooctanoic acid (PFOA), perfluorooctane sulfonic acid (PFOS), perfluorononanoic acid (PFNA), hexafluoropropylene oxide dimer acid (HFPO-DA, commonly known as GenX Chemicals), perfluorohexane sulfonic acid (PFHxS), and perfluorobutane sulfonic acid (PFBS)). The rule is set to be finalized by the end of 2023.
Brenda Casarez is EWEB's water quality compliance specialist. She said PFAS have been around since the 1940s. They're used for water-proofing and found in things like stain-resistant carpets, waterproof clothing and non-stick cookware.
"They do not break down in the environment," said Casarez. "So, once we put them out there, they are there to stay."
Scientific studies show exposure to PFAS can increase risk of cancers and birth defects as well as other health problems in people and animals.
"EWEB has been testing for PFAS since 2013 in our finished drinking water, so the water that goes to Eugene," said Casarez. "And, we have not found any PFAS in the finished water. We also test the McKenzie River and a lot of the tributaries of the McKenzie River, and we have not found any PFAS."
Casarez said testing technology has improved so that they can test for lower levels of PFAS and even at those low levels we do not see any PFAs in our drinking water or our source water. PFAs are a concern in other parts of the country. A recent study found high levels of the forever chemicals are found in freshwater fish in Lake Erie. Casarez said EWEB is complying with the proposed rule already.
"EWEB tests above and beyond for all of our contaminants," said Casarez. "It does give a very comforting feeling that we test for these things, even before they are required, and we know that they are not in our water. It makes me very happy to be able to tell customers when they call me, we've already checked for that, and we don't have it."
More information on EWEB's water quality testing.