Related News
Related News

EWEB Recognized with Excellence in Communications Awards from American Public Power Association

We are proud to have been recognized with two Excellence in Public Power Communications Awards for 2023 from the American Public Power Association (APPA).

Find Out More

Let's talk turkey. If a disaster strikes, is your family ready?

Many of us avoid discussing politics over the dinner table in the spirit of family peace and harmony. But here's a topic that can bring everyone together: emergency preparedness.

Find Out More

EWEB To Hold First of Two Public Hearings on Proposed 2024 Budget and Prices

At the Nov. 7 Board of Commissioners meeting, EWEB staff will present a proposed budget that includes rate increases necessary to support utility operations and make needed infrastructure investments.

Find Out More

EWEB now offering a Smart Thermostat rebate program

EWEB is excited to announce a new residential rebate program to provide electric customers with free or greatly discounted Smart Thermostats to customers whose primary source of heating is from an electric forced-air furnace or heat pump.

Find Out More

Your EWEB Rates at Work: Investing Today for a Resilient Tomorrow

For more than a century, EWEB has planned, built, and maintained the systems that deliver safe, reliable, and environmentally responsible power and water to Eugene homes and businesses.

Find Out More
Right Tree, Right Place, Right Time
October 01, 2019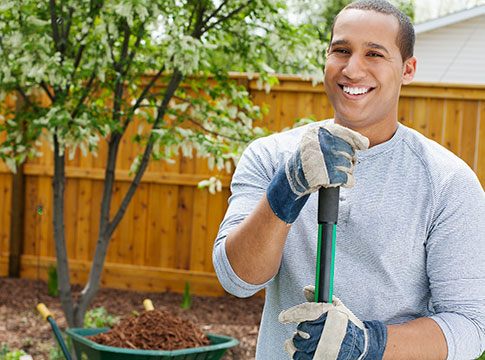 Fall is a great time to plant trees. Mother nature will shower your new addition with plenty of water ahead of the growing season. While trees bring shade, privacy and curb appeal, they can also bring an increase in power outages if they interfere with overhead power lines. Before you head to the local garden center and select your new foliage, consider a few tips.
1. Assess the location
When selecting a tree, consider size and growth. The tree should fit comfortabally in the available space 25 years from now. Don't forget to look up during this assessment! If you are planting under or near power lines, you will need to take extra care. If you happen to be in an area with underground electric utilities, remember to keep at least six feet away from pad-mounted transformers so utility workers have clear access.
2. Select a power line friendly species
To reduce the risk of trees and branches coming into contact with power lines and causing power outages, choose a species that grows no higher than 25 feet and seldom needs pruning for power line clearance. There are a number of species to choose from, including both deciduous and evergreen varieties. You will find species that flower, such as the flowering cherry; species that develop spectacular fall color, like some dogwoods; and even some that provide a lovely scent, such as lilacs. With over 20 species suitable to our local climate, you are sure to find an option that matches your needs.
3. Call before you dig
Planting a tree can require digging a significant hole. Be sure to call 811 to locate any underground utilities at least three days before you plan to put your shovel in the ground. You can also request locates online.
4. Oops! What if you have an existing tree growing into power lines?
When pruning or removing trees, safety should be your number one concern. If you see power lines in or near the tree you are planning to work on, please get in touch with EWEB. Call 541-685-7148 or complete our online tree trimming request form.
Want more information?