Related News
Related News

EWEB 2023 year in review

In 2023, EWEB invested in our community with grants, rebates and an array of other programs and measures aimed at fulfiling our core values of safety, reliability, affordability, environmental responsibility and community/culture.

Find Out More

EWEB Recognized with Excellence in Communications Awards from American Public Power Association

We are proud to have been recognized with two Excellence in Public Power Communications Awards for 2023 from the American Public Power Association (APPA).

Find Out More

Let's talk turkey. If a disaster strikes, is your family ready?

Many of us avoid discussing politics over the dinner table in the spirit of family peace and harmony. But here's a topic that can bring everyone together: emergency preparedness.

Find Out More

EWEB To Hold First of Two Public Hearings on Proposed 2024 Budget and Prices

At the Nov. 7 Board of Commissioners meeting, EWEB staff will present a proposed budget that includes rate increases necessary to support utility operations and make needed infrastructure investments.

Find Out More

Your EWEB Rates at Work: Investing Today for a Resilient Tomorrow

For more than a century, EWEB has planned, built, and maintained the systems that deliver safe, reliable, and environmentally responsible power and water to Eugene homes and businesses.

Find Out More
McKenzie Landowners Resolve to Restore our River
September 07, 2021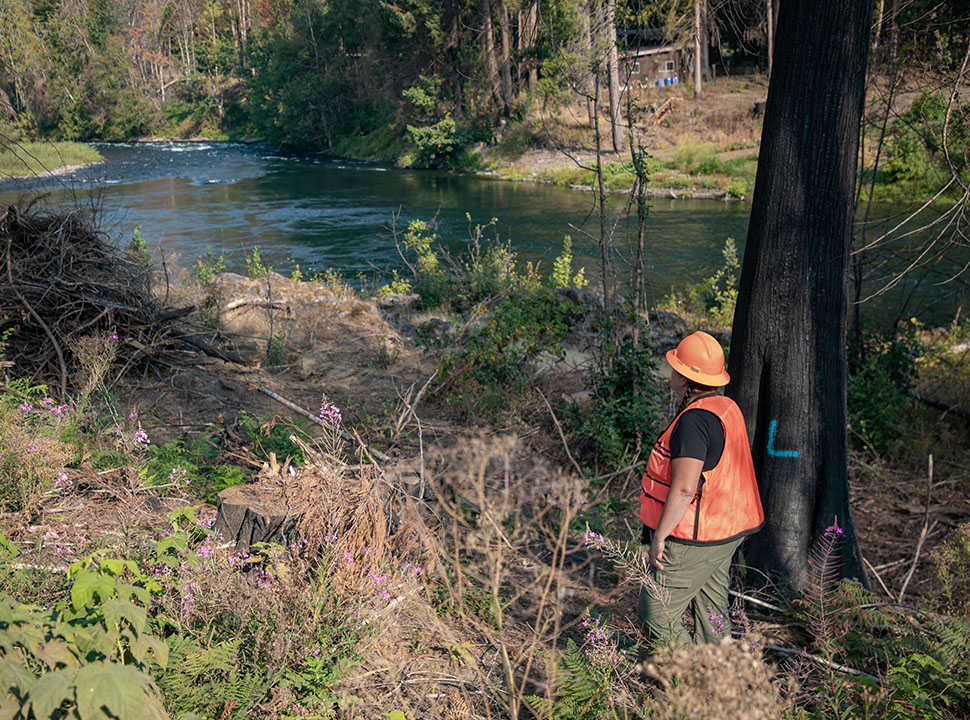 Watch a video of these testimonies: https://www.youtube.com/watch?v=iuUd-K0sFUE
Lara Colley was sleeping at her grandmother's house when an emergency alarm on her phone woke her. She called her partner to help him evacuate their 7-acre farm in Vida.
"We have chickens, we have cats. He was trying to evacuate animals. I was trying to tell him what documents to grab. It was really scary to not be there and to not be in control of the situation," she said.
Most of their forested property burned. They lost all of their outbuildings, but luckily, not their house.
"The neighbors on both sides lost their homes, so we were the only house left on the driveway," she said. "We lost our well. We did not have water for a long time. It was rough. It could have been so much worse."
Another McKenzie resident, Sue McAlister, grew up playing in the creeks and forests near Blue River, just like her grandfather. Their childhoods in nature led them both to become scientists and professors; Sue taught ecology at Oklahoma State University. She and her husband recently retired and had moved back home to take care of Sue's mom.
"You can see the size of the cedar trees they cut down for the World War II effort," she said. "When my grandfather came back from the war, he was devastated. One of the last things he said to me was to ask that I bring back the forest like it was."
Jim Russell, who owns Whitewater Ranch, was hosting guests at his blueberry farm when the fire hit last Labor Day.
"We had a nice, candlelit dinner, and everyone went to sleep. And at about one in the morning, it was like all hell broke loose," he said.
The Russell's house survived the fire, but they lost their new shop, a 100-year-old dairy barn, and 1,400 of the 1,600 acres of timber in their hills above the valley.
"I guess, fortunately, the fire just touched into our blueberries. We lost some plants, but miraculously, the majority of them were okay," he added.
In the year since the fire, Lara Colley has been helping her neighbors recover, working as a Watershed Restoration Specialist with the McKenzie Watershed Council. She spends most of her days surveying properties within the burn zone to administer Pure Water Partners (PWP) restoration programs.
The programs include installing erosion control measures to buffer the McKenzie and its tributaries from hazardous debris, replanting riparian forests, and removing invasive species like blackberries that she says have been reinvigorated by the fire.
"That not only helps from an ecological perspective, because we're controlling invasive species in the watershed, but a lot of them act as fuels so we're creating fire resistance and resilience for the community," she said.
The McKenzie Community School is one of the properties enrolled in the program. Firefighters worked all night to save the school from the fire, and now its administrators are working with PWP to remove fuels to reflect Firewise best practices.
"We're going to continue working with Pure Water Partners and EWEB to make sure we have a place that's safe for students, and we want to make sure we're limiting the number of fuels we have on campus in order to prevent things like this from reaching the campus in the future," McKenzie Community Schools Assistant Principal Brent Meister said.
Lara says it's challenging to spend so much time thinking about the fire, as both a survivor with her own property to repair and as an emissary of PWP. She says she's motivated to help her community prepare for the challenges ahead.
"I don't want to sound alarmist, but we will have more fires. That's probably going to happen. It's not a matter of if, but when," she said. "By having more people prepared and more people thinking about it and more people participating in the program and getting help on their properties I think we're going to be in a better place to face what's ahead."
Lara's dedication to her community brought her out to Jim's farm to check on PWP-planted native trees and shrubs along the McKenzie River and to calculate how much work it would take to remove remnant fuels.
"There would have been no way we could have even addressed it," Jim said. "I've never been through a natural or national disaster. I can now appreciate what people go through and to have a helping hand like that come out to us with something very special."
In the wake of the Holiday Farm Fire, Sue McAlister also brought in the Pure Water Partners team to help mulch slash piles and replant native trees and shrubs.
"They're going to replant, which is marvelous. We have to buy trees for some of the other areas, and then pay people to plant them because we can't plant 5,000 trees by ourselves," she said. "They have that long-term commitment to keeping the property along the river in a good shape so that it is growing and having clean water and stopping erosion. So it's a marvelous program, I think."
The Pure Water Partners can provide these services thanks to a combination of donations, state and federal grants, FEMA disaster relief programs, the Oregon State Legislature, and EWEB water customers through the Watershed Recovery Fee. While many of the properties that burned are private, it's up to all of us to help restore our watershed. Replanting riparian forests is one of the best things we can do to protect our drinking water quality. These young plants will filter sediments, provide shade to keep the river cool, and become habitat for a healthier ecosystem.
Just as Lara, Jim, Sue and Brent may offer their gratitude to the program for its helping hand in this time of need, EWEB and our Pure Water Partners thank them for accepting our offer and spirit of shared responsibility to restore our river.
"Now we have this 'rest-of-our-lives-task' to get this growing again and to leave it in a way that it can be passed on to our children," Sue said.
EWEB is a committed partner in this task. Building on EWEB's presence in the McKenzie Valley for more than 110 years, the utility will continue investing in the upriver community and the watershed for generations to come.
"We are here for the duration," said EWEB CEO and General Manager Frank Lawson. "We are planning for a significant recovery. The additional fire restoration work is intended to supplement EWEB's ongoing McKenzie River Drinking Water Source Protection Program that is part of our responsibility as an organization with a significant presence in the McKenzie Watershed."