Related News
Related News

Rate Setting Process is Customer Driven and Community Focused

EWEB's Board of Commissioners is considering rate changes to help maintain reliable utility services and fund critical investments in Eugene's water and electric infrastructure.

Find Out More

Women in STEM: EWEB Engineer Laura Ohman's second degree brings a lifetime of benefits

EWEB Engineer Laura Ohman shares how getting her second degree was one of the most difficult and rewarding things she's ever accomplished.

Find Out More

Planning for a Future of Reliable, Affordable, Environmentally Responsible Energy

The challenges revealed by Eugene Water & Electric Board's integrated resource planning process mirror those facing the Northwest.

Find Out More

EWEB's heat driven call to conserve energy yields major savings

EWEB is likely to implement similar, formalized "demand response" programs in the future.

Find Out More

How does EWEB recover the costs of serving customers

Here's an overview of the three primary ways EWEB recovers the costs of serving customers and generates the funds needed to keep the power on and the water flowing.

Find Out More
Highlights of the EWEB Board of Commissioners December meeting
December 08, 2022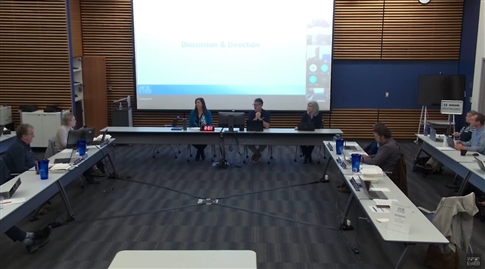 For their final meeting of 2022, on Dec. 6, the EWEB Board of Commissioners grappled with some major decisions and looked ahead to a new year.
2023 Budget and Prices
The Board approved the 2023 budget and prices. The updated rates increase the basic charge by $2.24 per month for electricity and $1.26 for water. Beginning in February 2023, the average household will pay around $8 more per month, or 27 cents per day, for electricity and water combined.
Commissioners described how the rate increase is necessary to pay for vitally important projects in the years ahead, including a second water treatment plant on the Willamette River that will bolster EWEB's resiliency to disasters. But commissioners also acknowledged that rising rates and other expenses can create a burden for some customers.
"I know that during the last five years, we've done a lot to keep rates down," Commissioner Sonya Carlson said. "Eight dollars doesn't seem like a lot to many, but it is a lot to some. So, I definitely want to make sure we keep supporting the low-income programs and continue to do the good work we're doing to keep the rates down."
Future rates will also be impacted by the likely decommissioning of the Leaburg Hydroelectric Project, as well as ongoing efforts to maintain and improve EWEB's distribution systems for both electricity and water.
"Nobody likes to be the person who votes to raise prices and many things are increasing in price these days," Commissioner John Barofsky said. He also pointed out that EWEB charges less than other utilities.
2023 Legislative Agenda
In 2023, the Oregon Legislature will meet for its long session in Salem. EWEB's policy and intergovernmental affairs director Jason Heuser told commissioners he has two main priorities for the session. The first priority relates to a 2021 Oregon Supreme Court decision (WaterWatch of Oregon v. the Water Resources Department (WRD) and Warm Springs Hydro LLC) that threatens to revoke water rights for hydropower projects when those rights are not used for their intended purposes for more than five years. The ruling affects EWEB because the Leaburg project has not been generating since 2018 – putting the water rights associated with it at risk.
"The first of our two priorities is getting a legislative remedy for a Supreme Court decision almost a year ago which effectively put a five-year shot clock on hydroelectric water rights," Heuser said.
EWEB is building a coalition to petition the legislature to implement a clearer set of standards that would meet the goals of both environmental groups and utilities. Environmental groups don't want "zombie" hydroelectric projects holding onto old water rights. And utilities, which are closely regulated by the Federal Energy Regulatory Commission (FERC), don't want to lose water rights when their projects are undergoing licensing actions with FERC.
Thankfully, Heuser pointed out, there is significant middle ground to meet both groups' goals.
The second priority is to seek state matching funds for EWEB's second water source on the Willamette River. Heuser said lawmakers could provide money from the general fund, lottery dollars or from the American Rescue Plan Act. He said water infrastructure is a qualified use for those funds.
Leaburg Hydroelectric Project
General Manager Frank Lawson presented the staff recommendation to permanently discontinue generation at the Leaburg Hydroelectric project. The recommendation comes after two years of in-depth analyses and extensive public outreach. This would result in removal of the Leaburg dam, "restoring the McKenzie River to unobstructed flow and eliminating the human-made Leaburg Lake behind the dam," Lawson said.
EWEB commissioners voiced support for the recommendation. Lawson will prepare a "Record of Decision" for the Board to vote on at their January meeting. If approved, EWEB will begin an extensive regulatory process that will take years to complete. Actual removal of the dam would not occur until the 2030s.
Read more about the Leaburg recommendation.
EWEB Headquarters
The sale of the former EWEB riverfront headquarters building wasn't on the agenda for the Dec. 6 meeting, but early in the evening, the Board had a short discussion spurred by public comment. A group of Eugene area residents have asked the Board to delay the sale of the building for 18 months while they work to form a group that could submit a detailed plan to buy the building.
The sale of the former headquarters building by the Willamette River near downtown Eugene has been discussed for years and EWEB developed and launched a request for proposals (RFP) process in 2022 to solicit proposals from potential buyers.
After the initial requests for proposals didn't generate any options that met the criteria set out by the EWEB Board, the Board directed General Manager Frank Lawson to take on negotiations with interested buyers. During the meeting, Lawson assured the Board he would take community value as well as economics into consideration when negotiating the sale.
Commissioners agreed that additional delay in what's already been a long process isn't a good idea.
"We've made it clear we want to have some kind of community benefit," Commissioner Mindy Schlossburg said. "I appreciate that you will come to us with any offers just for transparency for us. Continue down road we already started."
Commissioner John Brown said, "If we have a buyer in hand, we should seriously consider it because we have some pretty big things in front of us and real estate isn't one of them."
Integrated Resource Plan
Lawson noted that the initial public draft of EWEB's Integrated Resource Plan (IRP) has been officially published. The IRP forecasts EWEB's electricity needs for the next two decades and assesses which energy resources – wind, solar, hydropower, batteries and others – might best meet those needs.
Analysis will continue from January to June of 2023, when a final draft will be published. Now, EWEB is starting on an extensive public engagement process to hear what questions the community has about the draft IRP. EWEB will try to answer those questions through more analysis.
Though the draft, including appendices, is 79 pages long, it features shorter, digestible summaries that readers can absorb in just a few minutes.
"The way it's framed is going to help us have conversations with the community," said Commissioner Matt McRae.
Wrapping up 2022
At the end of the 3.5-hour meeting, Lawson thanked the Board for a good year. "Your engagement and your care of the community is noted and appreciated by staff," Lawson said. "I think we got a lot accomplished. We look forward to coming back in 2023 and getting more done next year."
Commissioner Sonya Carlson, who serves as vice president of the board, thanked Board President John Brown, who was attending the meeting remotely, for his leadership over the past year.
The EWEB Board of Commissioners is an elected board which serves on a voluntary basis. Their monthly meetings are open to the public both online and in person.