Related News
Related News

EWEB 2023 year in review

In 2023, EWEB invested in our community with grants, rebates and an array of other programs and measures aimed at fulfiling our core values of safety, reliability, affordability, environmental responsibility and community/culture.

Find Out More

EWEB Recognized with Excellence in Communications Awards from American Public Power Association

We are proud to have been recognized with two Excellence in Public Power Communications Awards for 2023 from the American Public Power Association (APPA).

Find Out More

Let's talk turkey. If a disaster strikes, is your family ready?

Many of us avoid discussing politics over the dinner table in the spirit of family peace and harmony. But here's a topic that can bring everyone together: emergency preparedness.

Find Out More

EWEB To Hold First of Two Public Hearings on Proposed 2024 Budget and Prices

At the Nov. 7 Board of Commissioners meeting, EWEB staff will present a proposed budget that includes rate increases necessary to support utility operations and make needed infrastructure investments.

Find Out More

Public Power Week Poster Contest Winners 2023

The results are in! View the winning posters from EWEB's 2023 Public Power Week Poster Contest.

Find Out More
EWEB Board authorizes general manager to negotiate sale of former riverfront headquarters
October 07, 2022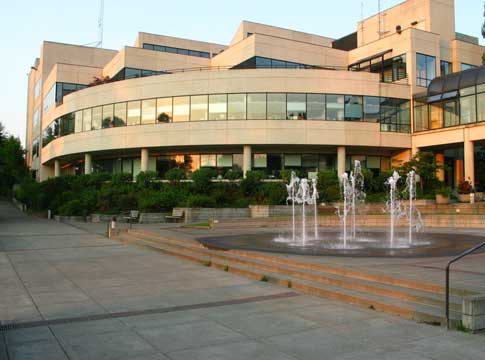 EWEB's elected Board of Commissioners has voted to authorize General Manager Frank Lawson to pursue and negotiate the sale of the former EWEB headquarters building on the downtown riverfront.
The 4.44-acre site is the last component of EWEB's riverfront property. In the last few years, EWEB has moved operations and nearly all staff to the Roosevelt Operations Center in West Eugene.
The authorization to negotiate a sale comes after the Board canceled the original Request for Proposals (RFP) process because each of the proposals submitted through the RFP contained either a limited or non-specific response to the criteria.
The Board designed the RFP to create a structured scoring and selection process. The RFP opened in May and closed in August. It required proposers to submit detailed plans so that an evaluation team could score them based on specific criteria, including details of the future intended use, economic benefit to the community, sale price, financing and proposers' qualifications.
EWEB received four proposals. Though each one was compelling in its own way, the responses to the evaluation criteria made it challenging for the evaluation team to fairly award points to the proposals under the process outlined in the RFP.
The Board therefore decided to cancel the RFP and grant EWEB's general manager the authority to pursue a sale of the property through direct negotiation.
"Each proposal we received offered something unique to the community, but it wouldn't have been fair to score them using the method we had developed," Lawson says. "While we're disappointed that the original RFP process didn't produce a buyer, we're hopeful that the interest it generated will create a positive outcome."
The Board has provided guidance to the general manager, instructing him to get the most value possible from the property for both EWEB and the community. The Board authorized him to negotiate the terms and conditions of the sale, as well as to execute the transaction itself. Any terms negotiated outside of the Board's original guidance will be subject to Board approval.
Interested parties are encouraged to find more information at eweb.org/riverfront.