Related News
Related News

Women in STEM: EWEB Engineer Laura Ohman's second degree brings a lifetime of benefits

EWEB Engineer Laura Ohman shares how getting her second degree was one of the most difficult and rewarding things she's ever accomplished.

Find Out More

Planning for a Future of Reliable, Affordable, Environmentally Responsible Energy

The challenges revealed by Eugene Water & Electric Board's integrated resource planning process mirror those facing the Northwest.

Find Out More

EWEB's heat driven call to conserve energy yields major savings

EWEB is likely to implement similar, formalized "demand response" programs in the future.

Find Out More

Please join your neighbors in reducing energy use today

With excessive temperatures and wildfire conditions affecting power generation across the region, EWEB is encouraging customers to safely conserve power.

Find Out More

Women in STEM: Meet our servant leader and maker of tough decisions

Karen Kelley, Chief Operations Officer at EWEB, describes herself as a "servant leader," offering support and mentoring to four division managers at EWEB.

Find Out More
EWEB Will Retain Stone Creek Hydro Project under New Management Contracts
May 12, 2020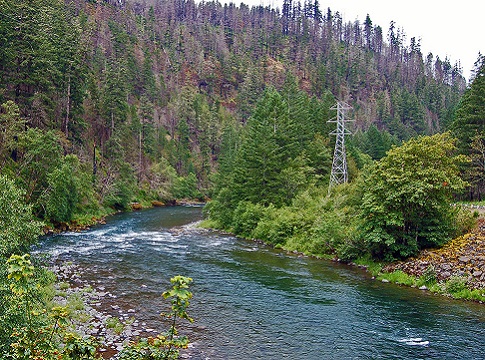 Owned by EWEB since 1994, Stone Creek is a small but mighty hydro generation project on the Clackamas River approximately 45 miles southeast of Portland. Historically the facility has been operated and maintained for EWEB by Portland General Electric, but in late 2019, PGE notified EWEB that they would no longer operate the plant due to changes in their corporate strategy.
Stone Creek is a run-of-the-river project capable of producing 12 megawatts of power. For reference, EWEB's largest owned power source, the Carmen-Smith Hydroelectric Project on the McKenzie River, has a capacity of 114 megawatts, enough electricity to power 16,000 homes per year.
"Though a relatively small generation facility, Stone Creek has consistently provided positive revenues to EWEB customers and is a reliable producer of carbon-free, local hydropower for Eugene and the region," said EWEB General Manager Frank Lawson.
With the operations and maintenance contract between EWEB and PGE about to expire, EWEB Commissioners at the May 5 Board meeting, approved two separate agreements that will keep Stone Creek providing clean, reliable power to EWEB customers.
The first is a five-year Intergovernmental Agreement (IGA) with Energy Northwest to operate the hydroelectric plant and the transmission line running from the plant to EWEB's Harriet Lake Substation. The second agreement is a 10-year contract with Portland General Electric to operate the transmission line that ties the Harriet Substation into PGE's Oak Grove Substation, where the output from Stone Creek ties into the regional grid.
"I'm probably one of the few people that remembers when this project was initiated," said EWEB Commissioner Dick Helgeson, who represents customers in South Eugene Wards 2 and 3 and is a retired EWEB executive with 32 years prior utility experience. "In my experience, this has been one of the better small hydro projects that EWEB has invested in over the years."
Hydroelectric plants are carbon-free generation resources. Because it's fueled by water, the Northwest's hydropower base does not produce air pollution or greenhouse gas emissions. Nearly 80 percent of Eugene's power comes from hydroelectric projects.
EWEB is licensed by the Federal Energy Regulatory Commission to operate Stone Creek through 2038. In addition to Stone Creek, EWEB customers own three McKenzie River hydro generation projects: Leaburg and Walterville hydroelectric projects, and Carmen-Smith.
Decisions such as retaining the Stone Creek project are part of EWEB's ongoing Electricity Supply Planning effort, a process that helps utilities understand the resources, technology, and infrastructure that will be needed to meet customers' future electricity needs.
"The most significant decisions confronting EWEB in the next decade involve sources of supply," said Frank Lawson. "We are looking at factors such as climate change and evolving customer expectations, and making generation resources choices that not only meet today's needs but also provide flexibility for serving our community under a variety of future conditions."
Watch a short video clip of Frank Lawson describing some of the benefits of the Stone Creek Project.