Related News
Related News

National Preparedness Month: Older adults take control in 1, 2, 3

We know older adults can face greater risks when it comes to the extreme weather events and emergencies we face, especially if they are living alone, are low-income, have a disability, depend on electricity for medical needs, or live in rural areas.

Find Out More

Women in STEM: EWEB Engineer Laura Ohman's second degree brings a lifetime of benefits

EWEB Engineer Laura Ohman shares how getting her second degree was one of the most difficult and rewarding things she's ever accomplished.

Find Out More

Bethel neighbors boost emergency preparedness during Emergency Water Station event

Staff gave out about 300 emergency water containers to enthusiastic community members eager to learn more about the water station.

Find Out More

Stay cool during extreme heat events

With temperatures forecasted to reach over 100 degrees over the next several days, we've prepared some tips and tricks to help you stay cool.

Find Out More

Women in STEM: Meet our servant leader and maker of tough decisions

Karen Kelley, Chief Operations Officer at EWEB, describes herself as a "servant leader," offering support and mentoring to four division managers at EWEB.

Find Out More
EWEB Conducts Emergency Outage Drill
October 18, 2019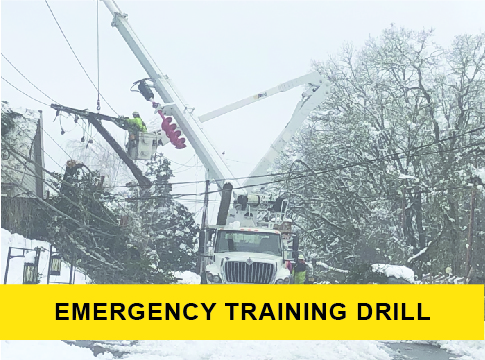 The weather on Thursday may have been a mixture of sun and rain showers, but inside the EWEB emergency command center, a mock snow and ice storm had caused widespread damage, leaving more than 7,000 customers without service. That was the basis for the utility's annual emergency outage exercise.
The exercise is referred to as a "Blue Sky Drill" because the practice occurs ahead of winter storm season. "We can come in on a regular day, a blue sky day, and work through our outage response so that when a real emergency happens, we're prepared and ready to go to work," says EWEB's Electric Operations Supervisor John Latourette.
The drills help identify gaps in plans and training, develop skills, reveal resource needs and improve internal and external coordination.
In a major event such as the 2019 and 2016 snow and ice storms that struck Eugene, nearly every one of EWEB's 500-person workforce has some role in the restoration effort. In addition to crews working in the field, staff work behind the scenes to develop engineering and restoration designs, keep trucks running, coordinate with city and county agencies, keep our customers informed, and dozens of other critical tasks.
Drills enable employees throughout the utility to test their skills and practice working together in a simulated emergency environment, complete with curveballs such as technology problems that make it hard for customers to reach the utility, and worsening weather conditions that impede restoration efforts.
"Responding to a major event is a complex, utility-wide effort, not something that line crews do on their own," says Latourette. "In storms like 2016 and 2019, it's all-hands-on-deck, and it's critical that we practice those skills and collaboration."
Following the devastating ice storm that struck Eugene in December 2016, EWEB has focused on emergency preparedness and disaster recovery as a strategic priority. Building on lessons learned from that storm, we implemented new processes and procedures to restore power more efficiently and improve the information we share with customers, including an online outage map launched in 2018.
This continued attention to emergency preparedness will aid EWEB in protecting life and property in future winter storms and other potential disasters.