Related News
Related News

EWEB Recognized with Excellence in Communications Awards from American Public Power Association

We are proud to have been recognized with two Excellence in Public Power Communications Awards for 2023 from the American Public Power Association (APPA).

Find Out More

EWEB now offering a Smart Thermostat rebate program

EWEB is excited to announce a new residential rebate program to provide electric customers with free or greatly discounted Smart Thermostats to customers whose primary source of heating is from an electric forced-air furnace or heat pump.

Find Out More

Your EWEB Rates at Work: Investing Today for a Resilient Tomorrow

For more than a century, EWEB has planned, built, and maintained the systems that deliver safe, reliable, and environmentally responsible power and water to Eugene homes and businesses.

Find Out More

Have an energy efficient and water conscious holiday season

The holiday season is officially upon us. Whether you are celebrating a special holiday or just sharing a meal with close friends and family, hosting can cause some unexpected energy and water usage increases – resulting in a higher utility bill. We've prepared some tips on how you can save energy and water this holiday season.

Find Out More

River Road Substation returns to service after infrastructure upgrades

Supply chain shortages and proactive infrastructure investments, including constructing seismic foundations and implementing control modernization, have played a role in the substation's return-to-service timeline.

Find Out More
Weatherization Can Help Keep Your Home Comfortable and Lower Your Energy Use
September 21, 2021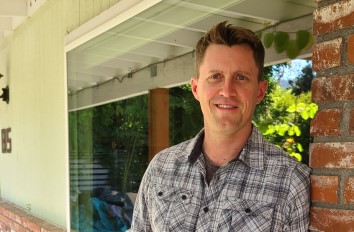 Long-time Eugene resident Alan Twigg says that his home stays a more stable temperature both in hot and cold months, thanks to air sealing and insulation projects. The summer after he got air sealing done, the house was noticeably cooler.
"It feels like the house has a more stable temperature and doesn't get very hot or cold very rapidly. There was much more fluctuation in temperature with cold or hot spots before the work was done."
Twigg upgraded his windows and thermostats in 2010, identifying them as the most obvious in need of upgrades, but he said the air sealing in 2016 is what made him feel the most difference both in maintaining a comfortable temperature in his home and his energy bills. "When I started researching climate change and how to lower my emissions and energy use, the first thing people like to talk about is solar panels or ductless heat pumps. But what I found was that the energy efficiency from things like air sealing and proper insulation gives you the most cost-effective benefits," Twigg said.
The first step was to enlist the help of Premium Efficiency, a contractor familiar with EWEB's energy efficiency rebate and loan programs, to conduct an energy audit in his home. The contractor identified a list of areas that could be improved, and Twig settled on adding insulation and air sealing. Insulation is a material that lines the walls and ceilings of a building to prevent the transfer of heat. Air sealing is the process of closing or covering any openings found in the attic or crawl space of a building, which boosts the effects of insulation. Twigg was able to cover the entire cost of the project with a zero-interest loan from EWEB .
"It's really convenient, it just adds a line item to my EWEB bill, and I don't have to think much about it," he said.
For Twigg, one surprising benefit of creating a home environment that doesn't rely on air conditioning is a stronger sense of connection with the natural world. "I enjoy being able to interact with the seasons. For example, I open all the windows at night in the summer and get the fresh air in and then close everything during the day and the house stays cool. It creates more connection with the outside world. In a world of constant climate control, we can stop caring what the weather is like and become less aware of the climate we live in. It works better for me to interact more and keep the house comfortable without using air conditioning or heating too much. "
One downside, he said, is that having the windows open can be tough when it's smokey outside or during stretches of hot days when the night doesn't cool as much. A tip that helps with hot weeks is fans with automatic timers set to turn on at 1 a.m. when the outside temperature is at its low.
September is National Preparedness Month, which makes it a perfect time to think about getting started on weatherizing your home. You can make sure your home temperature stays comfortable longer in the event of an outage or other emergency. Not sure where to start? Check out this list of local contractors who've participated in EWEB's rebates and loans programs and ask for an energy audit.