Related News
Related News

Public Power Week Poster Contest 2023

It's that time of year again! October 1-7 is Public Power Week. To celebrate, EWEB is holding our annual poster contest for fifth graders in our service area. Help us pick the winners.

Find Out More

Salmon Return to Finn Rock Reach

Finn Rock Reach and other restoration projects throughout the Middle McKenzie provide conditions to help young fish survive to adulthood.

Find Out More

EWEB programs reflect community values

EWEB is here to serve our customer-owners and provides programs that reflect the values of our community.

Find Out More

EWEB Prepares for the Annual Observance of "Imagine a Day Without Water"

Water infrastructure is essential, invaluable, and in need of continuous investment. Read how EWEB's Staff and Board of Commissioners are working to safeguard Eugene's water future.

Find Out More

National Preparedness Month: Older adults take control in 1, 2, 3

We know older adults can face greater risks when it comes to the extreme weather events and emergencies we face, especially if they are living alone, are low-income, have a disability, depend on electricity for medical needs, or live in rural areas.

Find Out More
Women in STEM: Meet the water quality specialist who ensures the safety of Eugene's drinking water
July 20, 2023 • Molly Babcock, EWEB Communications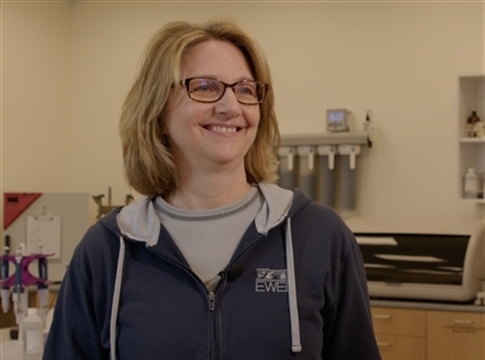 High up in the Cascade Mountains, a spring feeds Clear Lake. Porous volcanic rocks filter groundwater before it enters the lake, from which it proceeds into the McKenzie River. The river flows 85 miles before it reaches the Hayden Bridge Water Treatment Plant, where Brenda Casarez started her career at EWEB in 2009.
Since then, Casarez has worked her way up to senior water quality specialist. Her team collects samples from all over the water system, including over 100 sampling stations throughout Eugene. Water samples are tested for different contaminants depending on location and timing.
EWEB's current monitoring plan consists of over 300 contaminants, with multiple collections each year. Casarez reports test results to the Oregon Health Authority, Environmental Protection Agency (EPA) and EWEB customers. Casarez also stays educated about new regulations and best practices to stay ahead of testing requirements.
Casarez's work, EWEB's filtration process and robust watershed protection measures have all contributed to ensuring EWEB's water is some of the cleanest in the world.
"Water matters to everybody, and we need to send out a product that is safe and tastes as good as we can make it," she said. "Any drop of water that leaves our treatment plant could be the drop that is making a baby's formula."
Casarez has come a long way, but her path wasn't always clear.
"By high school, I knew that I wanted to do something in the sciences," she said.
She graduated from the University of Oregon with a Bachelor's of General Sciences in 1992. After school, Casarez worked at a local laboratory and environmental consulting firm for 17 years.
"I started in the laboratory running the lab certification program and then transitioned to consulting on regulatory issues for smaller Oregon Public Water Systems," Casarez said.
Casarez could not be happier with her current position. "EWEB has been an innovative place to work, filled with the most forward-thinking and supportive coworkers," Casarez said. "There are many projects on the horizon, and Water Operations is ready to tackle them all."
Working in a STEM (science, technology, engineering, or math) field, Casarez found that building trust with clients and coworkers was very important.
"As with any job, being knowledgeable and following through on commitments is crucial," Casarez said.
Casarez would advise that aspiring scientists get their degrees and explore the water and utility fields. Water is a critical resource, but the industry is facing growing issues in supply and contamination. There is a great need for bright minds and new ideas.