Related News
Related News

Public Power Week Poster Contest 2023

It's that time of year again! October 1-7 is Public Power Week. To celebrate, EWEB is holding our annual poster contest for fifth graders in our service area. Help us pick the winners.

Find Out More

Salmon Return to Finn Rock Reach

Finn Rock Reach and other restoration projects throughout the Middle McKenzie provide conditions to help young fish survive to adulthood.

Find Out More

EWEB programs reflect community values

EWEB is here to serve our customer-owners and provides programs that reflect the values of our community.

Find Out More

Where is EWEB in planning our future electricity supply?

In August, we reached a milestone: EWEB's five-member elected Board of Commissioners approved an action plan to guide our energy supply choices for the next 2-3 years. How did we get here?

Find Out More

National Preparedness Month: Older adults take control in 1, 2, 3

We know older adults can face greater risks when it comes to the extreme weather events and emergencies we face, especially if they are living alone, are low-income, have a disability, depend on electricity for medical needs, or live in rural areas.

Find Out More
Women in STEM: EWEB Engineer Laura Ohman's second degree brings a lifetime of benefits
September 06, 2023 • Molly Babcock, EWEB Communications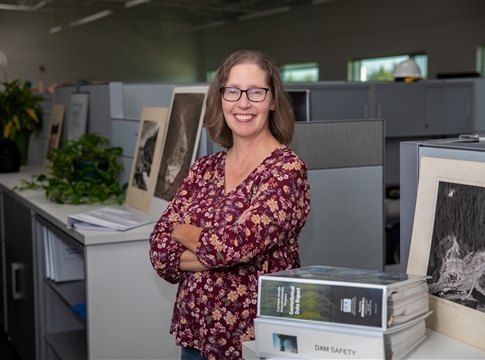 At age 32, Laura Ohman started the first day of her second bachelor's degree.
She was studying engineering at the University of Minnesota. There was a lot that hadn't changed since 1996, when she graduated from the University of North Dakota with a Bachelor of Science in aeronautical studies. She was trying to find her classes, forming study groups, and staying late to ask questions after class.
But this time, it wasn't just Ohman's first day of school. Her two young children, ages 2 and 5, headed off to their classes as well.
"Balancing school with being a mom was probably the most difficult and most rewarding thing that I've ever accomplished," Ohman said. "I learned resilience and I learned to be patient with myself."
Before returning to school, Ohman worked closely with engineers as an executive assistant. The more she attended their meetings and learned about their work, the more confident she became. With the support of her colleagues, Ohman decided to go back to school for engineering.
"I've always felt like the time and effort that I put into my engineering degree has really paid off with a career that is challenging, engaging, and important," Ohman said. "If you're looking for a change, it is possible to get another degree. It's a limited duration of challenge, with benefits that last a lifetime."
After graduating in 2009, Ohman joined EWEB as an entry-level engineer. Ohman still remembers one of her favorite days as an engineer at EWEB. After years of planning, her team was ready to receive the new transformers at the Carmen-Smith hydroelectric project. The transformers weighed about 158,000 pounds each. The transportation contractor needed a special permit to drive them on highways, and a structural engineer had to evaluate the bridge they crossed.
The Carmen-Smith Hydroelectric Project is a network of three dams, three reservoirs, and two power plants that has served the Eugene-Springfield area with reliable, carbon-free energy for over 50 years. It is a masterpiece of engineering.
"I've been very lucky to work on the Carmen-Smith project. It's vital to Eugene, and we're doing a lot of important work there. It feels great to be part of it," Ohman said.
Throughout her time in the STEM (science, technology, engineering, and mathematics) field, Ohman has become accustomed to being the only woman in the room. Despite this, she feels that she has been treated equally to her male counterparts. She advises that other women in STEM focus on confidence.
If there's a seat at the front of the room, sit at the front! Ask questions and make suggestions. When you exude confidence, the people around you will notice," Ohman said.
Ohman knows building confidence isn't easy. She recommends that future engineers know their strengths and weaknesses. All kinds of strengths, including soft skills like communication, are valuable when working in a team. Future engineers can also work candidly on their weaknesses by asking good questions and connecting with mentors.
"You don't have to be perfect at everything all the time. And you don't have to be 100% ready to apply for that promotion or a new job. Just focus on performance, look for opportunities, and follow your interests," Ohman said.