Related News
Related News

EWEB 2023 year in review

In 2023, EWEB invested in our community with grants, rebates and an array of other programs and measures aimed at fulfiling our core values of safety, reliability, affordability, environmental responsibility and community/culture.

Find Out More

EWEB Recognized with Excellence in Communications Awards from American Public Power Association

We are proud to have been recognized with two Excellence in Public Power Communications Awards for 2023 from the American Public Power Association (APPA).

Find Out More

Let's talk turkey. If a disaster strikes, is your family ready?

Many of us avoid discussing politics over the dinner table in the spirit of family peace and harmony. But here's a topic that can bring everyone together: emergency preparedness.

Find Out More

EWEB To Hold First of Two Public Hearings on Proposed 2024 Budget and Prices

At the Nov. 7 Board of Commissioners meeting, EWEB staff will present a proposed budget that includes rate increases necessary to support utility operations and make needed infrastructure investments.

Find Out More

River Road Substation returns to service after infrastructure upgrades

Supply chain shortages and proactive infrastructure investments, including constructing seismic foundations and implementing control modernization, have played a role in the substation's return-to-service timeline.

Find Out More
Winning posters for EWEB's Public Power Week Poster Contest
October 17, 2022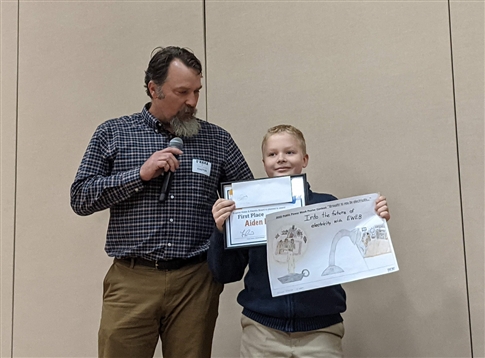 EWEB held its Poster Contest for 5th grade students in our service territory for Public Power Week, October 2-8, receiving more than 100 entries from classrooms across the area.
Public Power week celebrates the value of publicly owned utilities such as EWEB. EWEB is customer-owned and accountable to the people we serve. Unlike other utilities, your electric and water rates directly fund the energy and water we reliably deliver to you – and never enrich corporate shareholders.
The theme of this year's contest was "Brought to you by Electricity". Staff narrowed down the entries to twenty. EWEB employees and our social media followers voted on the winners.
This week, EWEB commissioner Matt McRae presented 1st place winner Aiden Muller with a plaque and gift certificate during an assembly at O'Hara Catholic School in Eugene.
First Place: Aiden Muller, O'Hara Catholic Elementary School
Second Place: Caroline Callister, Coburg Community Charter School
Third Place: Emma Mansfield, McCornack Elementary
Fourth Place: Bodhi Bayes, Adams Elementary
Fifth Place: Tommy Adams, River Road/ El Camino Del Rio Elementary
Thank you to all the students who participated in the contest! You brought creativity and enthusiasm to the theme of electricity, and we are so grateful!