Related News
Related News

EWEB Recognized with Excellence in Communications Awards from American Public Power Association

We are proud to have been recognized with two Excellence in Public Power Communications Awards for 2023 from the American Public Power Association (APPA).

Find Out More

Let's talk turkey. If a disaster strikes, is your family ready?

Many of us avoid discussing politics over the dinner table in the spirit of family peace and harmony. But here's a topic that can bring everyone together: emergency preparedness.

Find Out More

EWEB To Hold First of Two Public Hearings on Proposed 2024 Budget and Prices

At the Nov. 7 Board of Commissioners meeting, EWEB staff will present a proposed budget that includes rate increases necessary to support utility operations and make needed infrastructure investments.

Find Out More

EWEB now offering a Smart Thermostat rebate program

EWEB is excited to announce a new residential rebate program to provide electric customers with free or greatly discounted Smart Thermostats to customers whose primary source of heating is from an electric forced-air furnace or heat pump.

Find Out More

Your EWEB Rates at Work: Investing Today for a Resilient Tomorrow

For more than a century, EWEB has planned, built, and maintained the systems that deliver safe, reliable, and environmentally responsible power and water to Eugene homes and businesses.

Find Out More
When the water main breaks, EWEB crews are ready
January 12, 2023 • Rachael McDonald, EWEB Communications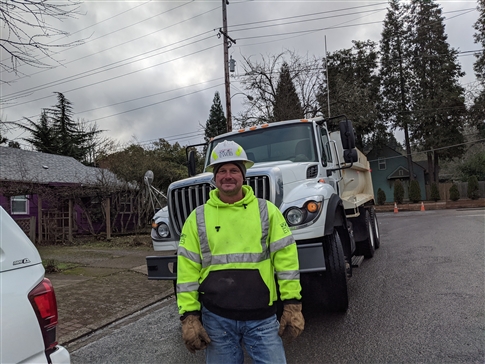 EWEB has 800 miles of transmission and distribution lines transporting your drinking water underground throughout the city. It eventually comes out of your tap as delicious thirst-quenching water. But what goes into maintaining all those pipes? And what happens when one gets a leak?
We went to find out.
On a recent December morning, EWEB water utility lead Ryan Kelly was out in the cold with his crew who'd just finished patching a water pipe on West 28th Avenue. He said this is an example of a routine main break, which can be caused by corrosion, construction, or extreme weather conditions that can cause the ground to shift.
Aging water infrastructure is a nationwide problem. "The infrastructure is old and there are a lot of miles of pipe in Eugene," said Kelly.
His four-person crew repaired this break in a few hours, with no affect to customers.
"Very seldom do we have to impact the customer," said Kelly. "There's those occasions, but usually we can fix it (with the pipe still) under pressure."
Kelly said he got the call at around 7 a.m. First the troubleshooter comes out to identify where the leak is coming from.
"Sometimes it's real obvious," Kelly said. "Sometimes they have to do quite a bit of work to hunt that down. A lot of times it's just bubbling up through the ground."
Once the leak is identified, the crews get to work, often cutting into pavement and digging to get to the pipe and make the repairs.
Jeremiah Hunt is EWEB's Water Construction and Distribution supervisor. He said maintaining positive pressure in the system prevents anything from getting into the pipes which could affect water quality and be a reason to shut off service. Hunt said that is something they work hard to avoid.
"They probably only saw our presence," said Hunt. "There was no outage that affected customers. They probably said, 'Oh, there's a lot of EWEB trucks in the neighborhood. Oh look, the EWEB trucks are gone." Sometimes we have to notify for an emergency main brake and there are impacts to customers. But we try to minimize that."
Hunt said the primary focus is public health and safety.
"We're responsible for the drinking water of our community," Hunt said. "My team's responsible for the repairs and the maintenance in the field. So, whenever we do repairs, we're always thinking public health. We disinfect all of our parts. If we're cutting into the system, every piece of pipe, every fitting, everything has been disinfected."
In 2022, there were 80 water main breaks in EWEB's territory. That's down from 96 in 2021, Hunt said. The other focus for his department is maintaining EWEB's aging water infrastructure.
"We have an older system. That's a fact," Hunt said. "We do main replacements every year. We're constantly trying to replace water mains. We do them in-house and we contract out." Last year, EWEB spent nearly $7 million on main replacement work.
Hunt said there's a running list of projects. And when crews see a main that needs replacement, they add that to the list. He's proud of his crew for their dedication.
"There are people out there making sure that water reaches the faucet. That's some of the work that my guys do," Hunt said. "And I want to say that I know that they take pride in the work, and they do very good work. So, I want to say kudos to them and all the work that they do in all types of weather, in all types of environments, in all types of muddy holes they get the job done."
EWEB's Operations and Maintenance budget for its water division is about $750,000 this year. That includes the cost of labor, materials and the concrete and asphalt to repair street surfaces after a break. EWEB customers support the upkeep of the water infrastructure when they pay their bills each month.
Chances are, if you see a few EWEB trucks in your neighborhood, they're making sure you can turn on the tap and get clean, safe, tasty water to drink, cook, bathe, and clean every day.