Related News
Related News

EWEB Recognized with Excellence in Communications Awards from American Public Power Association

We are proud to have been recognized with two Excellence in Public Power Communications Awards for 2023 from the American Public Power Association (APPA).

Find Out More

Let's talk turkey. If a disaster strikes, is your family ready?

Many of us avoid discussing politics over the dinner table in the spirit of family peace and harmony. But here's a topic that can bring everyone together: emergency preparedness.

Find Out More

EWEB To Hold First of Two Public Hearings on Proposed 2024 Budget and Prices

At the Nov. 7 Board of Commissioners meeting, EWEB staff will present a proposed budget that includes rate increases necessary to support utility operations and make needed infrastructure investments.

Find Out More

EWEB now offering a Smart Thermostat rebate program

EWEB is excited to announce a new residential rebate program to provide electric customers with free or greatly discounted Smart Thermostats to customers whose primary source of heating is from an electric forced-air furnace or heat pump.

Find Out More

Your EWEB Rates at Work: Investing Today for a Resilient Tomorrow

For more than a century, EWEB has planned, built, and maintained the systems that deliver safe, reliable, and environmentally responsible power and water to Eugene homes and businesses.

Find Out More
Tips for the start of irrigation season
May 08, 2019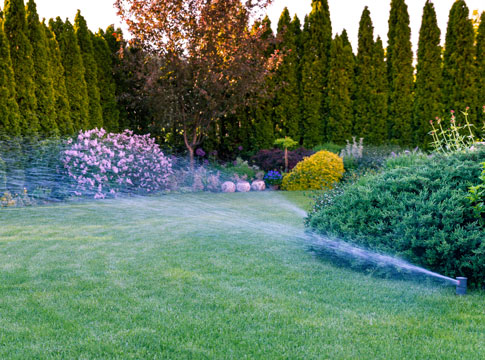 With the dry late spring we have been experiencing, you might be preparing to turn your sprinkler system on for the first time this year. Following a few tips can help you water wisely.
When it comes to your spinkler system, a little routine maintenance can make a big difference.
Inspect: Before turning your sprinkler system on for the first time, check it for clogged, missing or broken sprinkler heads. You can also have the system professionaly inspected and repaired. Given the cold, snowy winter we had, hiring an irrigation professional to perform routine maintenance may help catch costly leaks.
Connect: Take a close look at the points where sprinkler heads connect to pipes or hoses. Look for large wet areas or pools of water which may indicate a leak in the system.
Direct: Don't skip this simple step! Be sure the sprinkler heads are directed to the landscaped areas and not sidewalks and driveways.
Select: If you have an irrigation scheduler be sure it is set to the correct settings for the season.
Follow our weekly watering recommendations to be sure you give your lawn and garden the right amount of water. You can also check out the Water Wise Garden at Alton Baker Park for ideas on how to create a beautiful landscape with low water needs.