Related News
Related News

EWEB Recognized with Excellence in Communications Awards from American Public Power Association

We are proud to have been recognized with two Excellence in Public Power Communications Awards for 2023 from the American Public Power Association (APPA).

Find Out More

Let's talk turkey. If a disaster strikes, is your family ready?

Many of us avoid discussing politics over the dinner table in the spirit of family peace and harmony. But here's a topic that can bring everyone together: emergency preparedness.

Find Out More

EWEB To Hold First of Two Public Hearings on Proposed 2024 Budget and Prices

At the Nov. 7 Board of Commissioners meeting, EWEB staff will present a proposed budget that includes rate increases necessary to support utility operations and make needed infrastructure investments.

Find Out More

EWEB now offering a Smart Thermostat rebate program

EWEB is excited to announce a new residential rebate program to provide electric customers with free or greatly discounted Smart Thermostats to customers whose primary source of heating is from an electric forced-air furnace or heat pump.

Find Out More

Your EWEB Rates at Work: Investing Today for a Resilient Tomorrow

For more than a century, EWEB has planned, built, and maintained the systems that deliver safe, reliable, and environmentally responsible power and water to Eugene homes and businesses.

Find Out More
Three Steps to a Family Emergency Plan
February 14, 2020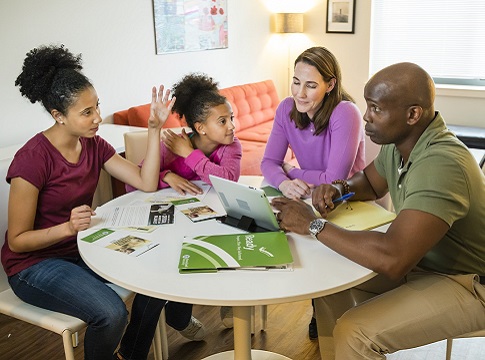 Extreme weather or natural disasters can occur at any time, taking out power, water, and other critical services. Since your family may not be together if a disaster strikes, it's important to have a plan. Know how you will contact one another and reconnect if separated, and establish a meeting place that is familiar and easy to find.
Follow these three steps to create your family emergency plan:
Step 1: Talk about it.
Emergency planning starts with a conversation. Gather around and discuss three questions with your family:
1. How will we communicate with each other?
In an emergency, many people trying to use their mobile phones and landlines at the same time may create network congestion. Have a conversation with your family and agree on a plan for how you will communicate and reconnect. Here are some tips to consider:
Try text messaging. In many cases, text messages will go through when your call may not.
Designate someone out of the area as a central contact, and make certain all family members know who to contact if they become separated.
Agree on a meeting place in case you are unable to connect via phone, text or email.
Keep portable cell phone power banks in your car, backpacks, etc.
Make sure each family member has a printed list of phone numbers in case your cell phones aren't working.
2. What is our shelter plan?
Depending on your circumstances and the nature of the disaster, it may be best to stay where you are and avoid any uncertainty outside by "sheltering in place." Do you have an emergency stock of food, water, medicines, fuel, and other supplies? If you needed to leave home, where would you go? To a family member or friend's home? A hotel? A shelter? Where is the closest public shelter located? Consider your options and discuss them with your loved ones in advance.
3. What is our evacuation route?
In a natural disaster, some roads and bridges may be unpassable. It's smart to plan ahead for a few different route options to your shelter location. Keep a map in your car in case your mobile navigation is unavailable.
Step 2: Document your emergency plan.
Write down your plan and make sure everyone has a copy. The American Red Cross has a handy template, which you can download on our website.
Step 3: Practice your plan.
Review and practice your plan a couple of times a year so that everyone will remember what to do when in an emergency.
You can find more emergency plan tips and downloadable templates on the FEMA website
Making a plan is just one part of an overall strategy to keep yourself and your family safe during emergencies. To learn about other important steps, visit EWEB's emergency preparedness page, and join our Pledge to Prepare—a 12-month step-by-step program for getting 2-weeks ready.
Photo credit: FEMA News Photo