Related News
Related News

EWEB Recognized with Excellence in Communications Awards from American Public Power Association

We are proud to have been recognized with two Excellence in Public Power Communications Awards for 2023 from the American Public Power Association (APPA).

Find Out More

Let's talk turkey. If a disaster strikes, is your family ready?

Many of us avoid discussing politics over the dinner table in the spirit of family peace and harmony. But here's a topic that can bring everyone together: emergency preparedness.

Find Out More

EWEB To Hold First of Two Public Hearings on Proposed 2024 Budget and Prices

At the Nov. 7 Board of Commissioners meeting, EWEB staff will present a proposed budget that includes rate increases necessary to support utility operations and make needed infrastructure investments.

Find Out More

EWEB now offering a Smart Thermostat rebate program

EWEB is excited to announce a new residential rebate program to provide electric customers with free or greatly discounted Smart Thermostats to customers whose primary source of heating is from an electric forced-air furnace or heat pump.

Find Out More

Your EWEB Rates at Work: Investing Today for a Resilient Tomorrow

For more than a century, EWEB has planned, built, and maintained the systems that deliver safe, reliable, and environmentally responsible power and water to Eugene homes and businesses.

Find Out More
Three emergency preparedness lessons we can learn from coronavirus
April 02, 2020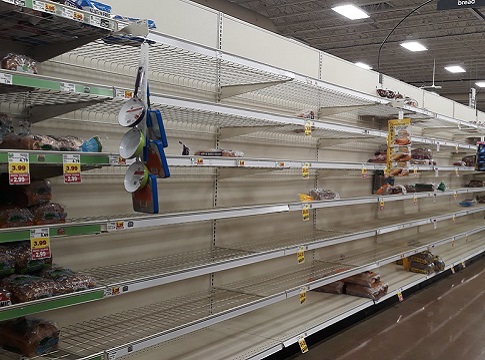 The coronavirus outbreak has forced many of us to take stock (pun intended) of our personal emergency preparedness efforts and understand if we are truly ready to be self-sufficient for an extended period of time.
Whether it's an ice storm, pandemic or other emergency, one thing all disasters have in common is the opportunity to learn and improve, so that we are better prepared for the next major event.
Here are just a few lessons we can take from the coronavirus crisis:
Lesson #1: When we are not prepared at home, we put ourselves and others in harm's way.
The coronavirus showed us how quickly grocery stores can run out of supplies under "panic buying" conditions, leaving many without sufficient food, toiletries, medicines, and other necessities. And the highly contagious nature of the virus means that every run to the store puts ourselves and others at risk of exposure.
Having emergency supplies for your household means you can hunker down and keep your family and others in our community safe. And in the event of a natural disaster like an earthquake, prepared residents allow emergency responders to focus limited resources on injured and other vulnerable populations.
Lesson #2: Smart emergency preparedness means thinking big picture.
It's safe to say that the coronavirus pandemic took many by surprise and evolved rapidly. The past weeks have shown that emergencies can take many forms, and can even strike at the same time. For example, Idaho was hit with a magnitude 6.5 earthquake just this week. There were no reports of significant damage or injuries, but it was an important reminder that COVID-19 is not the only risk we face.
True resiliency means developing the capacity to be ready for a variety of events.
Lesson #3: Being prepared is good for mental health and well-being.
The constant barrage of COVID-19 news can be scary and overwhelming. We worry about the safety of our loved ones, stress over bills, and feel unsettled about the future.
Being more self-reliant through events like this not only helps us manage risk, but also give us greater feelings of calm and control in a time when so much seems uncertain.
If you are feeling overwhelmed by the thought of preparing your home and family for a natural disaster, or just unsure where to begin, join EWEB's Pledge to Prepare and you'll have support every step of the way. When you sign-up, you'll receive a monthly email with step-by-step recommendations to help prepare yourself, your home and your family for an emergency, and have the chance to win useful emergency supplies each month. Learn more and sign up at eweb.org/pledge.