Related News
Related News

Rate Setting Process is Customer Driven and Community Focused

EWEB's Board of Commissioners is considering rate changes to help maintain reliable utility services and fund critical investments in Eugene's water and electric infrastructure.

Find Out More

National Preparedness Month: Older adults take control in 1, 2, 3

We know older adults can face greater risks when it comes to the extreme weather events and emergencies we face, especially if they are living alone, are low-income, have a disability, depend on electricity for medical needs, or live in rural areas.

Find Out More

Women in STEM: EWEB Engineer Laura Ohman's second degree brings a lifetime of benefits

EWEB Engineer Laura Ohman shares how getting her second degree was one of the most difficult and rewarding things she's ever accomplished.

Find Out More

Bethel neighbors boost emergency preparedness during Emergency Water Station event

Staff gave out about 300 emergency water containers to enthusiastic community members eager to learn more about the water station.

Find Out More

How does EWEB recover the costs of serving customers

Here's an overview of the three primary ways EWEB recovers the costs of serving customers and generates the funds needed to keep the power on and the water flowing.

Find Out More
The 4Rs of EWEB's COVID-19 Crisis Plan
June 16, 2020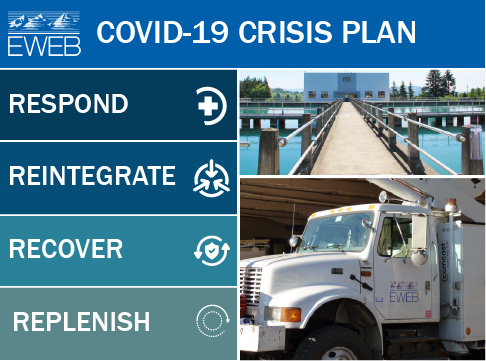 As the situation around COVID-19 continues to evolve, we want to share details about how EWEB is responding and how we're ensuring that you continue to receive the water and electric services you depend on from us, safely, reliably and affordably.
Our long-term approach to the pandemic includes four parts, which we refer to as the 4Rs: Respond, Reintegrate, Recover, and Replenish.
1. Respond
Our first order of business was helping to contain the spread of the virus, ensuring we could continue critical services, and implementing short-term crisis programs for customers.
In mid-March, EWEB voluntarily issued a moratorium on service disconnections, allowing customers who are financially impacted by the pandemic to temporarily defer payments without worrying about losing electric services. We temporarily extended a $260 bill assistance credit to customers who lost their jobs due to the pandemic, increased funding for our bill assistance program, and allowed customers to defer existing loans.
For the safety of our staff and customers, we closed EWEB offices and lobby to the public and adopted practices such as teleworking and scheduling employees to work staggered shifts.
2. Reintegrate
EWEB has remained open throughout the pandemic but under modified conditions. In mid-May, we began a gradual and responsible return to our facilities. Similar to the State of Oregon's approach, EWEB's workforce will reintegrate in three phases that may take months. The first phase focused on returning electric and water field crews to full strength. Over time, we will reintegrate office staff who have been telecommuting, and the final phase will be a mix of a facility-based and remote-based workforce.
3. Recover
Economic recovery will be a slow process and a community-wide effort. EWEB is approaching this phase with three primary goals:
Supporting our community in crisis
Being responsible stewards of our customers' financial resources
Keeping the utility operationally and financially resilient
As an essential service provider, we must maintain the strong financial foundation needed to provide clean, safe and reliable power and water—the backbone that supports all other areas of the economy, healthcare, and public safety—while continuing to assist vulnerable customers who are struggling to pay their bills.
During the recovery process, assistance will shift from disconnection suspensions and late fee waivers to measures that help customers bring their accounts up-to-date over time.
4. Replenish
Pandemic-related economic consequences will likely be severe, and we will need to assess and adjust over the long-term to replenish economic shortfalls and continue to serve our customer-owners.
Fortunately, EWEB entered this crisis in a financially resilient position, after several years of efforts to become more efficient, lower operating costs, and reduce debt. Residential electric prices have held steady for five out of the last six years, and water prices have not gone up since 2016.
This will make it easier to rebuild the utility's financial resiliency, but depending on the severity and duration of this crisis, replenishment could take months or years.
Looking ahead, every decision we make will continue to reflect our core values as your community-owned utility:
Safety of our workforce and the public
Reliability of drinking water and electricity
Responsibility for financial and natural resources
Community support and service