Related News
Related News

National Preparedness Month: Older adults take control in 1, 2, 3

We know older adults can face greater risks when it comes to the extreme weather events and emergencies we face, especially if they are living alone, are low-income, have a disability, depend on electricity for medical needs, or live in rural areas.

Find Out More

Women in STEM: EWEB Engineer Laura Ohman's second degree brings a lifetime of benefits

EWEB Engineer Laura Ohman shares how getting her second degree was one of the most difficult and rewarding things she's ever accomplished.

Find Out More

Bethel neighbors boost emergency preparedness during Emergency Water Station event

Staff gave out about 300 emergency water containers to enthusiastic community members eager to learn more about the water station.

Find Out More

Stay cool during extreme heat events

With temperatures forecasted to reach over 100 degrees over the next several days, we've prepared some tips and tricks to help you stay cool.

Find Out More

Women in STEM: Meet our servant leader and maker of tough decisions

Karen Kelley, Chief Operations Officer at EWEB, describes herself as a "servant leader," offering support and mentoring to four division managers at EWEB.

Find Out More
NAACP partnership installs solar panels, battery at historic Mims' house
September 13, 2022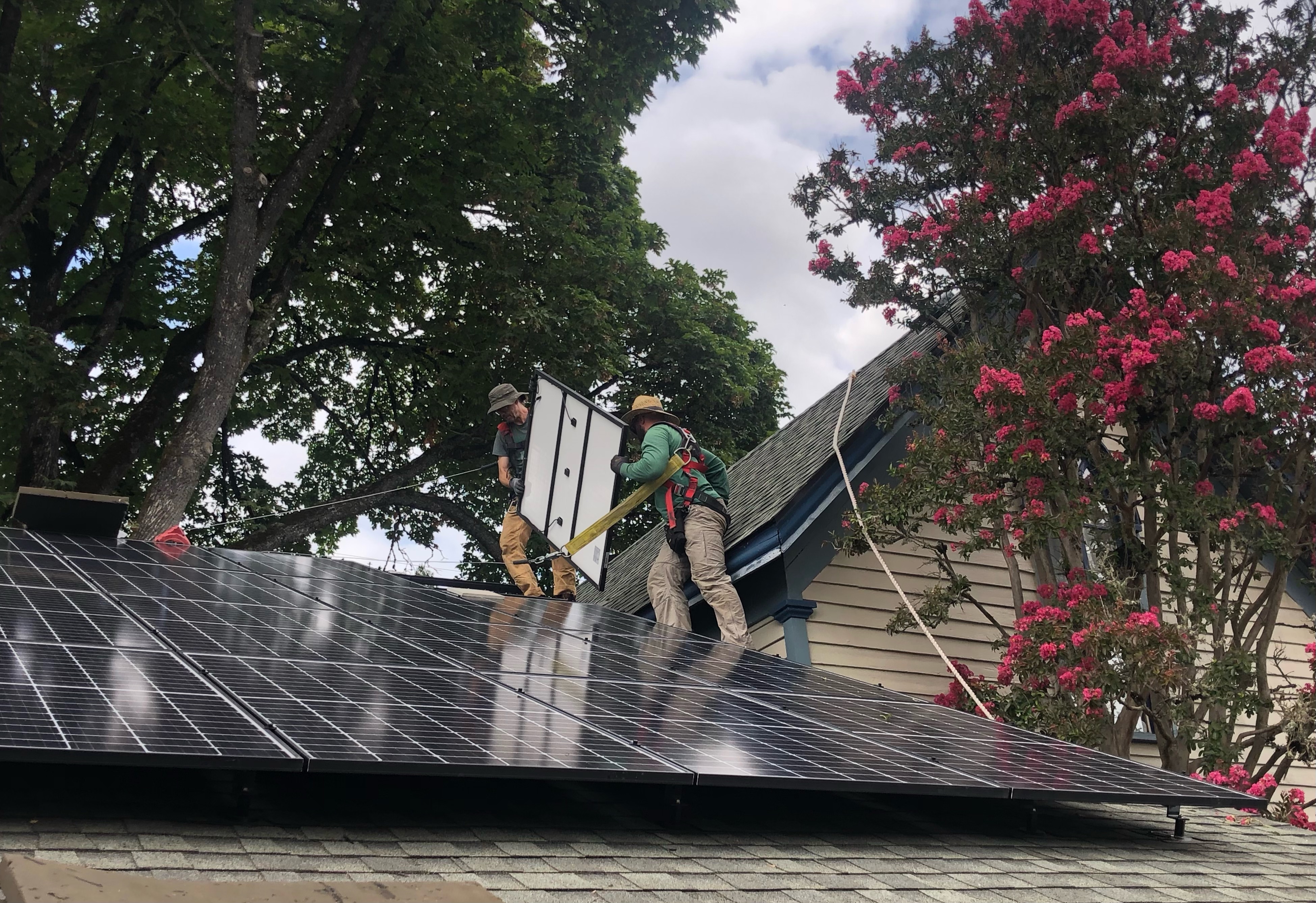 A coalition of partners is transforming the Mims' House, a historic structure that in 1948 was the first house in Eugene purchased by a Black family, into a model of environmental sustainability and resilience.
This week, a 6.3 kW solar system, a 20 kWh backup battery and an electric vehicle (EV) charger are being installed to:
reduce greenhouse gas emissions,

generate clean electricity,

lower electric bills, and

increase the sustainability of historic property.
The Eugene-Springfield chapter of the National Association for the Advancement of Colored People (NAACP) has been working closely with local businesses, professionals, nonprofit leaders and Willie and Sally Mims on this project that brings together community action, climate, and equity.
The solar panels are connected to EWEB's electric grid, and benefited from an EWEB rebate program that is funded through EWEB's Greenpower program. Overall, the $80,000 project was funded by grants, including from the Solar Moonshot initiative, rebates from Oregon Department of Energy and EWEB, in-kind business contributions and private donations made to NAACP.
Learn more about EWEB's solar incentives, Oregon clean energy incentives and new federal clean energy incentives.
The project unites volunteer-powered community action on climate and equity to preserve this historic home constructed in 1867. When the Mims family originally purchased the house in 1948, long-standing and multiple barriers prevented home ownership for African-Americans in much of Oregon.
"NAACP appreciates the local professionals, businesses and conservation organizations that joined forces with us to help preserve this important historic property," says NAACP President Miles Pendleton. "After two years of planning and fundraising, we're delighted to be installing solar panels on the historic Mims House to reduce greenhouse gas emissions, generate clean electricity and lower utility costs."
"Since the mid-20th century, the Mims House has served as a beacon of hope and opportunity for Lane County's Black and otherwise marginalized communities," Pendleton says. "Our local NAACP unit could not be more thrilled to continue preserving this rich legacy of progressive, equitable representation through the completion of this solarization initiative. By solarizing the Mims House, we hope to set an empowering example of the feasibility and benefits of solar power. While opportunities for sustainable, self-determined projects have long been denied to marginalized groups, this project has begun to reverse that trend locally. We look forward to future opportunities to assist other minority-led organizations in doing the same."
Learn more about the NAACP's sustainability measures at Sustainable Futures Fund! – Eugene Springfield NAACP
Below are comments from the collaborating businesses, professionals and nonprofits:
Long Tom Watershed Council
Project planning included drafting a master site plan with assistance from the Long Tom Watershed Council's urban landscape team. "The plan represents the vision of Willy and Sally Mims whose motivations are to increase the ecological, social and economic sustainability of this historic property," says Sarah Whitney, landscape architect for the Long Tom Watershed Council.
Rainbow Valley Design and Construction
Before solar panels could be installed, the old roof was replaced and reinforced to support the panels' additional weight. Rainbow Valley Design & Construction donated staff time for planning and construction management. "The Mims House is an invaluable cultural resource for our community," says Alec Dakers, lead designer at Rainbow Valley. "It reminds us where we have been and inspires us to keep pushing on to where we need to be. Working with Willie and Sally Mims, the NAACP, the Upper Willamette Stewardship Network and all the other organizations and volunteers to help preserve and enhance this important piece of our community has been a great honor. We are excited to see how this important piece of our community continues to evolve in the future."
Advanced Energy Systems
Advanced Energy Systems AES, headquartered in Eugene, is installing the solar panels to generate electricity and a back-up battery. "The panels and battery will generate and store clean electricity that can help NAACP continue to provide essential support to marginalized community members during power outages," says Eric Nill, president of AES.
Upper Willamette Stewardship Network
"NAACP and its partners envision the historic Mims House as a model of community resilience and environmental sustainability," says Sydney Nilan, Upper Willamette Stewardship Network Director, who provided project coordination and fundraising support. "In collaboration with so many wonderful partners we see so many opportunities, including installing an electric vehicle charging station and a 'trout-friendly' landscape that will provide a beautiful community space and also filter stormwater before it enters the Willamette River."
Chris Orsinger, NAACP member & Clean Energy Advocate
Professionals who have donated assistance with planning and permitting include planning consultant Teresa Bishow, retired attorney Al Johnson, urban planner and architect Kaarin Knudson, and NAACP member and conservationist Chris Orsinger. "This collaborative project demonstrates how climate-friendly actions can not only help preserve and enhance an historic building but also share the story of African-Americans and their struggle for equality in Lane County," says Chris Orsinger, NAACP member and clean energy advocate who volunteered on the project team.
Spark Northwest
Spark Northwest advised on the project. "NAACP Eugene has an incredibly dynamic and dedicated team that values the intersectionality of racial justice, green building and historical preservation," says Mikhaila Gonzalez of Spark Northwest, a lead advisor on the project who donated invaluable time & expertise. "The Mims property is an incredible testament to our rich African American history and their resilience in the face of discrimination."
Willie and Sally Mims
"Stewarding the Historic Mims Houses has been like nurturing a family garden that continues to bear fruit," says Sally Mims.
"Our collaboration with the NAACP in 2015 for the installation of the Mims Houses Memorial Monument, which is dedicated to the struggles that Eugene's first Black residents faced in finding housing in the era of exclusionary practices," recounts Willie Mims. "Our collaboration with Bob Hart of the Lane County Historical Society and others, in 2018, celebrated and displayed the historic Mill Stone along with interpretive signage to recall the importance of agricultural grist mills in Eugene to the history of Lane County."
"Now, clean energy from solar panels is the next harvest of fruit from our collaboration with the NAACP and its partners," says Willie. "It's one more action that points to a more equitable and brighter future for all."