Related News
Related News

National Preparedness Month: Older adults take control in 1, 2, 3

We know older adults can face greater risks when it comes to the extreme weather events and emergencies we face, especially if they are living alone, are low-income, have a disability, depend on electricity for medical needs, or live in rural areas.

Find Out More

Women in STEM: EWEB Engineer Laura Ohman's second degree brings a lifetime of benefits

EWEB Engineer Laura Ohman shares how getting her second degree was one of the most difficult and rewarding things she's ever accomplished.

Find Out More

Bethel neighbors boost emergency preparedness during Emergency Water Station event

Staff gave out about 300 emergency water containers to enthusiastic community members eager to learn more about the water station.

Find Out More

Stay cool during extreme heat events

With temperatures forecasted to reach over 100 degrees over the next several days, we've prepared some tips and tricks to help you stay cool.

Find Out More

Women in STEM: Meet our servant leader and maker of tough decisions

Karen Kelley, Chief Operations Officer at EWEB, describes herself as a "servant leader," offering support and mentoring to four division managers at EWEB.

Find Out More
Powered by People Like Nadia
February 05, 2020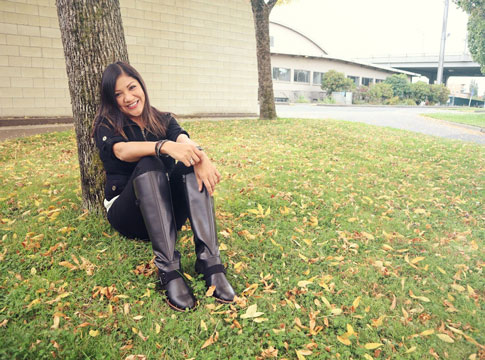 Nadia is fresh from a trip to participate in a women in utilities conference and is brimming with new ideas and knowledge, both of which are themes of how she approaches her work.
"I am a learner," says Nadia. "I was a financial counselor with NEDCO (Neighborhood Economic Development Corporation) and part of that job was teaching a session on energy efficiency."
To learn more about what she was teaching, Nadia reached out to EWEB as a resource and met Charlie with the utility's energy management staff. After that, Charlie became a guest in the class and as Nadia learned more from him, her curiosity grew.
"It's almost like I worked for EWEB indirectly in a way," says Nadia. "When I found the posting for a Customer Service Analyst on EWEB's website, it felt like an opportunity to learn and grow more."
As is the case with someone who might characterize themselves as a 'learner,' Nadia found the most difficult situations the most rewarding.
"I loved working during outages," she says. "I found learning about how power is restored interesting. Helping customers the best I could during stressful situations was just full of learning opportunities."
After a year in EWEB's call center, Nadia moved into helping customers face-to-face with accounts receivable, where she found purpose in advocating for customers. But after a handful of years, her thirst for a new challenge surfaced again. When an administrative assistant position with the Energy Division opened up, Nadia jumped on it.
"I support power trading, power planning, generation-including the Carmen-Smith team-and purchasing," says Nadia. "When I started, I basically didn't know anything about what those groups do," she continues. While a lot of people might find the prospect of starting a new position in this way overwhelming, or even a little scary, not Nadia. Her face is full of excitement and possibility.
"I am fascinated by long term planning and the functions of the Energy Division," says Nadia. "I've also been assisting on the update of emergency action plans and with the Carmen-Smith re-licensing project. I am getting to work on once-in-a-career type projects. The only part I am missing, is I feel like I've lost that direct connection to customers some."
When reminded that a lot of the teams she supports don't necessarily share her direct customer service background, which makes her participation with the team that much more valuable, Nadia smiles and nods.
"You're probably right," she agrees. "I am still a customer advocate, just in a slightly different way."
Thank you Nadia for your role in providing customers with vital services 24 hours a day, 7 days a week, 365 days a year.