Related News
Related News

National Preparedness Month: Older adults take control in 1, 2, 3

We know older adults can face greater risks when it comes to the extreme weather events and emergencies we face, especially if they are living alone, are low-income, have a disability, depend on electricity for medical needs, or live in rural areas.

Find Out More

Women in STEM: EWEB Engineer Laura Ohman's second degree brings a lifetime of benefits

EWEB Engineer Laura Ohman shares how getting her second degree was one of the most difficult and rewarding things she's ever accomplished.

Find Out More

Bethel neighbors boost emergency preparedness during Emergency Water Station event

Staff gave out about 300 emergency water containers to enthusiastic community members eager to learn more about the water station.

Find Out More

Stay cool during extreme heat events

With temperatures forecasted to reach over 100 degrees over the next several days, we've prepared some tips and tricks to help you stay cool.

Find Out More

Women in STEM: Meet our servant leader and maker of tough decisions

Karen Kelley, Chief Operations Officer at EWEB, describes herself as a "servant leader," offering support and mentoring to four division managers at EWEB.

Find Out More
Powered by People Like Brian
January 17, 2020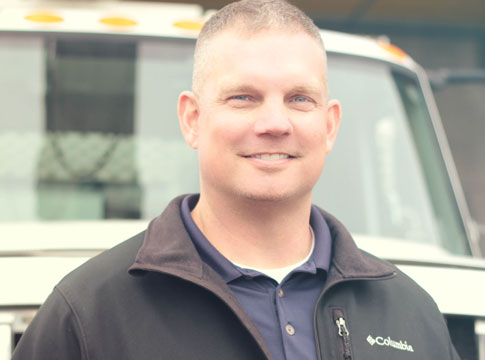 To talk about Brian, you have to employ superlatives. He is the friendliest, the nicest and the humblest of people. Walking through the halls of EWEB with him is like a flashback to high school. We all remember that kid that everyone knew and everyone liked-somehow knowing everyone's name and greeting each person he passes. At EWEB, that's Brian.
As a teenager, Brian would spend summers with his uncle in Hermiston.
"He was a lineman with Umatilla Electric Co-Op and I got to go on ride-alongs. It piqued my interest," recalls Brian.
After attending a year of college, Brian told his parents he wanted to leave and go to line school in Idaho.
"They had an early-out program. PG&E called and listed off locations in California I didn't know anything about. When they mentioned Oakland, I thought, that sounds good. Everyone made fun of me for it since I passed up all these fancy northern California cities, but it turned out great," says Brian.
Brian started with PG&E as a truck driver and quickly moved into a position as an apprentice lineman. In 1999, he was hired on with EWEB as an apprentice. After a few years, he moved to Bend taking a position with Central Electric Co-Op, but eventually found his way back home to Eugene and EWEB.
Since then, Brian has put in the hours and the effort advancing to Crew Leader II with EWEB's apparatus crews that work primarily on EWEB's downtown network.
The configuration of the downtown electric network results in ultra-high service reliability, which takes specialized equipment. The crews Brian leads perform the maintenance and technical work on that equipment.
"When I first started with the apparatus crew, it was completely new to me and challenging. The downtown network serves some really big customers, who rely on a high level of service. In the beginning there was a lot of maintenance work that hadn't been done in a while. We'd open vaults up and not know what we were going to be getting into," says Brian.
Brian is a glass half full kind of guy. It's easy to get the impression that he sees opportunity where others see obstacles and with his goofy, playful demeanor his enthusiasm for the work is infectious.
"It's been a pretty incredible opportunity to work in the power industry," says Brian. "You want to come see some of the equipment we work on?" And he grins.
Thank you Brian for your role in providing customers with vital services 24 hours a day, 7 days a week, 365 days a year.