Related News
Related News

National Preparedness Month: Older adults take control in 1, 2, 3

We know older adults can face greater risks when it comes to the extreme weather events and emergencies we face, especially if they are living alone, are low-income, have a disability, depend on electricity for medical needs, or live in rural areas.

Find Out More

Women in STEM: EWEB Engineer Laura Ohman's second degree brings a lifetime of benefits

EWEB Engineer Laura Ohman shares how getting her second degree was one of the most difficult and rewarding things she's ever accomplished.

Find Out More

Planning for a Future of Reliable, Affordable, Environmentally Responsible Energy

The challenges revealed by Eugene Water & Electric Board's integrated resource planning process mirror those facing the Northwest.

Find Out More

Bethel neighbors boost emergency preparedness during Emergency Water Station event

Staff gave out about 300 emergency water containers to enthusiastic community members eager to learn more about the water station.

Find Out More

EWEB's heat driven call to conserve energy yields major savings

EWEB is likely to implement similar, formalized "demand response" programs in the future.

Find Out More
EWEB Project Underway Reduces Maintenance Costs and Improves Wildfire Mitigation along McKenzie Highway
August 01, 2022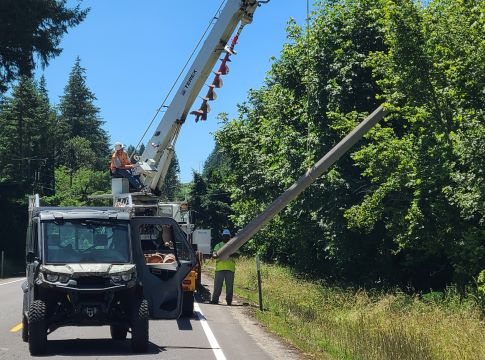 EWEB's removal of 31 miles of electric conductor and 159 poles spanning five miles along the McKenzie Highway is now underway. This removal project will improve the community's aesthetic, reduce maintenance costs, and decrease environmental impact.
"The decision to get rid of the lines, instead of rebuilding them, will increase customer reliability and allow us to connect to the broader system more efficiently while reducing wildfire risk," said Tyler Nice, EWEB Electric Division Manager.
This unique opportunity to reduce the infrastructure footprint and maintenance costs will also improve wildfire mitigation because less infrastructure means less chance of ignition or damage from a fire.
"Removing these transmission lines is just the right thing to do," said Jebediah Wolfe, EWEB Project Manager, "having the poles up and wires attached is unnecessary at this point."
The poles, supporting two, 3-phase circuits, once transmitted power from the Walterville substation to the Leaburg substation. The lines were de-energized in 2019 as part of the Holden Creek substation project. The Holden Creek substation improved the resiliency of our McKenzie River transmission system by replacing the Leaburg substation, originally built in the early 1930s. Replacing the lines was one of several options, but ultimately, EWEB opted to pay a small interconnection fee to use the existing, adjacent power lines owned by the Bonneville Power Administration. This decision was cost-effective because the estimate for repairing and replacing the current lines was $10.6 million.
The decision to use Bonneville's existing lines saved EWEB millions of dollars and provided the opportunity to lessen the community impact. Many of the poles scheduled for removal are on private property – in fields, over houses and driveways. Private property owners will appreciate the removal and restoration on their land.
While this project is exciting for the local community, it's important to note that this was a unique opportunity to plan new projects and use existing infrastructure strategically to avoid costs while reducing footprint and impact.
"I'm so proud of our team for thinking outside the box and coming up with an alternative to the standard 'replace-in-kind' approach," said Nice.
EWEB crews will be hard at work removing the transmission lines and poles throughout the summer, and we anticipate project completion in September of 2022.