Related News
Related News

Women in STEM: EWEB Engineer Laura Ohman's second degree brings a lifetime of benefits

EWEB Engineer Laura Ohman shares how getting her second degree was one of the most difficult and rewarding things she's ever accomplished.

Find Out More

Planning for a Future of Reliable, Affordable, Environmentally Responsible Energy

The challenges revealed by Eugene Water & Electric Board's integrated resource planning process mirror those facing the Northwest.

Find Out More

EWEB's heat driven call to conserve energy yields major savings

EWEB is likely to implement similar, formalized "demand response" programs in the future.

Find Out More

Please join your neighbors in reducing energy use today

With excessive temperatures and wildfire conditions affecting power generation across the region, EWEB is encouraging customers to safely conserve power.

Find Out More

Women in STEM: Meet our servant leader and maker of tough decisions

Karen Kelley, Chief Operations Officer at EWEB, describes herself as a "servant leader," offering support and mentoring to four division managers at EWEB.

Find Out More
EWEB sends crew to assist with storm-driven outages north of Portland
April 18, 2022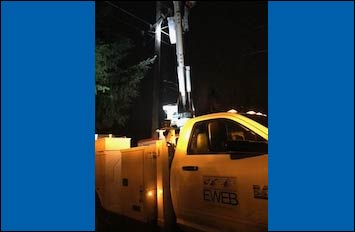 Last week, EWEB dispatched a two-person crew with a bucket truck to assist with repairs and restoring electric service for Columbia River Public Utility District, which serves customers in Columbia County, north of Portland.
Unseasonal storms across the state and especially in northern Oregon and at higher elevations resulted in outages for some of Columbia River PUD's customers.
"We always try to respond to requests for mutual aid from our fellow utilities. You never know when you're going to need some extra help, so it's best if we can try to look out for each other," said Tyler Nice, EWEB's electric operations manager.
EWEB has 32 line technicians, so sending two to help Columbia River PUD did not impact current work obligations.
Crews from various Northwest utilities have assisted EWEB during major storms events through the years, especially in February of 2019, when February snowstorm brought down hundreds of trees and took out power for thousands of EWEB customers, and also in 2016, when an ice storm caused outages for 20,000 customers.
Earlier this year, two EWEB crews traveled to Placerville, Calif. near Lake Tahoe to help restore power for thousands of Pacific Gas & Electric customers after winter storms dumped more than 10 feet of snow in some areas.
Mutual aid agreements spell out that the requesting utility pays for all labor, transport, equipment, travel, food and lodging costs incurred by the assisting utility.
The assignment to Columbia County lasted two days, and the crew returned to Eugene late last week.